The beauty of a bespoke necklace is that it is custom made for you and only you; so, if you often find yourself wishing for a necklace that is just a centimetre or two longer or shorter, then this is the perfect project for you. This project is also perfect for someone that is beginning to make jewellery, as it only requires 15 minutes and a small amount of items to make.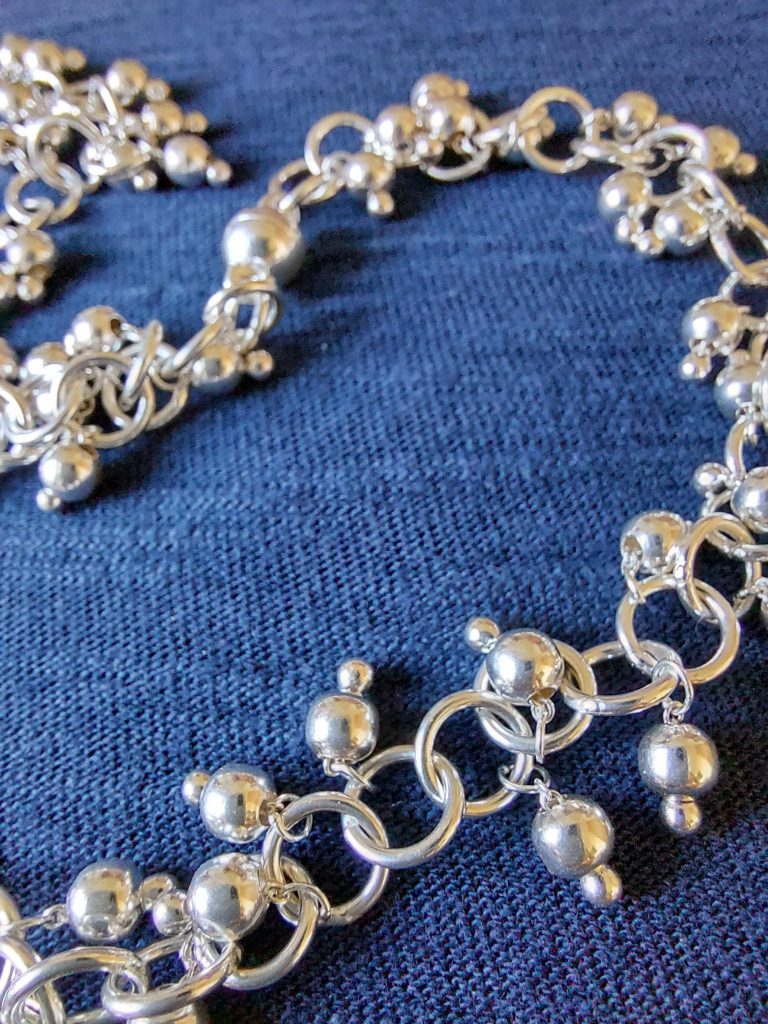 N.B. This project utilises loose chain which is a term used to describe chain without a clasp or jump rings. It is sold by length and is usually cut from one huge, continuous roll, so when you order, you must be clear on exactly how much you need. It's a good idea to order slightly more than you require to allow for any mistakes.
Step One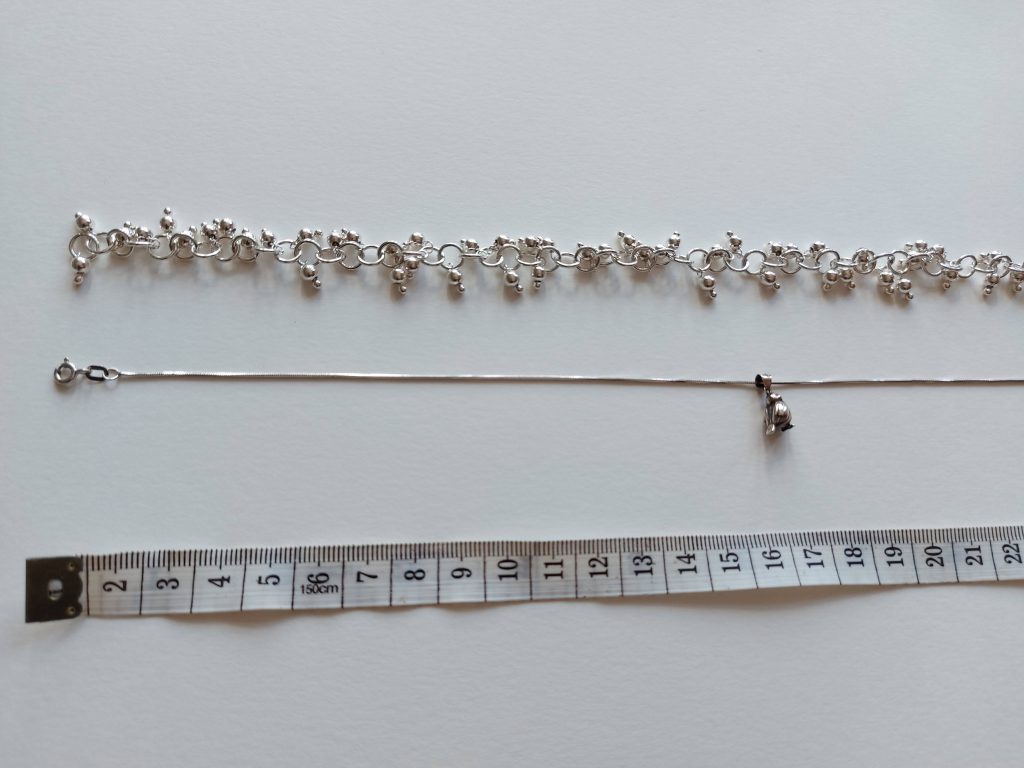 Decide exactly how long you want your chain to be. Either measure it alongside an existing chain or physically hold it up to your neck so you can actually see exactly where it will sit. Take your time with this as there is no going back once it's cut, measure twice, cut once. My chain is 42cm which is equivalent to 16 inches so it will sit close to the base of the neck.
N.B. If you have chosen a large clasp this needs to be taken into account as part of the overall length of your necklace. For the purposes of this design, the clasp is only 6mm and therefore makes only a minimal difference to the length of the finished piece.
Step Two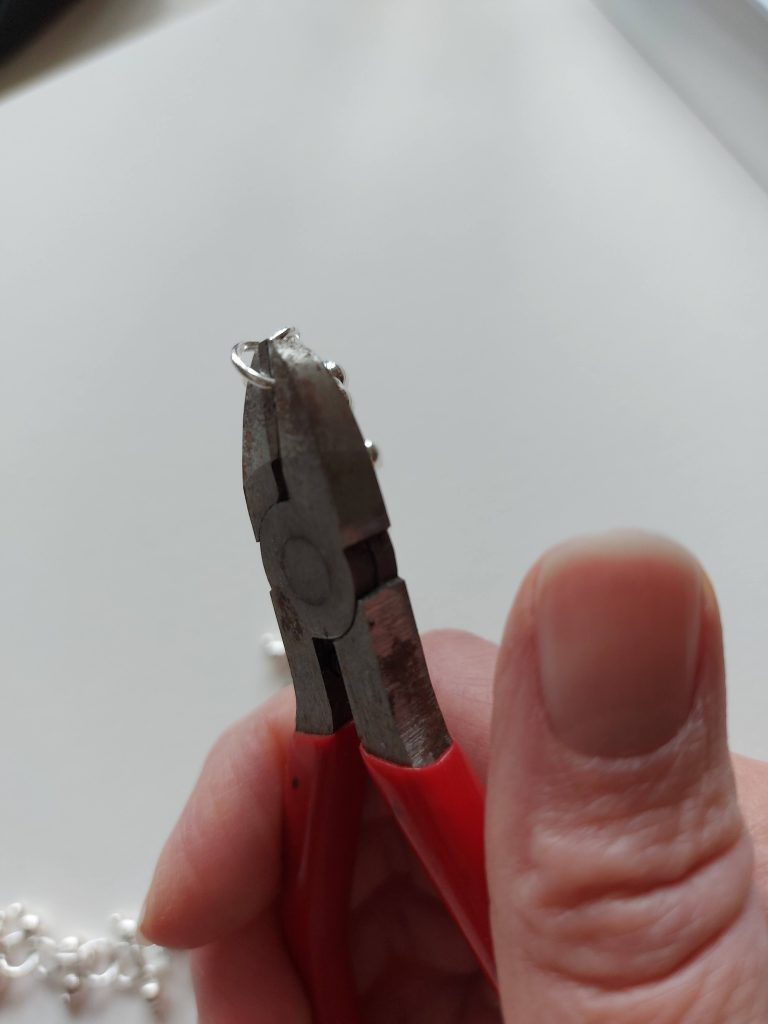 Once you are absolutely certain, cut the chain to length using your side or wire cutters.
Step Three
Next, take one of the 6mm heavy jump rings and grip one side with the pliers, with your dominant hand. Once you are holding it firmly, grip the other side with your second pair of pliers (holding them in your other hand) and with a twisting motion, open up the jump ring to leave a gap wide enough for it to be placed onto the chain end.
Step Four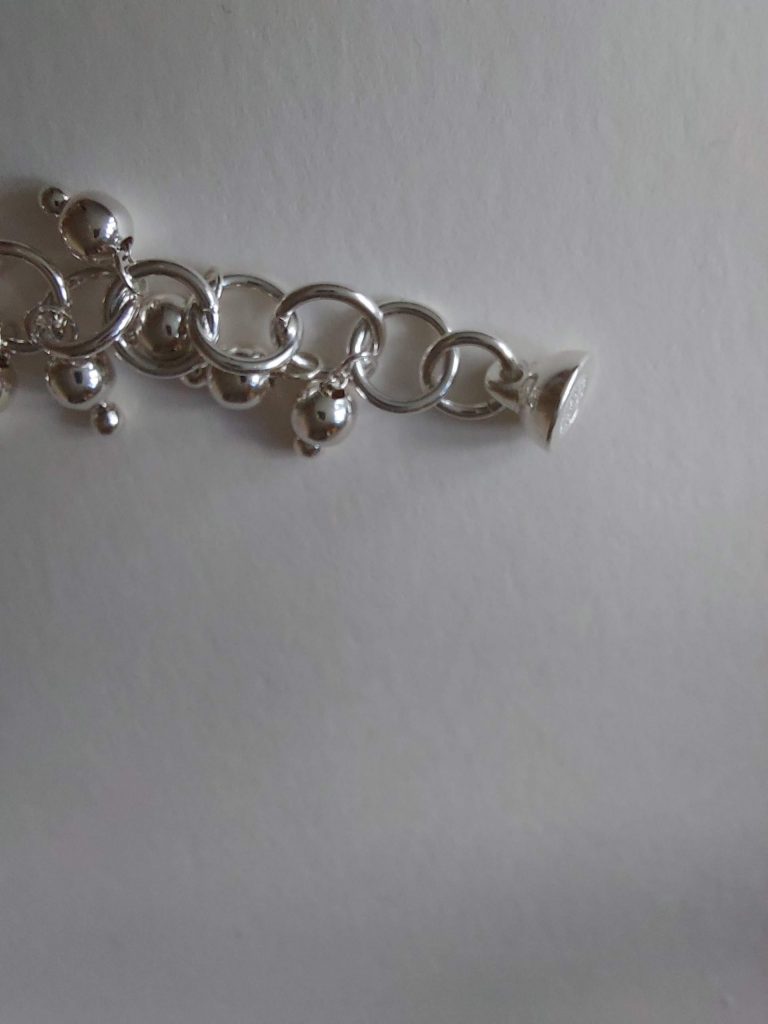 Loop the open end of the jump ring through the ring of your ball clasp and then through your chain end. Then reverse the twisting action with both sets of pliers to close the jump ring securely, attaching one side of the clasp.
N.B It is vital to close jump rings completely and securely so the ends sit flush with one another. Any gaps could result in your necklace coming undone.
Step Five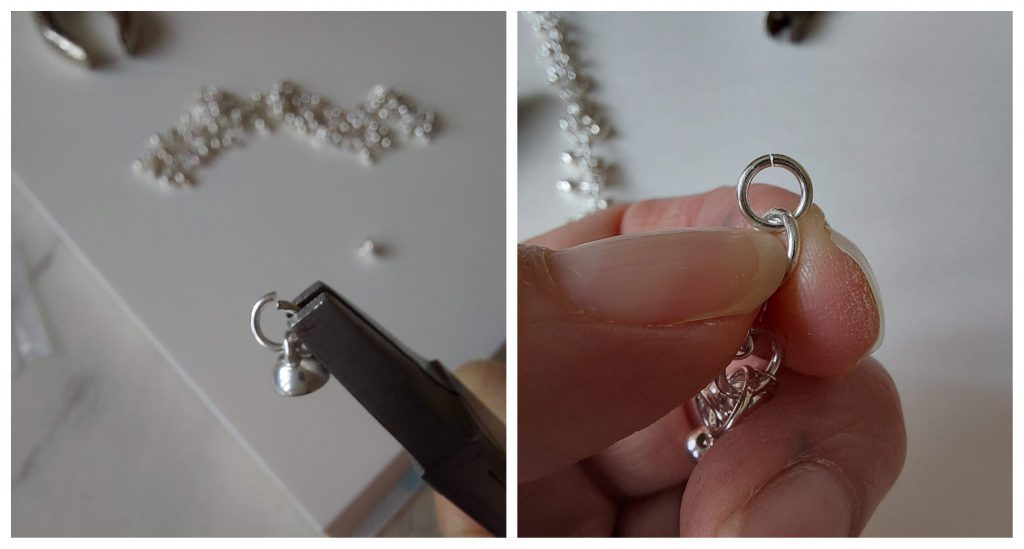 Repeat this process to attach the other side of the magnetic clasp to the opposite chain end, to complete your necklace.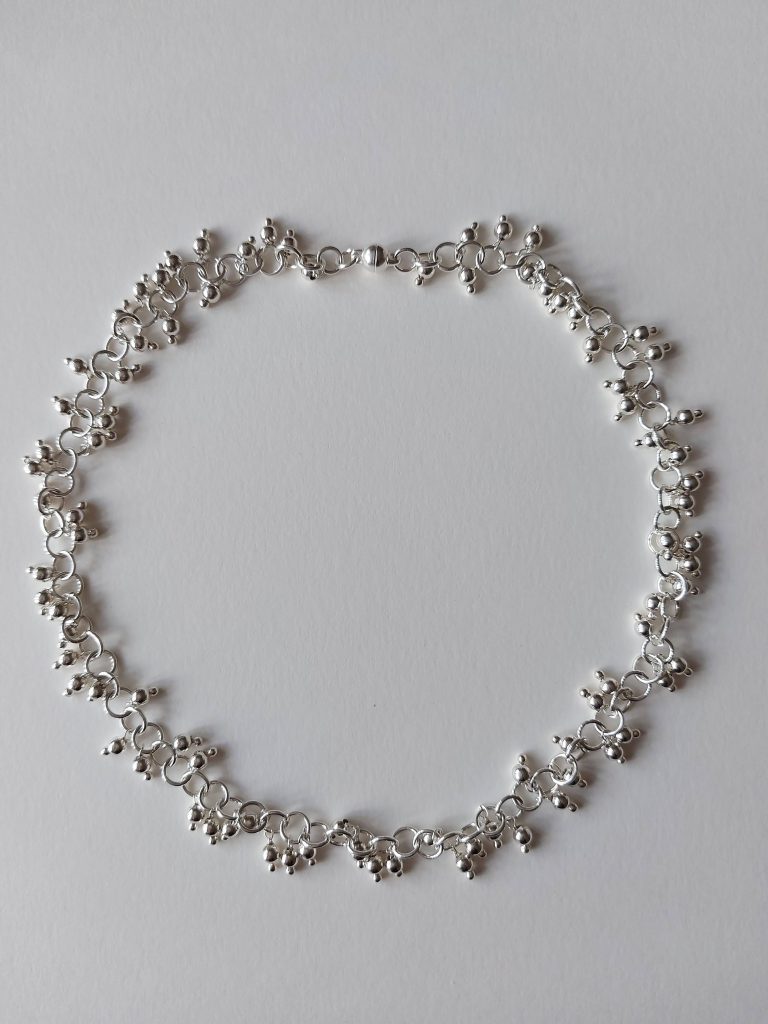 A word about findings…
Findings is a general term which refers to the hooks, links and catches that allow jewellery to be worn on the body. They form an integral part of a functioning piece of jewellery and must be given due consideration in the planning stages.
Key things to consider when making a necklace:
Weight of the chain
Strength of the clasp
Aesthetics of the clasp
Functionality of clasp and suitability for recipient
Size and weight of securing jump rings
The chain used in this project is weighty and needs a heavy-duty clasp to keep it secure. Magnetic clasps are extremely strong as well as being tremendously user friendly so make a great option if costs allow.
Aesthetically speaking, a ball clasp fits perfectly with the design of my chosen chain and by keeping the size relatively small, (6mm), you ensure the focus is on the overall effect rather than your eye being drawn to the clasp which in this instance, is not what we want.
A heavy chain requires heavy jump rings for strength and security so always go for 'heavy' which basically means thicker wire and choose a size that is in keeping with the scale of the chain. I chose 6mm which blends perfectly with both the chain links and the clasp.
By taking the time to consider the right findings at the start of your project, you will ensure your finished piece is noticed for the right reasons rather than the wrong ones.
We want to see what you have been making! Share your creations with us on social media, tagging in Cooksongold on Facebook, Twitter and Instagram.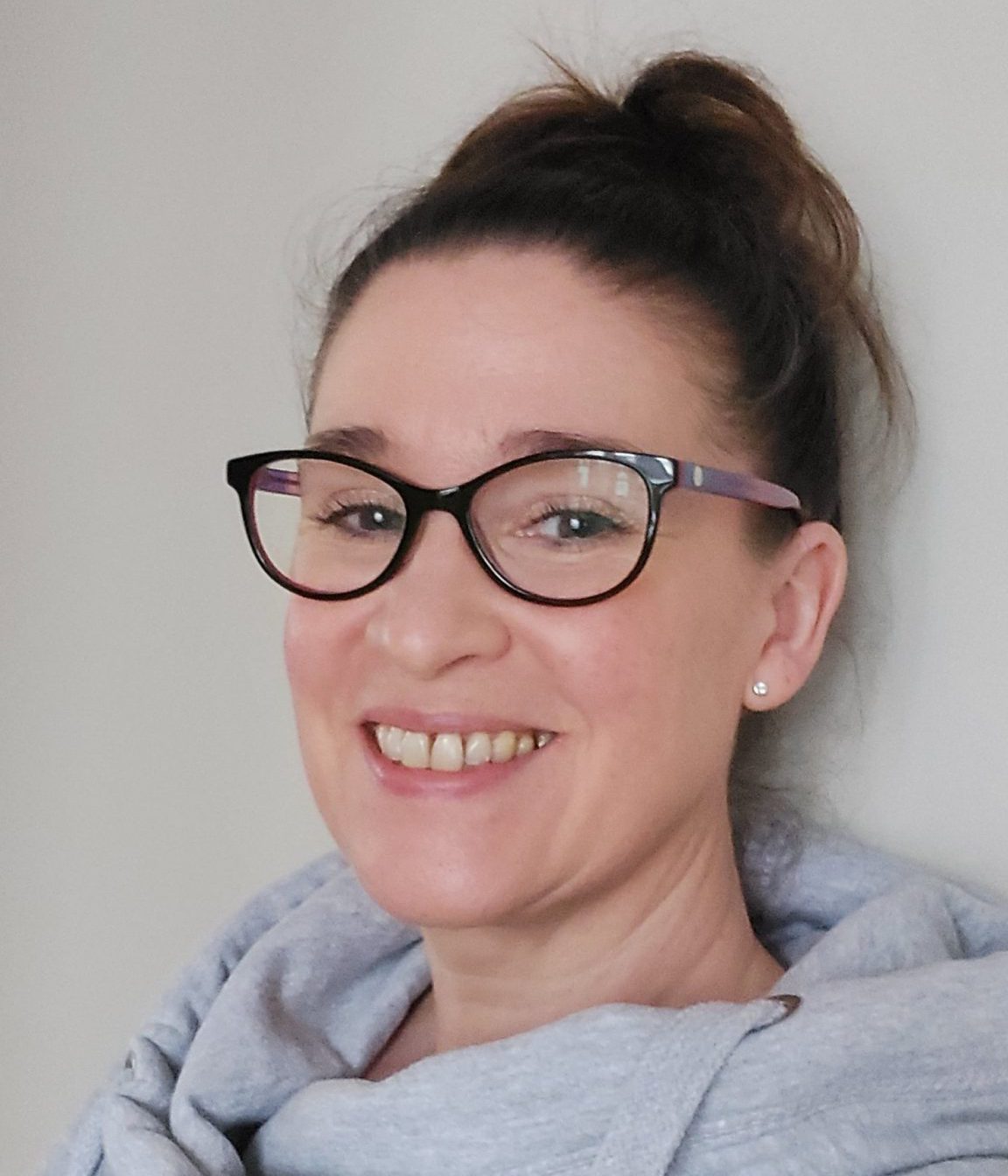 Written by
Joanna Varney
Joanna has worked in and around the jewellery industry for well over 20 years. She has designed and created her own pieces as a designer maker, as well as working in jewellery retail on a much larger scale, producing designs and NPD for some of the UK's largest high street retailers