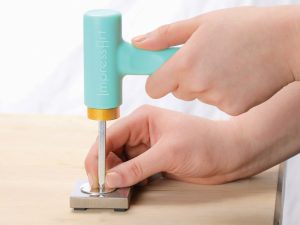 Whether you're new to metal stamping or you'd just like to brush up on your knowledge, we can help. In our metal stamping guide, we'll talk you through the ins and outs of the process and the basics of metal stamping to get you started. So to begin your metal stamping journey, read on and watch our quick YouTube video for a visual guide.
What is metal stamping?
If you're completely new to this, you might be wondering, what is metal stamping? To put it simply, metal stamping is a form of jewellery making, and is mainly used for pendants. It can be used to imprint letters, patterns and texture to your design.
Your metal stamping kit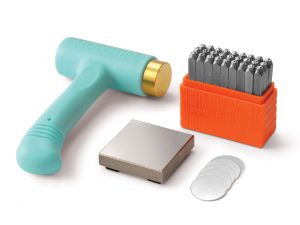 Before you start learning how to stamp metal, it's worth stocking up on a few key pieces of equipment. Here's what to include in your metal stamping kit:
How do you stamp metal jewellery?
The first step in the metal stamping process is to fully support the metal from underneath. This can be done with either a steel block or a sandbag.
Next, place the metal on the block or sandbag, and tape down the bottom so that it's secure, without covering too much of the metal.
Once the metal is taped in place, use a ruler and a marker pen to mark the tape in the positions of where you'd like the impressions to sit.
Using your marks as a guideline, hold the stamp in place with the logo facing your body and ensure it's fully upright and in complete contact with the surface of the metal.
When you're ready, raise the hammer and strike the stamp from the top and repeat as necessary.
For the final step in the metal stamping process, you have the option to enhance your design by rubbing the indentations with a black marker or enamel ink and then buff off the excess with some cloth or paper towels.
We hope you found our metal stamping guide useful. And now you know how to stamp metal jewellery, why not try it for yourself? Find more information about this topic and the best tools you need in our Top 5 Metal Stamping Tools blog and pick up everything you need for your metal stamping kit at Cooksongold.