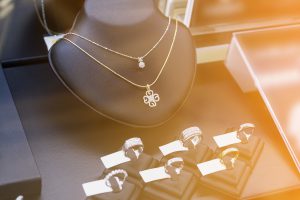 Gone are the days when simply setting up your table and placing your designs on top of them guaranteed a steady stream of sales at a craft fair. To really make a mark at an established event, it's vital to come up with some fresh craft fair display ideas that will set you apart from the hundreds of other jewellers in attendance. Take a look at our guide on how to display your jewellery at a craft fair to draw customers in and make that all important sale.
Don't be afraid to go against the crowd
Be unique. It's easier said than done, but it certainly works. Have you found that you've come up with a craft fair display that's easy to set up, somewhat conventional, but looks a lot like every other stand at the craft fair you're attending? If so, you might struggle to generate the buzz you're looking for. That's why it pays to go the extra mile with craft fair displays that offer your customers something a little different. Sit down and come up with several new ideas for displaying your jewellery, and start testing them at home. Do you find that you rely on your craft fair table? Take it away! You might find that the traditional craft fair stand is restricting your creativity. Try breaking the mould to discover something new. And if you're required to keep the table? Use your new ideas to build up a unique craft fair display on and around your table – it pays to stand out.
Branding is paramount
Even if you're in the beginning stages of establishing your jewellery brand, a craft fair may be the very first place that a potential customer comes into contact with your work and your brand. If the branding isn't clear and does not correspond with your online presence, your business card, and even your packaging – they won't remember you and you may move farther away from making that new customer a returning customer. A coherent craft fair display with a clear logo or branded theme will help your presence become known at the craft fair, and remembered long after.
Don't overwhelm your display with props
Props can lift your craft fair display, telling the story of your jewellery brand in a creative way. But there is such a thing as too much of a good thing. Displays for jewellery craft shows are often most effective when attention is drawn to the products on sale. If there is an abundance of props accompanying your designs, you run the risk of the focus being pulled from the very designs that you're there to promote, and ultimately, sell. When practising your craft fair displays at home, take a step back and look at the overall view of your display. Are your bestsellers lost in amongst the other elements of your display? If so, re-evaluate the feel you want to create and pair back the unnecessary touches that could draw attention away from your designs. Want to keep things simple? Take a look at the jewellery display busts, boxes and frames available at Cooksongold.
Make an effective banner
Your banner should take pride of place at your craft fair display. It should clearly display your logo or company name, making you easy to spot in the midst of other craft fair displays. Whether you create your own banner or get one made professionally, consider the cost and time taken to do so – you don't want to impact too much on your expenses. The type of banner you create will also depend on what your collection harks to. Do you create vintage pieces featuring pearls? A professionally printed banner may feel a little too corporate for the antique feel of your collections. Choose a style that fits with your collections and your branding, and try to incorporate a sense of style that you are capable of re-creating online, making it easy to match your online presence with your craft fair style.
Don't forget to price your work clearly
Pricing your work clearly should be part and parcel of your craft fair display checklist. Pricing each product individually means that you are free to chat to customers about your work without having to search through a long list of itinerary to find the correct price for your work. It not only means less stress, but it can also be an additional way of adding a personal touch to your craft fair display. Take the time to match the fonts used across your banner and your price tags for a coherent feel across your display, and don't be afraid to test out unusual ways of creating price tags to spark the interest of a potential customer. Use patterned ribbon to attach your handmade price tags or add a different texture to the tag for a touch more decadence. The handmade feel will help to establish you as an expert amongst the other craft fair attendees.
Have you thought about lighting?
Jewellery display ideas often go without additional lighting, which could be to the detriment of the overall look and feel of your craft show display. This can be the case at winter events where the location of your stall may not offer the best light, especially if you're at a Christmas craft fair based outdoors where light will fade in the afternoon. Think about using battery powered lighting, whether tea lights or fairy lights, to illuminate your show-stopping pieces. The key thing to remember when it comes to using lighting as part of your craft fair display is to highlight your best designs in a subtle way.
Eradicate the stress of creating professional jewellery display stands for craft fairs at your next event by planning your complete stall in advance. By doing a mock-up of your craft fair display ideas at home, and refining that until you get it right, you won't have to worry about the set up when it comes to the event. Instead, you'll be free to chat with customers about your designs, sell your products, and hopefully build up your reputation as a professional jewellery maker across the craft fair circuit.
Not sure which craft fairs to attend this year? Download Cooksongold's 2017 Craft Fair Calendar to help you plan your craft show displays well in advance of the next event.