You've got the jewellery, but what comes next? Whether you're planning your next craft fair or upgrading your in-store display on a budget, we've got some DIY jewellery display stand ideas for you to try. From how to make a jewellery stand out of wood and dowels, to how to make cardboard necklace displays, find out how to make jewellery display stands today.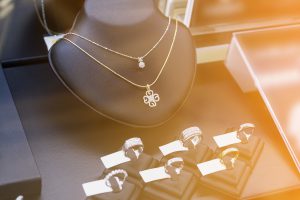 How to make Jewellery Display Stand out of Wood
This design is simple and only requires three pieces of wood. Suitable for both necklaces and bracelets, you can choose your measurements to suit your needs. When learning how to make a necklace display stand out of wood, you will need:
One thick piece of dowel (dowel A)
One smaller piece dowel (dowel B)
A rectangular piece of wood for the base
A hole saw or Forstner bit (the size of your smaller dowel)
Wood glue
Ruler
Pen
Finishing tools
The size of your dowels and wood will depend on how big or small you need your jewellery stand to be. If you're looking to hang necklaces, make sure that your dowel B is longer to make your structure stand taller.
This stand can be built in just a few simple steps:
Lying dowel A on its side, take the ruler and pen and mark the centre. Then, mark the centre of the rectangular piece of wood.
Top tip: make sure that dowel A and the piece of wood are both wide enough to attach to dowel B and create a secure structure.
Once you have your centre points, drill a hole around 1-2cm deep in both dowel A and the piece of wood. Make sure you don't go too far through to the other side but make sure your hole is still deep enough to secure dowel B in place.
Take the wood glue and secure dowel B into the two holes, creating a T-shaped structure with a stand on the bottom.
Once the glue has dried, finish your DIY jewellery display stand by sanding down the edges, priming and then painting in your choice of colour. Or simply leave with the wood finish for a more rustic look!
With a little more time and money, this design can also be curated using metal rods and soldering equipment – the choice is yours.
How to make a Necklace Display Bust
Find out how to make cardboard necklace displays on a budget below. While this design may not be suited to continuous use, it's cheap and easy to make so you can do so over and over again!
You'll need:
Paper or a ready-made necklace display pattern
Cardboard
Scissors
A pen
Hole punch
Elastic or string
Velvet sheet
Take a homemade necklace display pattern, then trace it onto a piece of cardboard and cut it out – leaving the inner fold lines as you'll need these later on.
Top tip: standard patterns are around 25cm high x 25cm wide, but you can make your DIY jewellery display stand taller or shorter than that by tracing the bottom of the pattern further down your board.
Using the cardboard cutout, trace the same design onto your chosen fabric or velvet sheet.
Align the fabric and cardboard pieces and then glue them together – with the top of the fabric facing outwards.
With the hole punch, put a hole in the two bottom corners.
Using the back of your scissors, score over the fold lines indicated on your display pattern – this will ensure a neater fold.
Fold back the sides and top of your DIY jewellery display stand.
Take your elastic or string and thread it through the two holes you punched and tie the ends together. This will help hold the sides back and make your stand stay upright.
Alternatively, cut around the fold lines, leaving you with the face of the bust and create your own stand to keep it upright using wire or an extra piece of card!
How to make a Necklace Display Board
Perfect for jewellery fairs and empty wall space in-store, learning how to make a necklace display board is one easy step towards upping your jewellery display game.
You'll need:
Hardboard, or wallboard for something more robust
Your choice of fabric – use branded colours where possible for more consistency
Various pins and hooks – pick out some decorative pieces for more originality, too
Push pins
A stapler
Wire mesh – for earring displays
How to make a necklace display board in a few easy steps:
Place the fabric on a flat surface with the pattern faced downwards, then place your hardboard on top.
Fold the edges of the fabric over and staple them into the hardboard to secure them in place.
Top tip: make sure the fabric is tight and staple each edge in the middle first to ensure a smooth finish on the underneath. Then, staple the rest of the edges.
Take the wire mesh and using the wire cutters, cut out a small section that will be used to hang your drop earrings. Make this piece as big or small as you require.
Fold over or file down any sharp edges of cut wire and secure the wire mesh to your board using push pins. Make sure it isn't too tight and that there is some give so you can hang your earrings safely and easily.
Then, attach your chosen pins and hooks to the board in any formation – considering the lengths of any pieces that you will be hanging.
Feel free to use any additional decorative pieces that you wish to add your own personal twist – from ribbons and sequins to picture frames that form borders around your designs.
And that's how to make jewellery display stands on a budget! Not sure which design to pick? Check out our blog on the top 5 jewellery stand display ideas to help you decide which one might be right for you.
Looking for something a little more permanent? At Cooksongold, we offer a wide selection of jewellery displays and sundries, suitable for a range of designs – so you can showcase your pieces in the way they deserve.