Recently, light has been shone on the detrimental effect our lives are having on the environment, with the growing amount of waste in landfills being one of the huge factors. As a result, people are becoming increasingly more environmentally conscious and, with that, online buyers are paying closer attention to product packaging. Consumers are understanding the impact that plastic is having on the planet, but there are plenty of environmentally friendly packaging ideas to explore as alternatives – especially when it comes to jewellery packaging.
Looking to make your business more sustainable? Eco-friendly jewellery packaging is a great place to start. We're here to talk you through the various types of sustainable jewellery packaging that could help you on your quest to becoming more sustainable.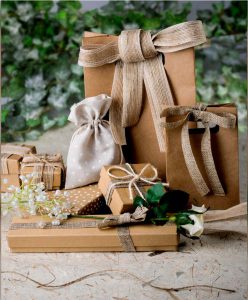 What is eco-friendly jewellery packaging?
Firstly, what is sustainable jewellery packaging, exactly? Due to increasing demand, more businesses are feeling the pressure to be more sustainable – but what does this mean? Over time, sustainable packaging reduces its environmental footprint by:
Using raw or 100% recycled materials.
Minimising the production process and supply chain.
Reusing packaging, extending its lifecycle and reducing waste.
Some people assume that sustainability means higher cost, but using biodegradable jewellery packaging doesn't have to cost you the Earth, and you don't have to compromise on quality or function either. So how can you convert to sustainable jewellery packaging? We've got some environmentally friendly packaging ideas to get you started below.
Top Tips:
The demand for eco-friendly packaging is growing, and businesses are having to consider how they can incorporate more sustainable materials and methods into their production processes. So here are some things to consider before choosing your materials:
Opt for packaging that can be reused or recycled.
Recycled card and paper are readily available to purchase at low prices, and natural materials provide an elegant, yet organic, look.
Avoid using single-use plastics and explore alternative materials that are more sustainable and eco-friendly.
Keep shipments safe using bubble wrap – made of recycled polyethene which is fully degradable and can keep your items safe in transit.
Eco-friendly jewellery packaging ideas
If you're just starting out on your journey to increased sustainability, you may be looking for some environmentally friendly packaging ideas to get you off the mark. With jewellery, the packaging can often reflect the beauty of the item inside, and sustainable jewellery packaging can be beautiful too. From recycled jewellery boxes to eco jewellery packaging for earrings and necklaces, find our sustainable jewellery packaging inspiration below.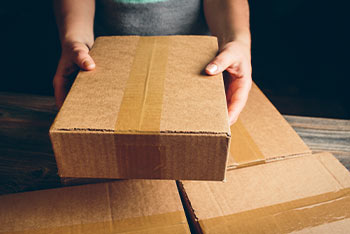 1. Recycled cardboard
Recycled cardboard is fairly easy to get hold of, and you can often buy these types of packaging pre-made. But it's simple to make your own too, with plenty of online tutorials available to watch and learn from.
2. Boxes
Recycled jewellery boxes are possibly the most popular choice. Decorate with twine, recycled decorative tape, coloured markers, and any small trinkets you can think of to add your own personal touch. Check out our blog on how to elevate your jewellery packaging for more personalisation ideas.
3. Sleeves
Sleeves are one of the most popular recyclable packaging ideas, as they are easy to personalise to be in line with your branding. They can hold the jewellery box itself, which can then be re-used by the customers in the future. Don't have time to write your labels by hand? Get a branded stamp created to kill some production time – this not only saves you a lot of work but is yet another thing to add to our list of eco-friendly packaging ideas, as it's re-useable.
4. Cards
Eco-friendly jewellery packaging doesn't come much easier than this if you're looking for earring packaging inspiration. Take some recycled cardboard and attach old scraps of wallpaper to add a decorative touch. Then, punch in two holes and you've got yourself a stack of cute earring cards. The best part is, you're using up old materials and turning them into something new, creative and useful! These are perfect for jewellers selling at craft fairs or looking for a unique, in-store display.
5. Recycled plastic
If your only choice is to use plastic, make sure you check out biodegradable and 100% recycled bags and materials. Take a look at biodegradable Biofilm and polypropylene clear bags with card inserts – offering a professional finish without compromising on sustainability. It is also a great idea to encourage your customers to re-use the bags you sell your items in, to reduce waste even more.
6. Recycled paper
Brown paper bags that are made of 100% recyclable materials might not be the most appealing choice, but you can dress them up or down with personalised accessories and branded stickers, stamps or recycled ribbons. Kraft paper bags are 100% recyclable so, if you're not reusing them, they can be popped straight into the recycling.
7. Reusable bags
Recyclable packaging ideas don't get much prettier than these. Organic cotton muslin bags or burlap are ideal for necklaces and bracelets, or chunkier pieces of jewellery. Both are biodegradable and will eventually break down when thrown away. Want to add a bit of personal flair? Decorate your bags with stamps, fabric pens, or even stitching – get creative and make your packaging your own. These are perfect on their own for jewellery stores, craft fairs, or send them off in paper boxes for online orders.
Find eco-friendly jewellery packaging at Cooksongold
IIf the environment and your impact is at the forefront of your priorities, carry this incentive through into your packaging with our Kraft gift boxes and gift bags for jewellery. Made from natural-coloured materials, this eco-friendly jewellery packaging is charming, recyclable and 100% degradable. They may look plain, but they're the perfect blank canvas for ribbons, coloured accessories and branding. Looking for something a little more upmarket? Our range of eco boxes are just that. Made from biodegradable plastic and copolyester, they offer a classic, elegant look that's also better for the environment – it's a win-win! Pick up a range of jewellery boxes and packaging at Cooksongold today.