What is precious metal clay?
For those not familiar with PMC or Precious Metal Clay, it is a clay based craft material made from tiny metal particles, an organic binding agent and water, which can be modelled and shaped just like normal clay. Once dried and fired it becomes a solid piece of sintered metal. Precious metal clay can then be drilled, sawn and worked just like any other piece of metal, and then ultimately hallmarked.
Cooksongold's Guide to Using Precious Metal Clay to Make Silver Jewellery – click the above image to learn more
When was precious metal clay first developed?
PMC was originally developed in Japan in 1990 by a company called Mitsubishi Materials Trading Corporation. Since its original release, precious metal clay has evolved into a broad range of products, each with slightly different characteristics. Read on for a comparison of those characteristics and to learn the pros and cons of each precious metal clay product.
The products which will be compared are: PMC3, PMC+, PMC Flex and PMC Sterling.
What is PMC3?
PMC3 is arguably the most multi-purpose version of Precious Metal Clay available. It has a long drying time which makes it ideal for beginners, but conversely this also means that it can be quite sticky to handle. To help with this, make sure your glass work surface and tools are all lightly coated in olive oil or Badger Balm.
PMC3 can be either torch-fired in two minutes or kiln-fired at a low temperature, and is ideal for combining with glass and some stones for mixed media pieces. It has a low shrinkage rate (approximately 10%), which means you get a substantial metal content once fired. PMC3 is a fine silver clay, meaning that it is 99% pure and can be hallmarked as 999, Fine Silver once fired. PMC3  is a good, general purpose clay.
What is PMC+
PMC+ is second generation Precious Metal Clay, and is a slightly more advanced product. It is much dryer and firmer in consistency than PMC3, which makes it perfect for fine detail and textures. You will get nice crisp results with PMC+, and I found this clay very easy to use. The flipside of it being a dryer product means that it has a quicker drying time, so perhaps avoid using PMC+ if you don't have a design to work to and are simply 'playing'.
PMC+ has a quite a high shrinkage rate at 12%. So again, this is a good reason to plan what you make with this product as the pay-off is slightly less than with other comparable clays. Like PMC3 it can be both torch (five minutes) and kiln fired, and can be hallmarked as Fine Silver, 999 once finished.
What is PMC Flex?
PMC Flex is one of the most advanced forms of precious metal clay. As the name implies, it retains its flexibility once fired making it suitable for more delicate work which might break under normal circumstances. It has an extremely long working time, which again means it can be quite sticky to handle (see previous PMC3 tip about using olive oil or Badger Balm to help reduce stickiness), but it does make it the best choice for complex projects liable to take a long time to model.
Out of all the clays reviewed, PMC flex definitely has the longest drying time, so you must ensure it is fully dry before firing – ideally leave it overnight or put it in a dehydrator if you have one. It can be fired using a torch or a kiln, and the shrinkage rate is at approximately 10 – 15%. Like PMC3 and PMC+, this is a Fine Silver product and can be hallmarked as such.
PMC Sterling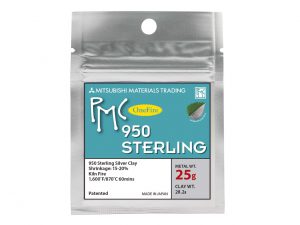 PMC Sterling is an altogether different product, and must not be mixed with other PMC clays due to it being a silver alloy as opposed to pure silver. PMC Sterling has a silver purity of 95% and like all sterling silver metal, and can ultimately be hallmarked 925.
The biggest difference from a making perspective, between this product and the other PMC clays, is that PMC Sterling cannot be torch fired and instead requires a specialist kiln and a two stage firing procedure – meaning that PMC Sterling is really more suitable for those who are more experienced (a fact which is also alluded to in the instructions); 'For those with experience, the instructions are simple'.
PMC Sterling can be easily moulded, sculpted or carved and is very strong once fired making it ideal for high wear and tear jewellery items.
The shrinkage rate is the highest across the PMC range at 15%-20%, so this does need due consideration and planning before you start.
Which precious metal clay should I use?
Ultimately your choice of PMC will depend on the desired effect you are hoping to achieve, along with your level of experience with the material. Take the time to consider both the pros and the cons of each product and you shouldn't go far wrong.
Fancy getting creative with Precious Metal Clay in your own PMC jewellery making workspace? Explore the full range of PMC available to buy now at Cooksongold – plus don't forget to get the right tools for making your Precious Metal Clay pieces!
For more information on Precious Metal Clay, download your FREE PMC Guide today.