Types of Enamel
Enamels are made up of tiny particles that are then applied to precious metals through a variety of different techniques. Over the years, many different types of enamel jewellery have been developed, including different types of enamel paint, as well as leadfree enamel types that are safe for both the environment and the user.
There are also a number of different powdered enamel types, which we will explore in this article.
Leadfree enamel types
Many types of enamel contain lead to enhance colour, but leadfree versions are less of a health and safety risk, which makes them especially suitable for students and hobbyists.

Leadfree enamels come in a variety of different types of enamel finishes, including: opaque, transparent and opalescent.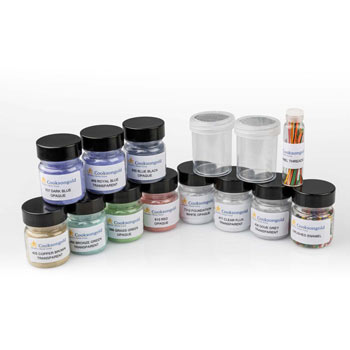 Flux Enamel Powder
This is a clear enamel, which is used as an undercoat to prevent interaction between the metal and enamel. Flux enamel powder also helps to keep the colours bright and can be used as an overcoat.
Wet Process Enamels
Wet process enamels  involve mixing the enamel powder with water, which can then be applied to the metal like paint. Wet process enamels can also be applied by spraying them onto the precious metal surface, or dipping the metal into it.
Counter Enamels
Counter enamels also known as "practice" types of enamel, are typically applied to pieces as a base to prevent warping post-kiln fire.
Painting Enamels
Painting Enamels are very finely ground enamel powders, and are perfect for finer and detailed enamel work. There are various types of enamel paint available in different colours to create unique designs. To use, mix with your painting medium of choice (this can be an oil-based or water-based medium) and then apply to the metal using a soft paintbrush.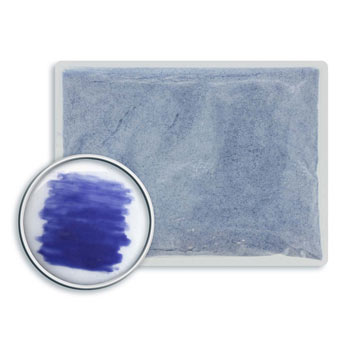 Different types of enamel decoration
As well as applying different types of enamel colours to your jewellery designs, you can also add decorations underneath the enamels to add more depth and texture to the finished piece. These include:
Millefiori – Cross-sections of glass rods with decorative details (similar to seaside rock) which can be applied to a layer of enamel and fused in to create different.

Threads – Thin rods of glass for decoration and can be used for scrolling or adding straight lines of colour in enamel designs.

Beads – Small glass beads for decoration or creating texture on various types of enamel jewellery.

Decals – Ceramic transfers (similar to temporary tattoos) applied to the surface and fired in.

Foils and leaf – Fine silver and gold leaf and foil can be fired into the enamel to create interesting and beautiful effects. Foil is more robust than leaf, can be manoeuvred, and used under a transparent enamel or flux. Leaf is very fine and used as a finish, generally in the final firing, with no flux or other layer on top.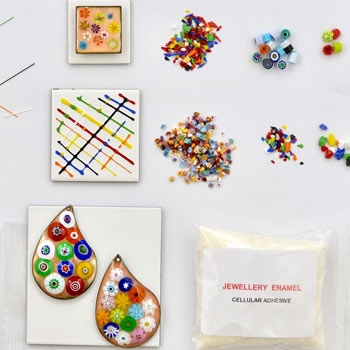 Now you know the different types of enamels available, it's time to get started! You will find what you need to get started in Cooksongold's extensive range of enamelling supplies and, for an extra helping hand, why not browse our selection of enamelling books?