Perfect for the crafting enthusiast or someone just keen to start a new hobby, jewellery making is exciting, creative and fun. Here at Cooksongold, our how to make jewellery hub is the perfect place for you. From understanding what equipment you'll need, to setting up your workspace, we want to help you start your journey.
Jewellery making is a truly creative skill, from being able to make a simple bracelet to one day making someone's wedding ring, the possibilities are endless. But getting there may take a little time and patience. When first getting started it can get confusing, from knowing what a rawhide mallet is and what you may need it for to getting to grips with bench pegs and saw frames, so let us help.
Our resources include some popular FAQs as well as some must have top tips to get you started.
What are the different types of jewellery making?
A good place to start on your journey is to try and get to grips with the different areas of jewellery making, some of which include:
Silver Jewellery Making – Silver jewellery making or silversmithing, as it is known, is the art of working with silver. A silversmith can take a piece of metal sheet or wire and make jewellery and will know the ins and outs of the techniques and skills required including how to cut, shape, solder, file and polish metal. Silver jewellery making is a great skill to learn but it requires a good knowledge of jewellery tools, metal forming and more. Silversmiths are highly trained so this is something you will need to work up towards.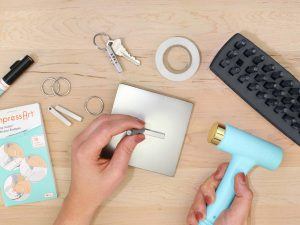 Metal Stamping – Metal stamping is the art of stamping shapes and letters into metal and is a great way to personalise jewellery. Metal stamping is done by using specific dies and stamps to form your choice of design. Metal stamping is a simple and fun process and can be used when making bracelets, earrings and more. There are a number of easy-to-use starter kits which include everything you need to get personalising.
Wire Wrapping – Wire wrapping is a beautiful technique which, in simple terms involves wrapping wire around a stone, charm or any other component to make a unique piece of jewellery. Wire wrapping can be difficult to figure out at first as you will need to understand which types of wires are easy to work with and you'll need to get to grips with the techniques but once you do, you'll have the ability to make an endless range of designs.
Stone Setting – Stone setting is a wonderfully exciting part of jewellery making. Learning how to set gemstones into rings, bezel settings, necklaces and more is a great skill to have. With hundreds of stone types, sizes and shapes and equally as many setting types, you'll need to learn several techniques and invest in a range of tools but once you've developed this skill the design opportunities are endless!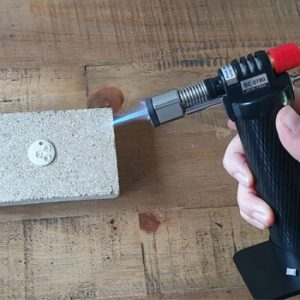 Silver Clay – Silver clay is such a unique and fun side to jewellery making. Formed of real silver particles and a binder, silver clay works just like modelling clay. It is soft and pliable and can easily be moulded into any shape or design you want. Once heated, the binder will burn away, leaving behind the sintered metal. This is such a fun and exciting way to make real silver jewellery and is a great way to easily make even the most intricate design.
Beading – Beading is such a simple way to make jewellery and is a great entry point for those who are not quite sure about where they want to progress their jewellery making journey to. There are hundreds of beads available, as well as beading string and findings. Making it incredibly easy to get creating earrings, bracelets and more.
Jewellery making isn't just limited to these areas, there are many more different areas you could look at, including resin, enamelling and wax working.
What tools do I need?
Once you've decided what area of jewellery you would prefer to get into, you will have a better understanding of the right tools. To make it easier, we have a lot of beginner kits that include everything you need to get started. It's a good idea to start small, if you're just beginning your jewellery making journey you won't quite need a full workbench and rolling mill just yet. Clear a small area in your house and gather a few essentials first. Some of the good basic tools include:
Practice makes perfect
As cliché as it may sound, practice is essential. The more you keep trying, the better you'll get it really is that simple. Even the most expert jewellery maker had to start at the beginning, so don't expect yourself to suddenly get it over night! Start with something simple like beading as this will teach you how to work with your basic pliers and jump rings. Move up to metal stamping and take a go at silver clay too. Once you've really honed in on those basic skills you'll find yourself soon interested in silversmithing.
Look for inspiration all around, invest in some good jewellery making books and take a look at what we offer, with guides and easy to follow step by step videos and keep at it!