Sheet metal is one of the most versatile materials in jewellery making. Whether you're making bangles, forming your own rings or designing pendants, sheet metal is great for all of types of jewellery.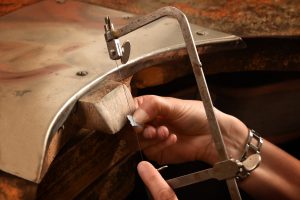 But with so many different options to choose from, how can you tell which one is right for your project? Do you get it fully annealed? And which thickness is best? Don't worry. We'll guide you through everything you need to know about how to work with sheet metal for your jewellery making projects.
Essential Sheet Metal Tools
Let's start simple. What sheet metal tools do you need to pick up ahead of your project?
We've listed all the essential pieces of equipment for working with metal sheets below:
How to work with Sheet Metal to Create Designs
Ways of working Sheet Metal
Cutting
To start, you'll need to know how to cut sheet metal if you want to use it in your designs. And there are two methods – cutting with a jeweller's saw or cutting with a Dremel tool. If you want to start by using a saw, make a mark where you want your first cut to be and map out the rest of the shape. Start slowly, and make your first cut by creating a small notch at first, and then gradually building up pressure to cut the rest of the shape. Blade keep getting stuck? Use some lubricant to ease it up again.
Or if you're already a pro with a jeweller's saw, why not use your Dremel tool? It speeds up the process so you can focus on finishing your designs to the highest possible standard. Learn how to cut metal with the Dremel 300 in our blog on how to use your Dremel 3000 rotary tool.
Bending 
There are a number of ways you can manipulate sheet metal. Whether that's with a doming tool or simply a rawhide mallet. Let's say you want to make a band ring: the two key sheet metal tools you'll need for this are a rawhide mallet and a mandrel. Simply place the strip of sheet metal on the mandrel and hammer at each point where it isn't touching the mandrel. Keeping the straight end horizontal, continue moving the metal forward across the mandrel until you have bent a third – then turn around and finish off the other end.
You can also use a metal forming tool like a doming dapping set. With this kit, you can quickly transform the shape of a pendant into a domed shape – although it does work best with softer metals.
Texturing
Someone who works with sheets of metal will know that one of the best ways you can use the material is by texturing it. For a real rustic, natural look, try creating a patina with liver of Sulphur. Or, you can create texture by making indentations in the metal and you can do this by already using the tools in your workshop. For example, repeatedly striking the metal with the flat edge of a jeweller's hammer creates a linear effect, perfect for more rectangular or square designs. Another popular method is using the rounded edge of a repousse hammer to create a softer, hammered effect.
If you're looking to add a specific shape or design to your jewellery piece, there are a variety of different stamps you can use. Find stamping sets with letters, numbers and shapes at Cooksongold – ideal if you want to add a personalised touch to your work.
And there you have it! Feeling more confident about how to work with sheet metal? Whether you've been inspired to pick up some new sheet metal tools or try out a different technique, be sure to pick up all the jewellery tools and sheet metal you need from Cooksongold.