Are you looking for a rotary tool that delivers across all aspects of your jewellery making? Whether it's cutting metal, engraving, or polishing, the Dremel 3000 Rotary Tool is a handy piece of equipment that all jewellery makers should invest in for their home workshop.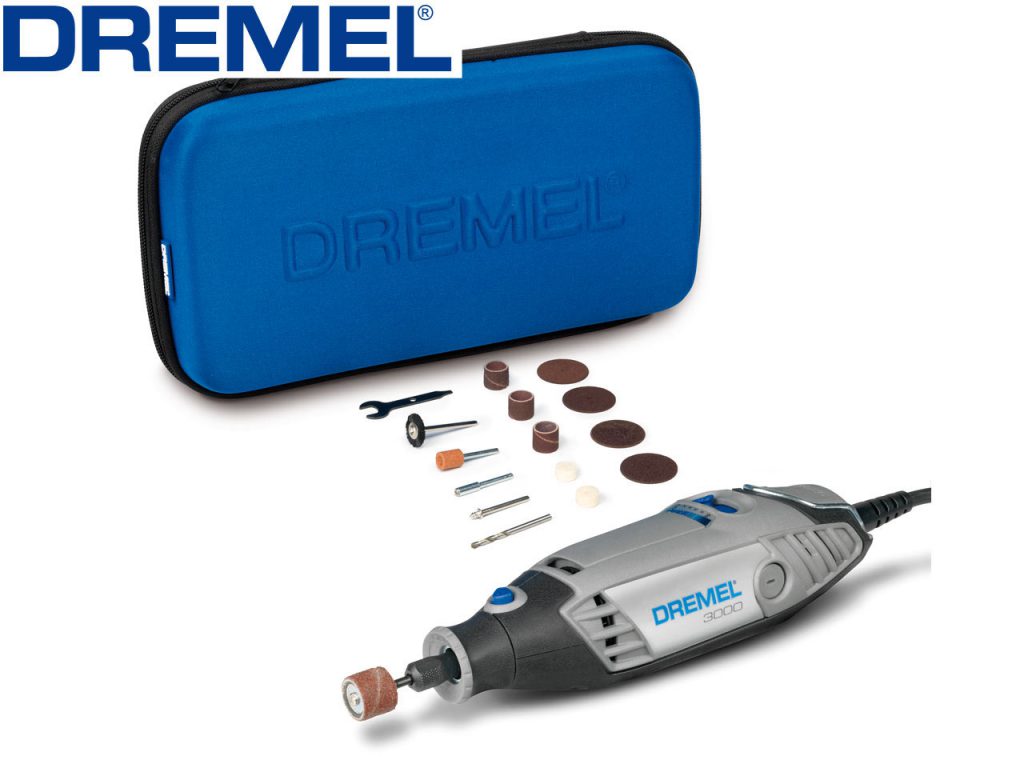 Still weighing up the pros and cons? Take a look at our guide below and discover how to use a Dremel tool and see just how versatile it can be.
What to expect from the Dremel 3000 rotary tool
Dremel has been producing high speed rotary tools since 1934, and is heralded for providing jewellers and other craft makers with a number of power tools that make your entire crafting process simpler. The beauty of the Dremel hand tool is in its versatility. In fact, it could be the jewellery making tool that you use to produce your latest piece of jewellery from start to finish. From cutting the metal you're working with, to engraving it and polishing it, a rotary hand tool can become an indispensable part of your jewellery tool kit.
How to set up your Dremel 3000
Trying out the rotary tool for the first time? Here's a breakdown of how to get to grips with the basics, from set up and adjusting speed, to getting used to the clever twist nose cap when you swap out attachments.
Read the user manual thoroughly. This may seem like a given but familiarising yourself with the Dremel 3000 manual will give you all the information you need to set up your rotary tool safely and maintain its performance.
Always wear safety glasses. When using your Dremel hand tool it's best to always protect yourself from any debris or dust as you work, no matter which attachment you're using.
Practice makes perfect. Before you turn the hand tool on, practice using the twist nose cap to remove and insert the different attachments that come with your Dremel 3000 Rotary Drill Kit. With the simple EZ twist nose cap there is no longer any need to use a wrench or any other tool to remove and replace attachments. It really is as simple as a twist and a click to add an attachment to your tool.
Familiarise yourself with the different attachments. Before you start using the tools, make sure you're happy with what each attachment is intended for. Use your manual as a guide to get to know the difference between high speed cutters, engraving cutters, polishing attachments, and drilling attachments. That way, you'll be comfortable with each attachment and ready to try them out.
Safety first. Check that your Dremel rotary tool is switched off before it's plugged in to avoid accidents. Once plugged in try the lowest speed setting first before trialling the more powerful speed settings. Before trying out the uses of each attachment, check your user manual for the correct speed to use for the activity you're carrying out.
Check your grip. The actual rotary tool is fairly compact and comfortable to hold. Although you may find that you adjust your grip depending on the work that you're carrying out. For example, for more intricate engraving work you may want to grip the rotary tool like a pencil, giving you more control as you work.
How to cut metal with the Dremel 3000
Setting up
The Dremel hand tool is capable of cutting through metal rods and wire with the use of one of its cut off wheels. It's a handy way of making light work of trimming wire or removing the ends of a piece of metal rod to cut to size. To add one of the cutting wheels to your Dremel hand tool, all you have to do is take the mandrel that can be inserted into the chuck of your rotary tool. Remove the screw in the mandrel and pop this screw into the top of the cutting wheel.
Now you can screw the mandrel onto the back of the cutting wheel, ensuring that it is snug enough to keep the cutting wheel in place as it rotates. Remember that the cutting wheels are quite brittle so don't over-tighten the screw and mandrel. Adjusting the screw and mandrel until they're finger tight should do the trick.
Start the tool
Now the mandrel can be added to the chuck with a simple twist and click of the secure button. Once in place, you can start the tool at the lowest setting. Remember to check which speed setting is most appropriate for cutting metal wire in your manual, as working at too high or too low a speed could damage or break the cutting wheel you're working with.
Start cutting
Once you've found the speed you should cut with, you can then secure the metal you would like to cut in place with a bench clamp or vice. This will help keep the material steady and ensure you're not handling the material while the cutting wheel is in motion. Now it's secured in place you can gently pass the cutting wheel through the metal as it rotates.
Keep in mind that the thicker the metal you're cutting the more passes it may take to cut through it entirely. Equally, if you find that the rotary tool is making a strange noise or slowing down you may be applying a little too much pressure. Pull back on the pressure and check that the Dremel tool can handle the thickness of the metal you're attempting to cut through.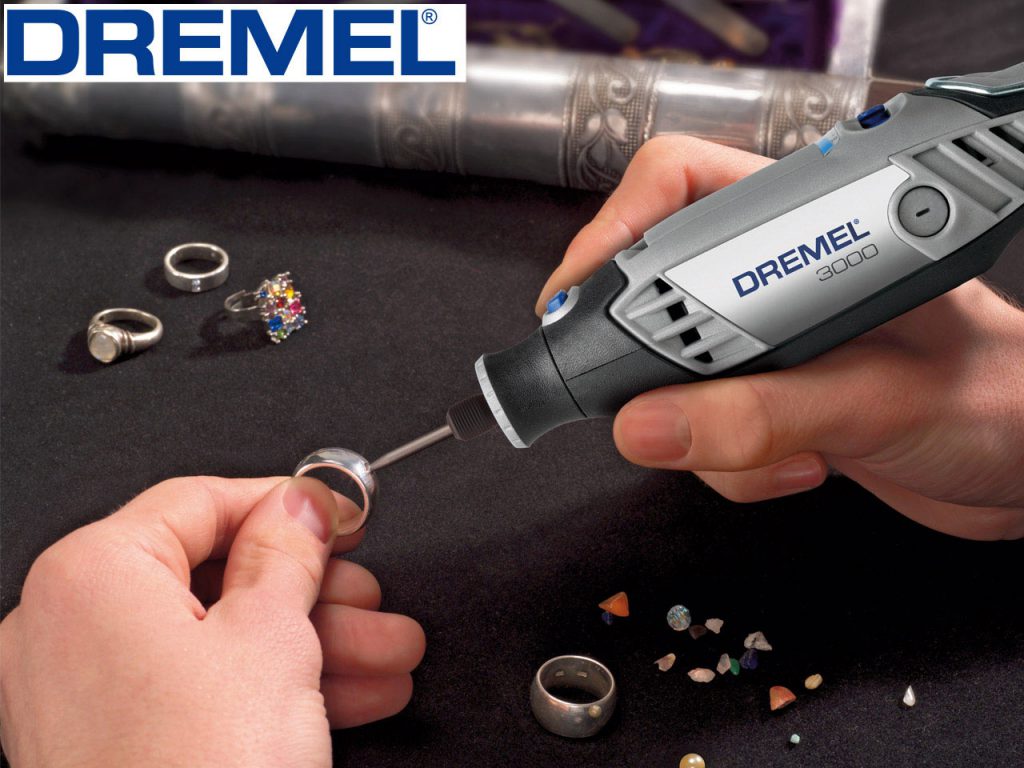 How to use the rotary polisher
Your Dremel 3000 is also an effective hand polishing tool when used with some of the many Dremel attachments that come with your kit. With the sanding discs, grinding stones and nylon bristle brush that come as part of the Dremel 3000 kit, you can efficiently work through every stage of the metal polishing process. Along with the polishing compound provided you have the basics to start learning how to polish your precious metal pieces from start to finish.
Here's how to use the rotary polisher on your jewellery pieces for a professional, high lustre finish.
Start with the coarsest accessory
Select the coarsest sanding bit first. Secure this into your Dremel hand tool using the EZ twist system as previously mentioned. Starting out with the coarsest sanding bit will ensure that you remove any prominent scratches in your work before moving onto the finer sanding bits that will work to polish up the metal you're working with. If you start out by using the finer sanding bits first, this will take you longer and could also wear out your sanding bit a lot quicker than it should. We'd advise to work down the grades for a superior finish.
Choose your speed based on the material
What material are you working with? If you're working with hard alloys, you'll need to use a higher setting for the best effect. However, if you also work with wood and softer materials, you'll need to adjust the speed to ensure the material is not damaged in the finishing process.
For a high lustre shine…
If you are primarily working with metal, you'll want to achieve a high lustre shine that makes your work stand out to customers. That's where you can swap out your sanding bits for a softer polishing wheel. Make use of the polishing compound you get with your Dremel 3000 Rotary Tool Kit – this will leave your metal work with a professional shine with no marks or scuffs.
Remember to start slow when polishing, and while your rotary tool is on a low-speed setting, gently apply the polishing compound to the polishing attachment. There's no need to apply a lot of pressure – let the rotary tool do the work for you. Once you've added a small amount of polishing compound you're free to polish away. Add a little extra speed as you work for a high lustre finish that will impress your clientele.
What sets the Dremel 3000 rotary tool apart from the rest?
The Dremel 3000 is such a versatile tool and one that can be worked into your current jewellery manufacturing processes with ease. In fact, you may even find that the Dremel hand tool will start to replace some of your other tools, due to the sheer range of tool bits and accessories you can access.
With the Dremel 3000 Rotary Tool Kit you already have access to 15 additional accessories, but the range doesn't stop there. Take a look at the Dremel tool bits range for yourself and see how this jewellery tool could play a large part in improving your current manufacturing methods.