This is the final part of our guide to burrs, where we will cover some of the shapes and profiles which don't fall directly into the stone setting category. It is worth noting however, that the way in which burrs are used is completely open to your own interpretation, so don't feel restricted in any way by the descriptions provided here. We are simply trying to get you started and point you in the right direction.
Cylinder Burrs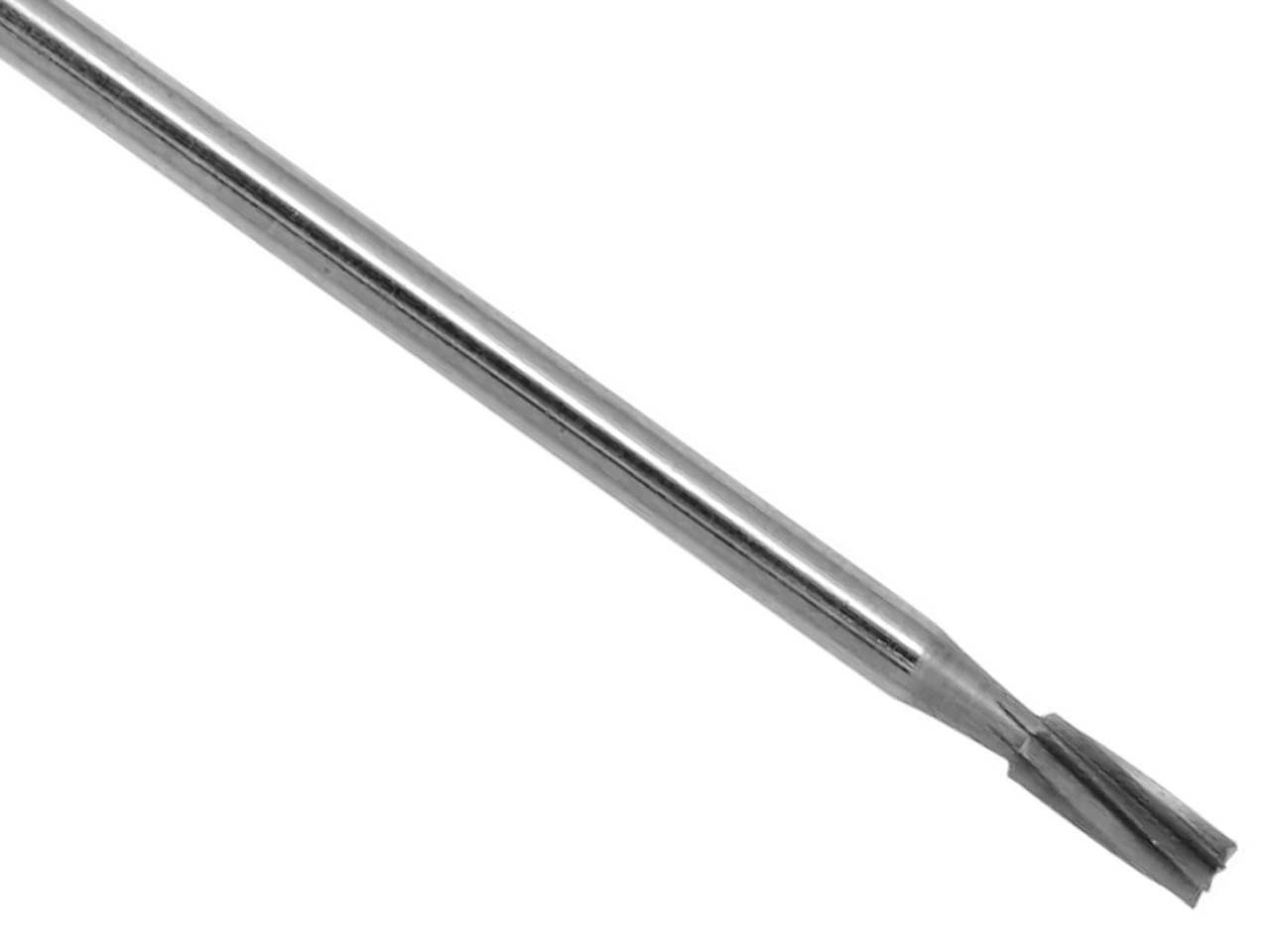 Cylinder burrs are largely used for metal removal, and perform a similar function to a hand file. The twist cut pictured above can be used to grind and smooth metal, and is particularly useful for the inside of ring shanks thanks to the wide cutting face. This type of burr would be used for rough shaping and finishing, and is best positioned with the shaft as far inside your collets as possible to reduce chatter. The more support you can give both your burr and your metal, the better, as it reduces the vibrations caused by the speed of the drill.
Cylindrical Cross Burrs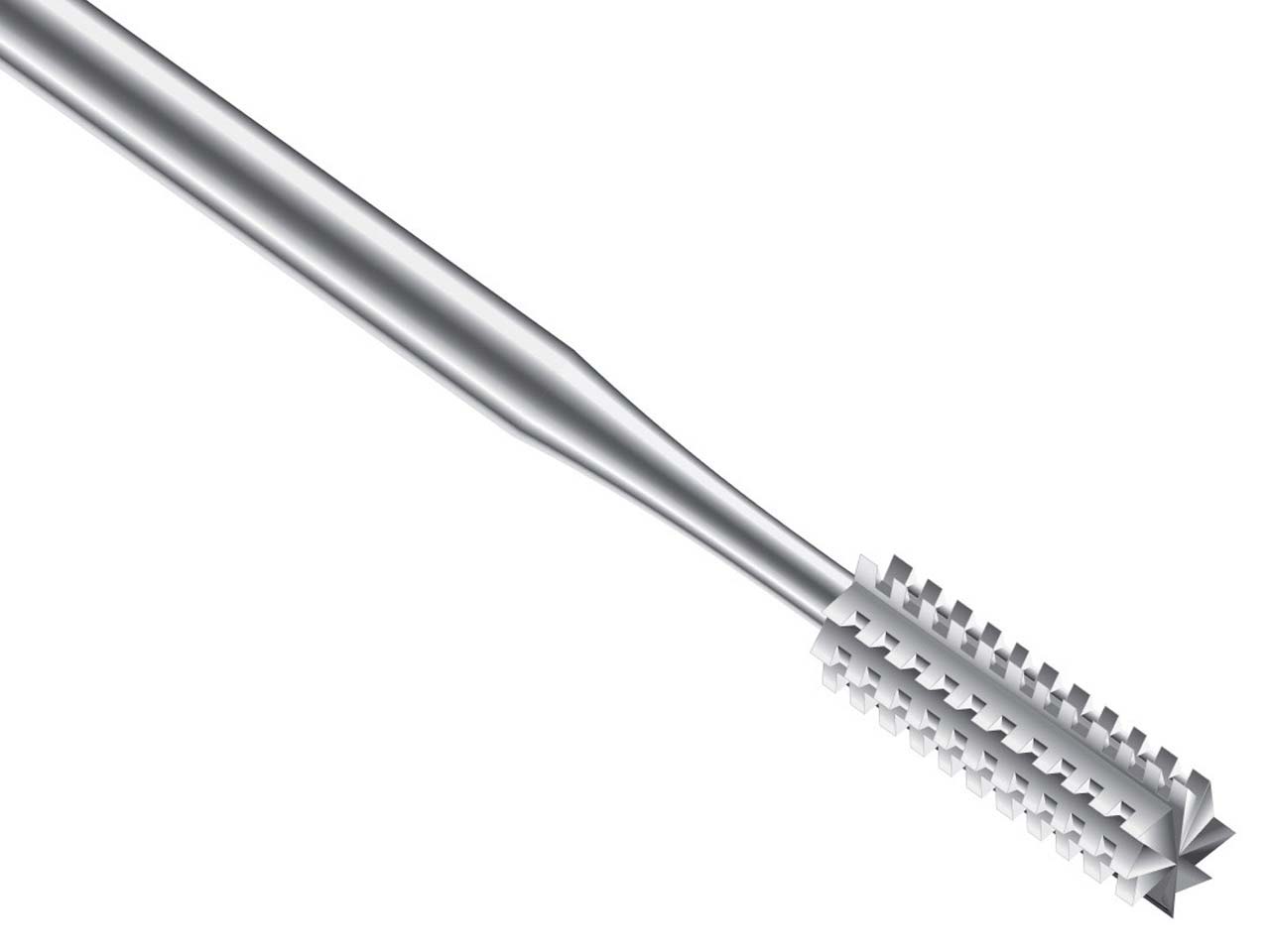 A cylindrical cross burr is a more aggressive version of a standard cylinder burr. It has straight blades with tiny rows of teeth along them to maximise cutting, and can be used to remove large amounts of metal. The tiny teeth can be prone to clogging when used on softer metals, so use with a lubricant to help with this. This is a really hard working little burr which will achieve rough shaping and texturing results in no time at all. They are also very good for taking sprues off of castings; you just need to hang on quite tightly!
Wheel Burrs
Wheel burrs are very versatile and can perform a variety of tasks. They have a similar profile to cylindrical burrs but the narrow edge means they can produce precise lines if required, as well as grinding and shaping. The top face of the wheel also has blades, so this can be used in a fully vertical position to neaten up the inside of bezels. There are really no rules with this type of burr.
Diamond Burrs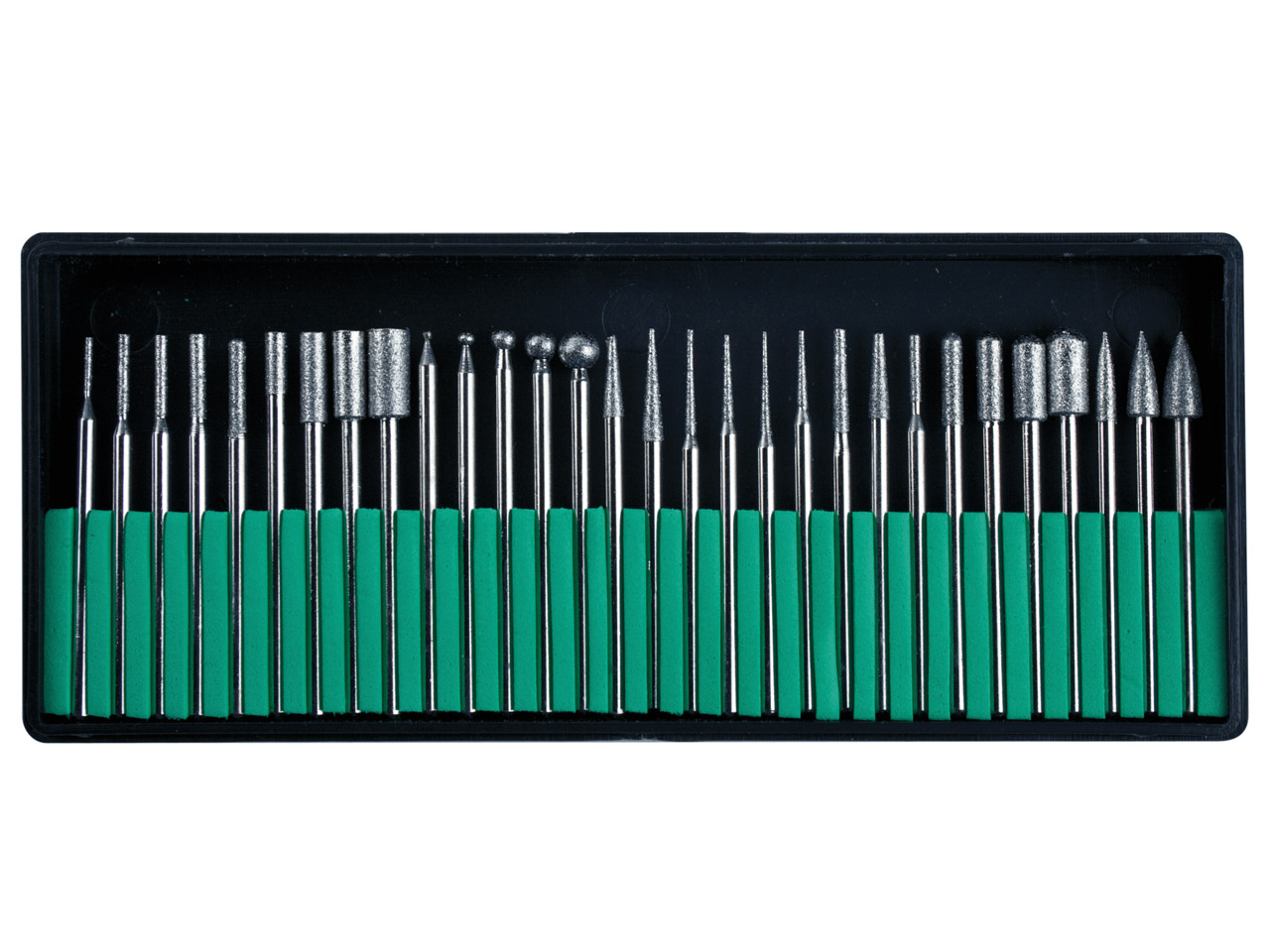 Diamond burrs are generally sold in groups containing a range of different profiles. They are coated in tiny diamond particles, which are either sintered into the surface or layered onto the steel. They can be used for cutting, engraving, shaping, filing, grinding and texturing, and are suitable to use with ceramics, glass, plastics and stone as well as softer metals such as gold, silver and platinum. Sintered burrs have a longer tool life, as coated tools tend to wear out quite quickly.
Burr Hints and Tips
Most burrs can be used in either a handheld drill, such as a Dremel or Proxxon or a Foredom pendant motor. However, some processes which involve the burr to be fully upright and vertical might be better performed using a bench mounted pillar drill.
The recommended speed for burrs depends on their size, the type of steel they are made from and the materials they are intended for, so the manufacturer's guidelines should always be adhered to. However as a general rule, as the burr size gets bigger the recommended speed gets slower.
Always start off at a slower speed until your burr finds its correct position. If you go in at full speed, your tools are likely to slip and vibrate out of place.
Use a lubricant such as Burr Life to assist with smooth cutting, reduce chatter and extend the life of your burrs.
Never push too hard when using a burr, as this can lead to chipping and breaking. Allow the tool to do the job rather than the force of your hand. If you are still not getting a satisfactory result, then your burr may be blunt.
Try to store burrs in a purpose made box or case to minimise any metal to metal contact, which ultimately may lead to tool damage.
Burrs are designed to perform a function at speed, and ultimately make life much easier for the jeweller. Hopefully our guide has now armed you with enough basic information to encourage you to dive in and try out some of these great little tools for yourselves.
Now that you have read our hints and tips on how to make the most of your burrs, why not take a look at the other parts of this blog series where we explore stone setting burrs in more detail as well as how to choose the right type of steel burr for the jewellery design you are working on.