Choosing a burr from the huge selection available is no easy task. There are shapes, sizes and materials to think about, as well as considering the purpose and metal best suited for each design. It's not surprising that many customers are confused about burrs, and resort to decisions based on price, availability or even worse, they just give up altogether.
We have put together this guide with the aim of de-mystifying burrs. We will look at the different types available along with their strengths and weaknesses, and also suggest which designs are best suited to different metals. So, if you are one of the many who is still befuddled by burrs, read on.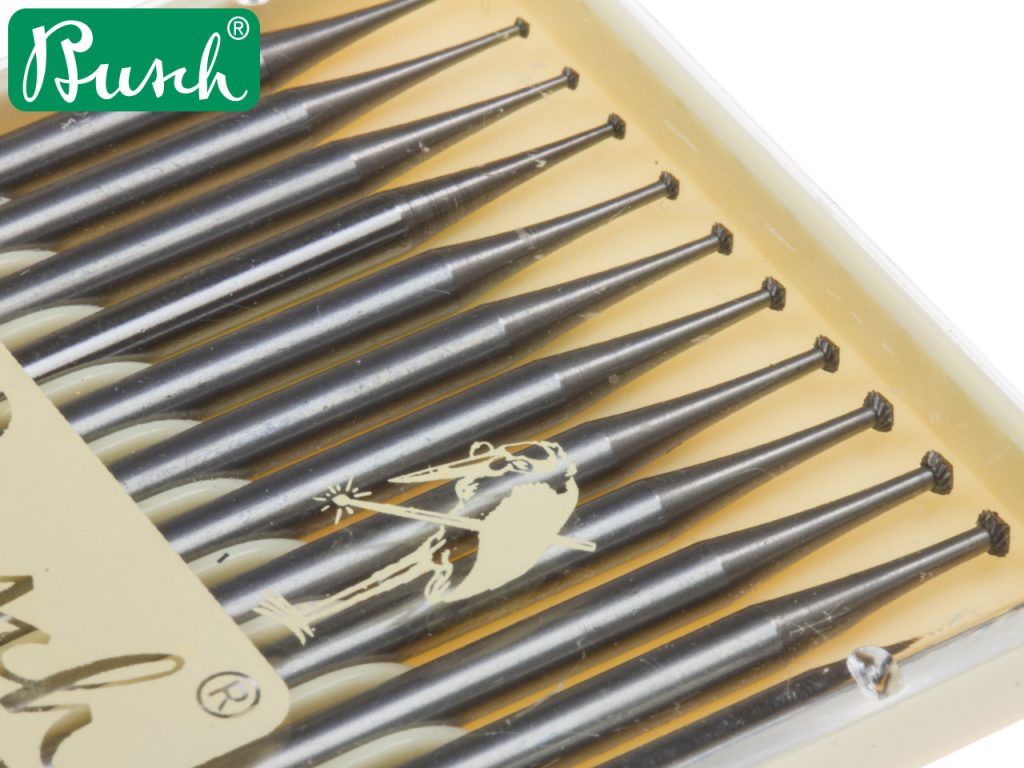 The first step to understanding burrs is to consider what they are made from. Burrs are made from steel which is strong and hard wearing, however like many metals, steel is an alloy made up from a group of other metals just like the ingredients in a cake. There are also many different types of steel just like there are many different types of cake, and it's the ingredients that give each one its particular qualities.
Generally speaking, there are four different types of steel used for making burrs which are summarised below; high carbon steel, high speed steel, carbide and diamond coated or sintered steel. Each has slightly different benefits, for example high carbon steel contains Tungsten and Vanadium. Tungsten provides hardness at increased temperatures whilst Vanadium improves strength and impact resistance. Many of the Busch burrs we stock at Cooksongold are made from a high carbon steel alloy as standard, as it is such a formidable combination.
Which Type of Steel Burr Should I Choose?
High Carbon Steel
High Speed Steel
Carbide
Diamond
Contains:
Carbon, Vanadium, Tungsten
High % tungsten
At least 1% carbide producing element
Diamond coated or sintered steel
Ideal for:
Stone Setting
General Purpose
All Metals
Grinding, carving and sculpting
Pros:
– Hardness and wear resistance
– Precise cutting
– Can operate at lower speeds
– Good edge retention
– Abrasion resistance
– Strength
– Low cost
– Long tool life
– Good rust resistance
– Heat resistant
– 3x stronger than any steel
– Extremely hard
– Good for carving and shaping
– Ideal for long production runs
– Leave a smooth finish
– Best used at high speeds
– Superior cutting and durability
– Diamond sintered burrs have long tool life
Cons:
– Prone to rusting
– Requires maintenance
– Short tool life
– Lower cutting speed range
– Tools can chip and shatter due to hardness
– Too much pressure will break the burr
– Diamond plated burrs will wear out quickly
Once you have an understanding of different steel alloys you can begin to appreciate that some are more suited to softer metal, whilst others will perform better on harder ones. There are no hard and fast rules, and personal preference will always play a part, but the tick chart below is a general guide as to which steel alloy performs best on a range of metals.
Which Type of Steel Burr is Best Suited to Which Alloy?
| | High Carbon Steel | High Speed Steel | Carbide | Diamond |
| --- | --- | --- | --- | --- |
| Gold | ✔ | ✔ | ✔ | ✔ |
| Silver | ✔ | ✔ | ✔ | ✔ |
| Platinum | ✔ | | ✔ | ✔ |
| Copper | ✔ | ✔ | ✔ | ✔ |
| Brass | | ✔ | ✔ | |
| Bronze | ✔ | | ✔ | ✔ |
| Aluminium | | ✔ | ✔ | |
| Pewter | | ✔ | ✔ | |
| Stainless Steel | | | ✔ | |
| Steel | | | ✔ | |
| Titanium | | | ✔ | |
| Niobium | | ✔ | ✔ | |
Look out for the second and third parts of our guide to burrs, when we will examine the different shapes and designs of burrs along with the jewellery making tasks that they are intended for.
To explore the range of Busch steel burrs available at Cooksongold, click here – these burrs are ideal for shaping the setting of a ring, adding indents and engravings to blank alloys, or even for crafting an area for a stunning stone to be set among other tasks.