Wednesday, February 1st, 2012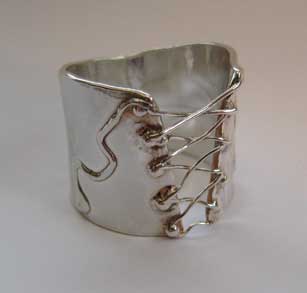 It was while doing a one year 3D foundation course that my tutor suggested I might be good at jewellery. I had grown up in an engineering background and although I hadn't considered jewellery before, I am very grateful for her insight, as she was right!
I applied and was amazed to be accepted to do a degree in 'Jewellery, Silversmithing and Allied Crafts' at Sir John Cass in London.  The course included two placements in the trade.  I graduated with an honours degree in 1987 and was invited to work for one of the jewellery manufacturing  firms I had done my placement with.  I worked as a goldsmith there for several years, doing all manner of work, setting, polishing, occasionally designing.   It was while I was there that I was held up in an armed raid and although I was physically unharmed, it has had a bearing on the person I am today.
After being married for a couple of years I sadly suffered an early miscarriage and decided to leave the environment of the jewellery company as chemicals are a necessary part of jewellery production and I didn't want to jeopardise any further pregnancy.  I continued to make jewellery from a small bench I fashioned from a plank screwed to the wall at home, but only for myself and friends.  I even took jewellery classes so that I could have access to equipment, but ended up helping out the class tutor!
I did indeed have a daughter and jewellery took a back seat until we moved to Devon when she was two. A couple of years later I had my son. Then I gradually started making again, I did jewellery parties for friends, and bought myself some equipment; my bench and a polishing machine.  I still had all my old tools, several handed down from my father, a treasured Archimedes drill and an ancient tool box.  I was determined to continue without borrowing money, which restricted my progress I think.
I started sketching again, photographing everything that caught my eye, getting out and about in the beautiful surroundings.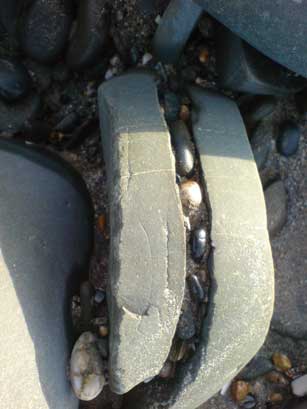 This pendant was inspired by the small stones jammed into a pebble on the beach.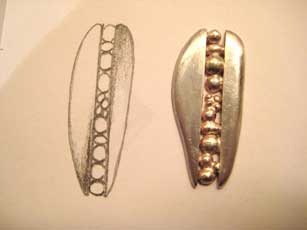 I took a job data inputting for few years to help make ends meet, but for someone creative it was mind numbing.  I started doing local craft fairs at weekends, all the time getting my old skills back up to scratch.
This Nobble ring was inspired by a rubber finger protector I used while data inputting!  I always kept a notebook, or envelope handy to sketch ideas.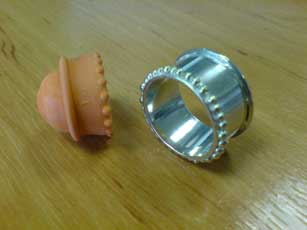 Then a work friend heard of someone looking for a local jeweller to be part of a co-operative gallery.  It seemed a good opportunity for me to make a go of it with my jewellery so I handed in my notice and thought I was back on track as a jeweller.  I got my jewellery into various local galleries and worked one day a week in the co-operative.  The beginning of a recession was never going to be the best time to start up as a jeweller!
I took my jewellery up to London for Liberties 'Open Design Call' which was an experience and one that I am glad I did.  I had a positive response although it didn't lead to anything.
I was doing regular craft fairs but often not covering the cost of the table.  Which meant I had less to spend on the next fair and so on. I found some occasional 'piece work' with a local jeweller, which got me back into the small factory set up again, which felt rather like home.  So my work skills have grown as I can work on items all the way through the casting process from model making, mold making,  waxing to finished set and polished casting.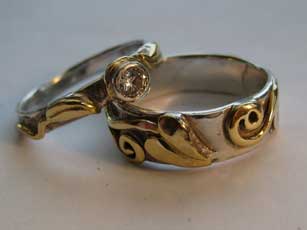 Pair of silver rings over laid with 18ct gold and set with a 3.9ml diamond
I love what I do, I am always making something, often with bits of scrap.  I have a website which performs poorly, despite my best efforts, yet again hampered by lack of funds to invest in a better one.  I have concentrated on enlarging my web presence in the last year and am active on social websites, which has seen interest in my designs grow.  I enter any competitions I can find and have just recently won a new pendant dill, courtesy of Cooksons's Gold forum theme competitions.  Just in the nick of time as my old one was about to pack up completely!  I work very much in the old fashioned way, no flashy computer design for me, I prefer a pencil and a bit of paper.  I do the occasional commission, and last December I made my first engagement ring, which was a joy to do.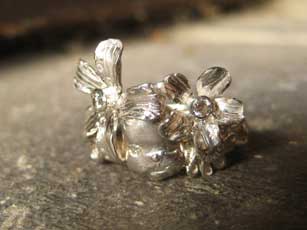 Hand cut and formed baby and flowers engagement ring, set with two diamonds.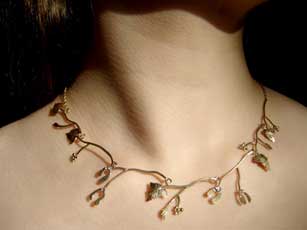 Pierced 9ct gold mistletoe and vine necklace wit silver berries.
I am not sure what this next year will bring, but having come so far and tried for so long, I don't want to give up on something I enjoy doing so much.
To see more of Kim's beautiful designs, visit: www.stylesdesign.co.uk