Traditional enamelling in simple terms is the fusing of tiny glass particles with heat to form a solid layer of colour onto a metal background.  It can be matt, shiny, opaque or translucent, and comes in a wide selection of colours and finishes. There are a number of different techniques which can be used to actually apply the enamel, a selection are listed below:
Cloisonné – Cloisonné enamelling uses thin wires to create separate sections on a metal backing, which are then filled with different colours of enamel. The wires remain visible in the finished piece.
Champlevé – Champlevé enamelling involves the carving or etching of troughs into the metal surface, which are then filled with enamel. The remainder of the metal design stands proud, leaving the enamel decorating only the indented design.
Painted Enamel – Painted enamel is exactly that, and utilises the enamel as a painting medium in the place of any other artist's material. This technique requires an exceptional level of skill.
Plique A Jour – Plique A Jour uses the same technique as Cloisonné by using metal wires to create individual cells, the only difference being that this technique does not use any backing, allowing the light to shine directly through the enamel similar in effect to stained glass windows.
Tiny particles of enamel can be used dry as a powder which is often sieved onto the metal surface, or wet as a paste or liquid which is created by adding a binder such as an organic gum which can then applied with a fine brush. Particles must be ground to an ultra-fine consistency with a pestle and mortar, and thoroughly washed with distilled water at regular intervals to keep everything scrupulously clean. The method used depends on your skill level and also the desired end result, but I would suggest that beginners attempt either Cloisonné or Champlevé in the initial instance.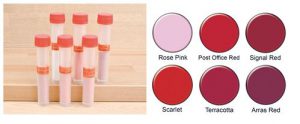 Set of Enamel Colours, Opaque Pink/Red (860 061)
Traditional enamel work must be kiln fired as it requires extremely hot and stable temperatures to fuse. Different colours require different temperatures, but as a guide it can be anything between 700 and 950°C. However, if you feel you are not yet ready to attempt traditional enamelling at this stage, there are ranges of low temperature enamels now available which emulate the look of the real thing, without the extensive preparation or firing to produce the end result.
Efcolor produce a range of low temperature, resin based enamel powders which can be fired in a conventional oven at approximately 150° C. Each container of powdered colour can be sifted using sieve tops, so it can be applied directly onto your metal surface with a minimum of effort. Another way of achieving an 'enamelled' finish is to use epoxy enamel or cold enamel which is essentially a two part resin, cured using a hardening agent combined with the colour. Once mixed, these colours will start to dry in 45mins and be totally dry in 24hours, without the need for any firing.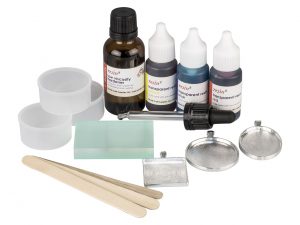 Epoxy Enamel Jewellery Starter Kit (860 031A)
The beauty of these enamelling alternatives is that they can be applied to materials other than metal including wood, glass and even cardboard, so they offer great versatility if you are interested in mixed media pieces. They also offer a range of entry points for people at every skill level, making enamelling much more accessible as a technique which is to be welcomed.
If you want to start adding a touch of colour to your creations then why not give enamelling a try? No matter what your preferred technique, you will find what you need to get started in Cooksongold's extensive range of enamelling supplies, and for an extra helping hand why not browse our selection of enamelling books.