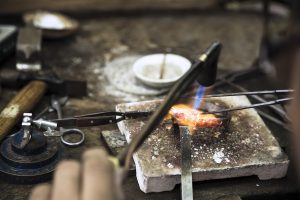 Whether you're a seasoned jewellery maker or you're just getting started, you'll likely find yourself doing plenty of soldering. So, what are the must-have soldering tools that you need for your workshop?
We'll talk you through all the best soldering tools you'll need if you're a beginner, and all the soldering tools professional jewellery makers could benefit from. Interested?
Discover more about all the different kinds of jewellery soldering tools below.
Basic jewellery making soldering tool kit for beginners
If you're still new to the world of soldering, you might be wondering, what do I need for soldering? That's why we've put together a checklist of all the best soldering tools for beginners that you'll need for your jewellery making projects.
Here's what we recommend you pick up to start building your jewellery making soldering tool kit:
A soldering block. You'll need one of these to protect your workbench from heat damage when soldering. You can manipulate the block to suit your needs as well, as it can be broken down into chunks to support whatever is being soldered.
Soldering tweezers. These will help you to manoeuvre the piece you're soldering in a simple and safe manner. But it's important to note that reverse action tweezers can't be used with pickle, so you'll need to pick up some plastic tweezers for that.
Hand torch. A vital piece of equipment for your jewellery making soldering tool kit, you'll need a hand torch in order to heat up the solder quickly and efficiently.
Sheet shears. Quickly cut up strip solder and fine sheet to suit your soldering needs with a pair of sheet shears.
Professional jewellery soldering tools
Now we move onto must-have soldering tools for professionals. If you've been in the jewellery making industry for a while, you'll most likely own all of the above soldering tools and equipment. So what else do you need to move from a hobbyist to a professional?
Find out below:
Soldering probe. A cheaper soldering tool for jewellery making, a soldering probe is a handy tool for quickly guiding molten solder along a join with precision and ease.
GRS Soldering Station. Looking for a tool designed to help you with intricate soldering work? The GRS Soldering Station can do just that. The two three-jointed hands can be manipulated in any way you need, providing you with flexibility and security while soldering.
GRS Soldering Platform. If you frequently work at high temperatures, then this is the best soldering tool for you. A step up from the standard block, this soldering platform withstands temperatures of up to 1760°C, making it ideal for soldering platinum.
Ceramic Soldering Cone. If rings are the primary type of jewellery you sell, it's worth using tools designed specifically for that. A ceramic soldering cone can be used to support and hold rings while soldering, allowing you to work on them with ease.
Aquaflame Micro Welder. Looking to upscale your business? That will require an increased level of stock, so you'll need a tool to help speed up that process and allow you to make more jewellery to sell. The Aquaflame Micro Welder is an all-in-one soldering system made from high-quality materials, so you can be most efficient at soldering.
And there you have it! All the must-have soldering tools for the beginner and the professional. Ready to get cracking with your next project? Pick up all the jewellery tools you need from Cooksongold. Or if you're just getting started and need some inspiration, check out our Soldering Tutorial Round Up For Beginners.