New to making polymer clay? Already given it a go and it didn't work out how you wanted? Either way, we can guide you in the right direction. We'll talk you through the polymer clay tools you'll need, the right workspace set up and many more polymer clay tips to get you started. Find out more below.
Polymer clay tools and equipment
Whether you're new to this medium or not, you'll need to get stocked up with the right equipment. Take a look at the polymer clay tools we recommend for making jewellery:
Polymer clay tips and tricks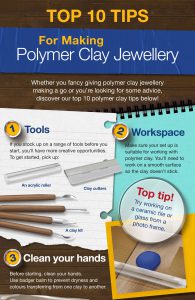 Key steps in making polymer clay jewellery
Set up your workspace Before you start making polymer clay jewellery, setting up your workplace is the first step. Make sure your desk or workbench is clear of clutter that might damage your clay and work on a smooth surface like a ceramic tile or glass so your clay doesn't stick. To make your life easier, try and organise your clay and tools into handy boxes.
Prepare your hands Like the previous tip, there are a few key steps before learning how to make polymer clay jewellery. One of the first things you need to do before you start, is to wash your hands. Next, we'd recommend using badger balm to prevent any dryness and a potential mixing of colours.
Activate the clay before starting Also known as conditioning, you'll need to activate your clay before starting. Firstly, warm up the clay in your hands or through a resealable plastic bag. Next, knead the clay well until it's much more malleable before you begin with the sculpting.
Roll your clay through a clay or pasta machine An essential tip for making polymer clay jewellery successfully – rolling out your clay before working on your design. By rolling your clay through a clay or pasta machine (after folding in half and placing it in fold first), any bubbles will be removed, leaving your clay ready to bake.
Make sure your oven is the correct temperatureOne of the most important things to consider when learning how to make polymer clay jewellery is to ensure your oven is the right temperature. And there's a simple solution for this – use a thermometer. That way, you'll know that your clay is fully cured without the risk of burning or making the clay brittle.
Don't use nail varnish However tempting it is after reading about it online, don't seal your clay! This is a polymer clay jewellery myth. Using nail varnish will make it sticky and the clay is strong enough without it. If you are set on a glossy finish, make sure to use a water based varnish that's made especially for polymer clay.
Store your polymer clay jewellery properly
Understanding how to use polymer clay is one thing, but knowing how to store it properly is equally as important. If you don't store your clay in resealable sandwich bags, it could dissolve some plastics. What's more, storing your clay this way will keep it free from damage and dust – which could ruin your efforts!
And we're done! A whole host of polymer clay tips. Now you know all the ins and outs of making polymer clay jewellery, why not give it a go yourself? Find all the polymer clay tools you need at Cooksongold. Discover what Fimo clay is and how to bake polymer clay online.