A go-to for many jewellers, stone setting is one of the most common techniques for jewellery makers. But what equipment do you need to do the job? From a pendant drill through to ring clamps, we'll guide you through our top 5 essential tools needed for stone setting below.
Your essential stone setting tool kit
1. A Dremel or pendant drill
The first piece of equipment you'll need in your stone setting tool kit is a pendant drill or Dremel multi tool. A pendant drill or Dremel is a rotary tool that can be used on a range of different materials, such as wood, glass, electronics plastics and of course, metal. This handy tool can be used with a wide variety of burrs, making the adjustment of stone setting depths a much faster and simpler process. To ensure you have the right sized seats for your stones, pick up a set of 11 stone setting burrs – available in a range of widths, from 3.5mm to 8mm.
2. Needle files
Used to shape and finish metal, needle files are essential stone setting tools, especially if you're new to the technique. Needle files are great if you haven't quite got the height of your bezel right, so you can make sure your stone fits snugly in the setting. Working on a prong setting? If the prongs are proving difficult to mould over the stone, use your needle file to remove some of the inner metal and they should be easier to manipulate.
3. Burnishers
Another one of the tools needed for stone setting is a burnisher. This piece of kit is mainly used to smoothen your jewellery pieces and make them shine. All you need to do to get this professional, polished look is rub down your design (this works particularly well with gold, copper and sterling silver) – and in a few strokes your piece will start to gleam.
4. Pushers
The next item for your stone setting tool kit is a pusher. Ideal for use with faceted gemstones, the pusher is a useful tool for ensuring the prongs are securely held in place over the stone. Simply apply a small amount of pressure until the prongs are as snug as you require, and your setting should be good to go! With a handle shaped to fit comfortably in the palm of your hand, you can get a good grip of the pusher, maximising the accuracy and control of your movements.
5. Ring clamps
And the final piece of equipment in our jewellery stone setting tools list is a ring clamp. A ring clamp is used to hold a ring or small piece of jewellery in place while you work on it. This helps to prevent any accidents from happening during the stone setting process, like slips or dropping the piece, so your design can be finished to the highest possible standard. All you need to do is remove the wedge, position the ring in the felt lined jaws and then re-tap the wedge back in so the design is secure and ready to work on.
Learn more about our advanced stone setting techniques and tools below
Looking to take your stone setting to the next level? Use our visual guide on advanced gemstone setting techniques below for some inspiration.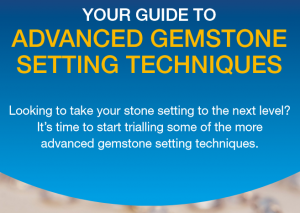 Now you know the top 5 essential tools for stone setting, what's stopping you from getting started? Pick up all the jewellery tools you need for your projects at Cooksongold. For more information and advice, browse the equipment & technique focus section of our blog – so you can develop your jewellery making knowledge further.