ALL ABOUT CAD
CAD: Computer Aided Design is the use of computer software to design and create a digital 2D drawing or 3D model. It is the perfect platform to create a variety of designs using modern technology. With 3D CAD you can share, analyse and modify designs with ease, opening a door of opportunities to be creative and innovative. To take this one step further WE offer the service to 3D print your CAD designs for you, in high quality precious metals bringing your design to life.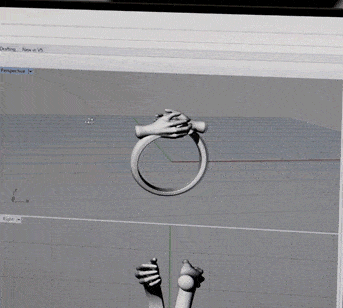 When CAD was first introduced it was not deemed as an economical proposal due to the high price of machinery. But with the evolution of technology and increase in the use of computers in the late 20th century, an introduction of minicomputer and the microprocessor shortly following, it allowed engineers and designers to use CAD files that showed an accurate representation of objects in all angles, dimensions and properties.
Why use CAD?
You can get creative and begin your designing process: Create easily editable designs, with a quicker process to redesign pieces. You have the ability to render your designs before they are even made.
While CAD is extremely versatile, it is expansively used for designing equipment, tools and now jewellery designs within manufacturing processes. It allows designers and jewellery makers to plan and develop their work on a computer with the ability to edit, print and modify their designs for future changes.
A key advantage of using CAD software is the quick ability to edit in comparison to traditional manual methods.  CAD is extensively used from the layout of conceptual design to the manufacturing of different mechanisms. CAD significantly decreases the design time by portraying accurate simulations before having to physically use or test the model in practical applications. Combining CAD with CAM (Computer Aided Manufacturing) modernises product development even further.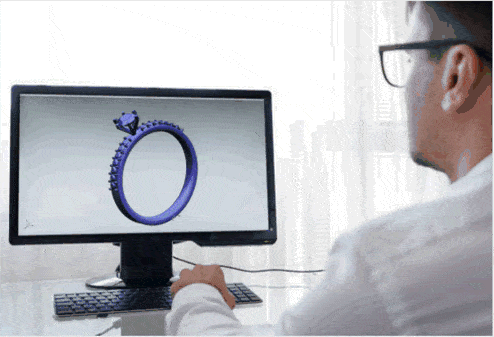 CAD Uses
3D models are very important in modern jewellery design within the jewellery industry. CAD models are used to design jewellery in any shape or material including precious metals.
CAD can be used to achieve preliminary layouts and design, it has the ability to include intricate details and accurate calculations to accomplish real 3D models including detailed jewellery pieces such as pendants, rings and earrings. It is essentially creating and unleashing your drawings to life. In the world of 3D printing with Cooksongold this would mean bringing any design to life in precious metal where we do the printing for you.
CAD simplifies the manufacturing process by allowing a quicker transfer with detailed information about your object in a computerised format that can be universally interpreted. It can be used for 2D or 3D designs, with CAD tools allowing said object to be perceived from all angles.
CAD today has saturated across several industries including manufacturing, electronics, aerospace and within the jewellery industry. CAD greatly inspires innovation and allows the possibility to build imagination into a real space simultaneously speeding up productivity.
CAD use in Jewellery Design:
In simple terms, a CAD file of your design and/or object is used to 3D print a wax model, this can then be cast into a precious metal of your choice. This 3D printing process is much more efficient than creating and producing a hand-made wax model thus evolving the jewellery industry and making this a new highly used practice especially over the recent decade.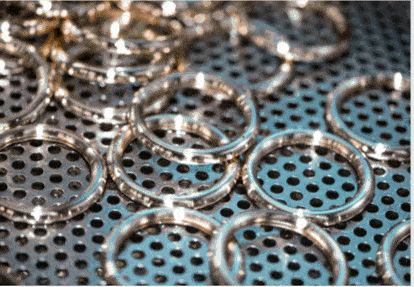 A 3D designer is able to visualise what the final jewellery piece will look like much earlier in the process rather than waiting for it to be physically produced. This also enables the designer to predict any possible design flaws and can use specific design guidelines to ensure it is perfect to be printed. Saving several hours of designing by using a CAD software rather than hand-drawing your piece. Another key advantage is that as a jewellery designer you are able to estimate the metal weight before production as a result making any edits before committing to printing your design and adjusting or scaling if necessarily.
CAD software advantages:
Easily editable designs
Efficiency in the quality of design
Increase in designer's productivity
Quicker process to redesign pieces
Ability to render your designs before they are made
Can allow organic design through different modelling techniques
Getting started today:
It is a modern approach to design and all you need is a computer and the right software for you! You can even use a graphics tablet that are compatible with CAD software so you can design on the go. The first step is choosing your 3D design software. CAD can be daunting but as a technology there are plenty of places to learn how to design with CAD. There are free resources such as YouTube with a great insight of information and several extra resources such as paid courses even at degree level. We also offer a CAD 3D Software Guide you can use on our website to create CAD designs or more specifically CAD jewellery designs that you can get 3D printed with us in a simple 3 step create upload print process which you can learn more about in our previous post.