We have reached the third and final part in our series of articles covering the huge range of jewellery clasps that are available. Now in our final instalment, we bring together some more designs of jewellery clasp, along with suggestions on where they might be most suited to give you a helping hand in choosing the right one for your handmade jewellery piece.
Previously in this guide, we looked at other clasps including trigger clasps and lobster clasps, as well as some of the more elaborate options such as sliding clasps and Albert swivel clasps – why not take a look?
What is a padlock clasp?
Pictured below is a classic padlock clasp, which can be most commonly found on heavyweight curb chain bracelets accompanied by a safety chain. The semi-circular bar at the top of the design is opened by gently pushing your finger against the protruding post alongside it, and pulling upwards in a lever motion. Once open, both ends of your necklet or bracelet can be looped over the bar before snapping it shut again to secure it.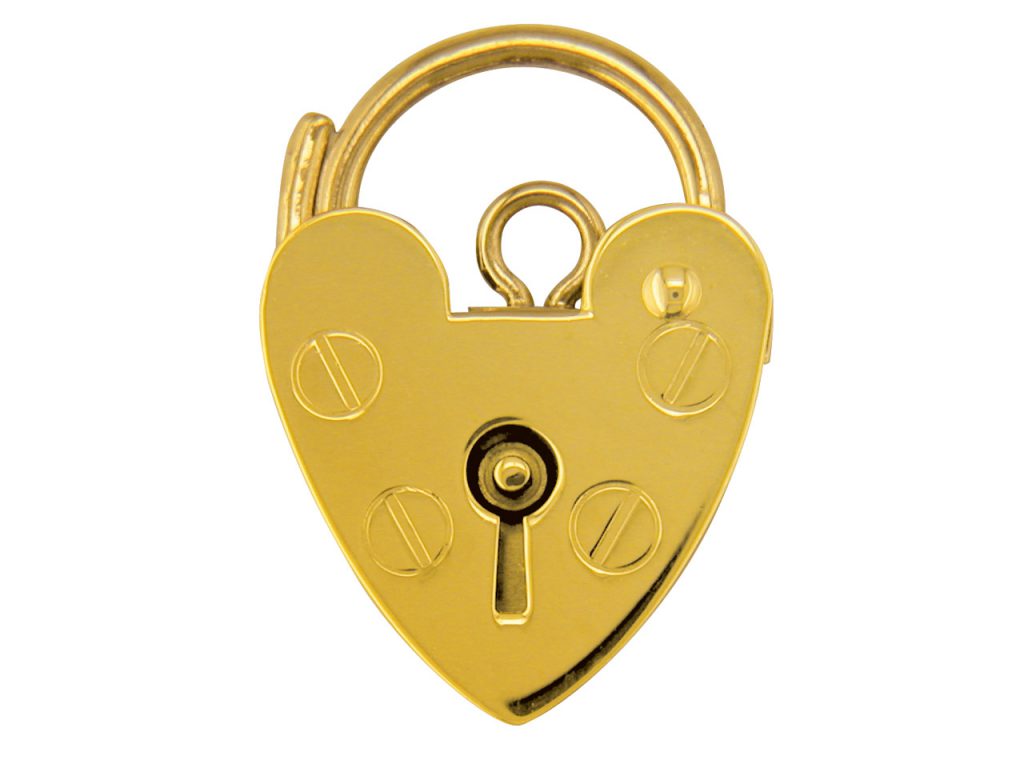 For extra security, padlock clasps are almost always paired up with a short safety chain which also attaches to both ends of your piece, as well as threading through the loop located at the top of the heart design. This way, should the worst happen and your padlock clasp was to be pulled open accidentally, your jewellery would still remain attached by the safety chain and therefore should not fall off completely.
These sorts of clasps are quite elaborate and can easily become the main focus of a design. They are also generally quite heavy, so need to be teamed with an equally heavy gauge chain which is why traditionally they are put onto heavyweight curb chains. Available in a range of sizes as well as silver, 9ct yellow and red gold alloys, the padlock design is definitely the way to go if you want to add a special touch to your jewellery design.
What is a bayonet clasp?
A bayonet clasp is an altogether different design, and in stark contrast to the padlock, has a very modern, minimalist look about it. With a simple push and twist action, two pieces of tube are locked into place, providing a strong and secure fixing mechanism suitable for light to medium weight pieces.
Loops can either be soldered to the end of each side or alternatively, lengths of rubber or leather can be glued into place as each piece of tube has been left unsealed. The bayonet clasp has lovely clean and uncomplicated lines so is perfect to finish off contemporary, streamlined jewellery designs without distracting from the main feature itself, and is an extremely popular choice for many.
What is a multi-strand clasp?
Multi-strand clasps offer a simple way of securing a series of layered chains or beads at one fixed point and come in a variety of designs. All contain loops on either side to attach the strands, and can accommodate 2, 3 or 4 rows ordinarily.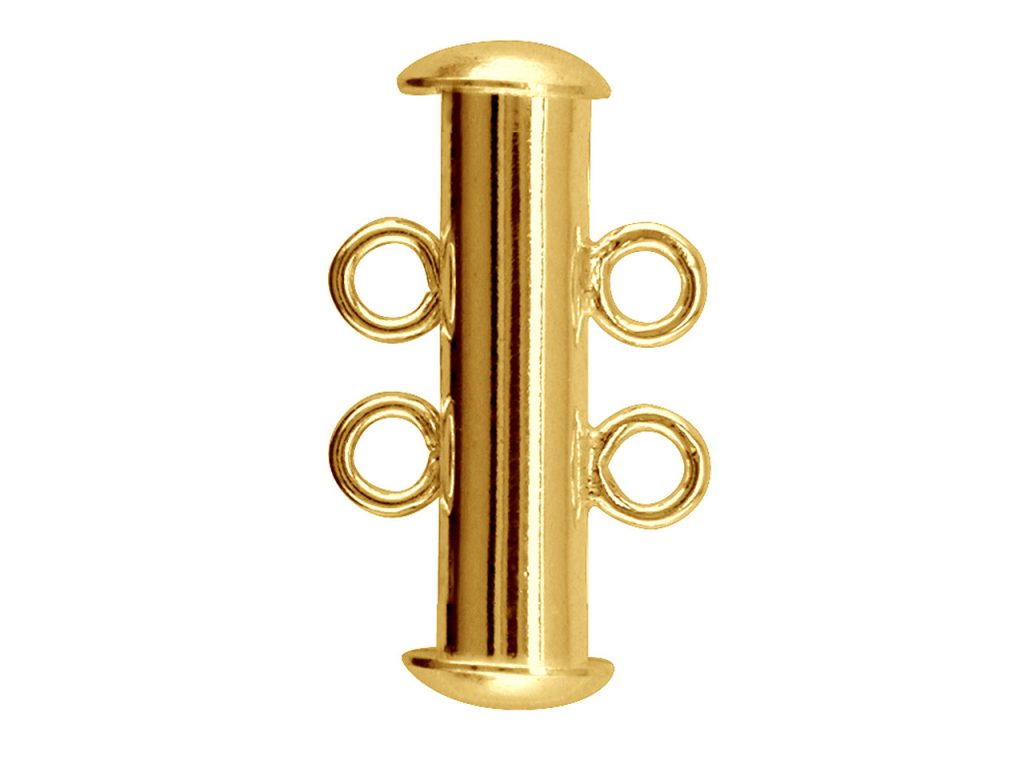 These clasps in particular are easy to use and secure way to fasten multiple strand necklaces and bracelets. When selecting a multi-strand clasp, consideration needs to be given to the width of your design as the spacing of the loops on the clasp can vary. For example, larger designs might require a bigger gap between the loops on your chosen clasp so that the separate strands lay flat.
With a variety of clasp styles covered here as well as in part 1 and part 2 of our guide to jewellery clasps, we hope selecting an appropriate clasp has become easier for you. So, why not start your next jewellery making project by exploring the selection of clasps available in our range of jewellery findings, or even take a closer look at many other types of findings in our handy Essential Guide to Jewellery Findings?