By Jo Varney
It's always nice when new products are added to Cooksongold's range, and particularly exciting when I get to try them out! Cooksongold has recently introduced a selection of beaded wire and beaded rings, which will be useful as both a jewellery making component and as a finished jewellery piece.
Beaded Rings
The beaded rings are constructed from a series of tiny balls fused together to form a continuous circle which is extremely tactile, as well as being pleasing to the eye. There are 3 widths to choose from (1.5mm, 2mm and 3mm) which relates to the diameter of the balls, thereby giving you a different look with each size.
The 3mm will give you a bolder, more edgy look and will stand alone easily. However, the narrower gauges are ideal for stacking and layering with other rings, enabling you to build up texture and contrast when placed next to a plain band or an oxidised piece.
What finishes are beaded rings available in?
There are three finishes available; sterling silver, rose gold filled and gold filled, the latter two of which comprise of a brass core bonded with 12ct gold. By definition, a bonded gold layer is thicker and more durable than gold plating, and must make up 1/20 of the overall weight of the piece.
So, in practical terms, this means that you get the look and feel of gold, but without the price to match. As the bonded gold is 12ct rather than 9ct, it has a good, strong colour and contrasts well against silver, creating more possibilities in terms of mixing and stacking within the range.
Beaded Wire
The lovely new beaded wire complements the range of beaded rings perfectly, as it comes in exactly the same variations as the additional 9ct and 18ct options. That means there's plenty of handmade jewellery designs with beads that you can start to work on.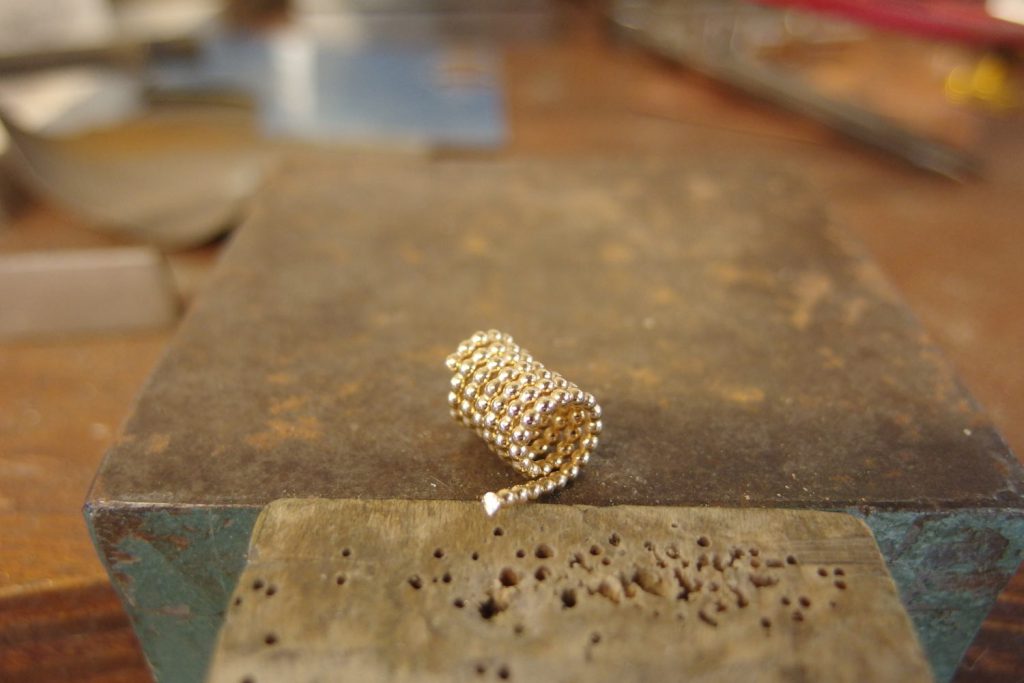 To satisfy my own curiosity, I had a play with a section of 1.5mm gold filled beaded wire and found it to be extremely pliable and easy to work with as you might expect, as it is supplied half hard. I was able to quickly form a coil to make jump rings by hand, and sawing through was easy as you have the convenient indents between each tiny ball to guide you.
I didn't have the recommended 14ct easy gold solder to join my jump rings together, so instead used some 18ct hard that I had in stock. Obviously, there will be some slight colour variation if you don't use as close to the bonded 12ct layer as possible, but it will still work correctly.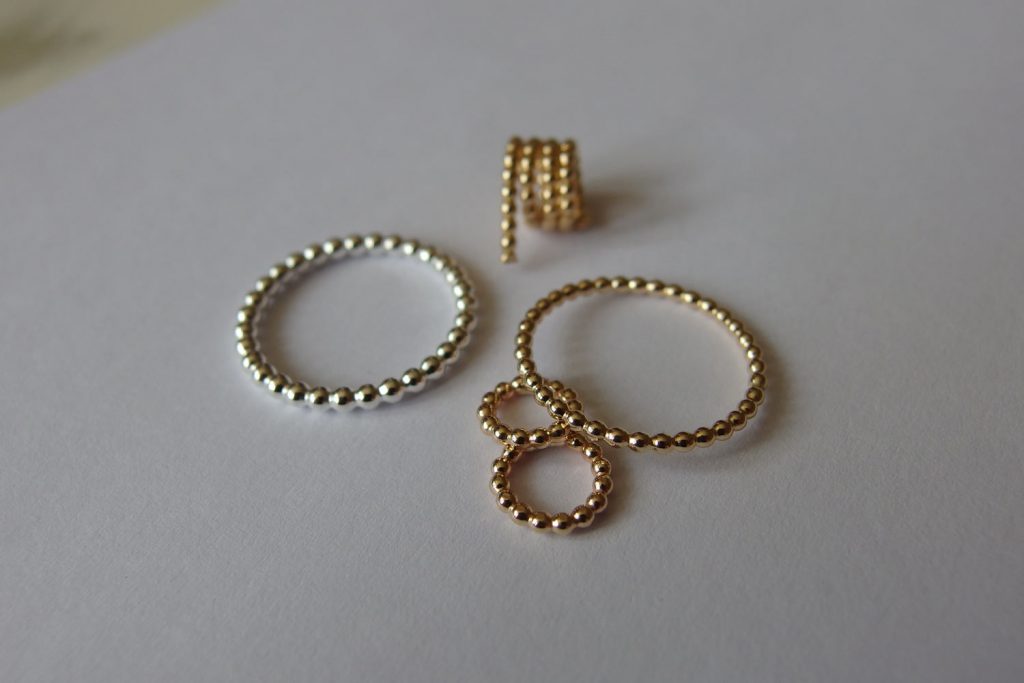 Tumble polishing beaded wire
Once cleaned, I was curious to see how the pieces held up inside my tumble polishing machine for a few hours and I'm pleased to say that they passed with flying colours. Two hours of polishing made no obvious difference to the bonded gold finish, apart from making it a little shinier.
In conclusion, you can use beaded wire and beaded rings with confidence, safe in the knowledge that the colour is not going to alter during basic jewellery making processes. There are lots of things to make with beads and wire, and I can't wait to start incorporating them into some bead and wire jewellery designs.
So, why not take a look at our new range of beaded rings and beaded wire for yourself and get creative with your next jewellery design?