Jewellery clasps come in all shapes, sizes and price points. A variety of types of clasps for necklaces and different types of bracelet closures are available, with Cooksongold stocking over 500 different jewellery clasps in a number of styles and alloys – so where do you start and how do you pick a clasp for your jewellery making project?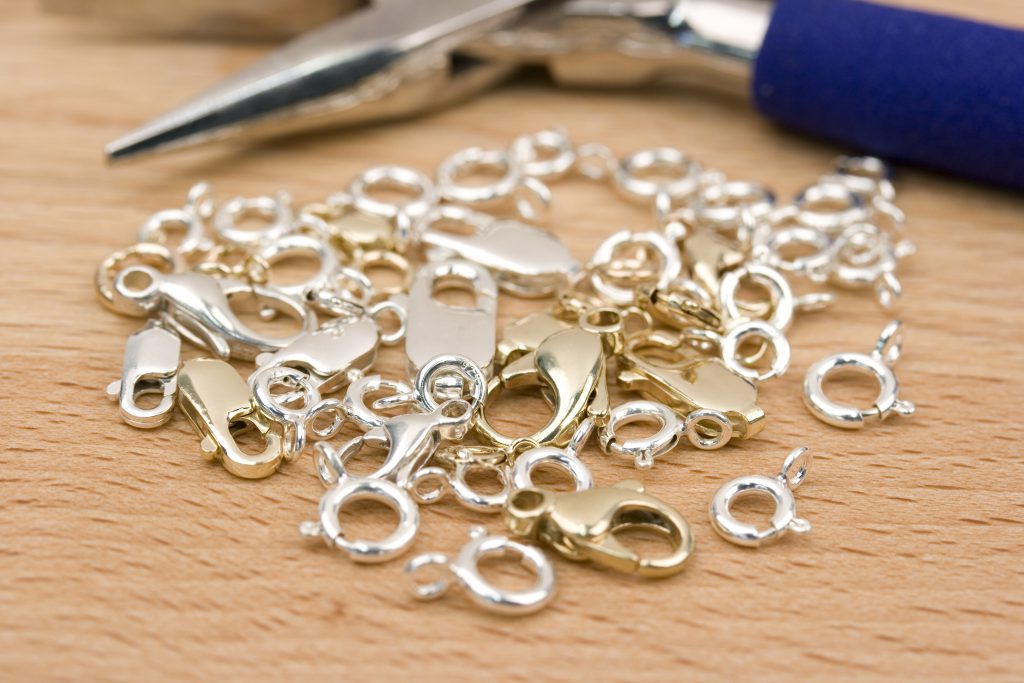 Well there is really no definitive answer when it comes to choosing a clasp, as in most situations a few different types of jewellery clasp would adequately do the job. However, the right choice should be based on 3 main factors; size/weight, price and aesthetics, so here is a summary of some of the most popular types of jewellery clasps available, along with their pros and cons.
When you're done, remember to take a look at parts 2 and 3 of this guide too to get to know even more types of clasp that you may wish to select for your jewellery design.
What is a bolt ring clasp?
Bolt ring clasps are your standard, 'bread and butter' type of clasp. They are functional and affordable, and you will find them on many lightweight pendant chains due to their inconsequential weight. There is really nothing lighter than a bolt ring clasp, so they are perfect for keeping costs down.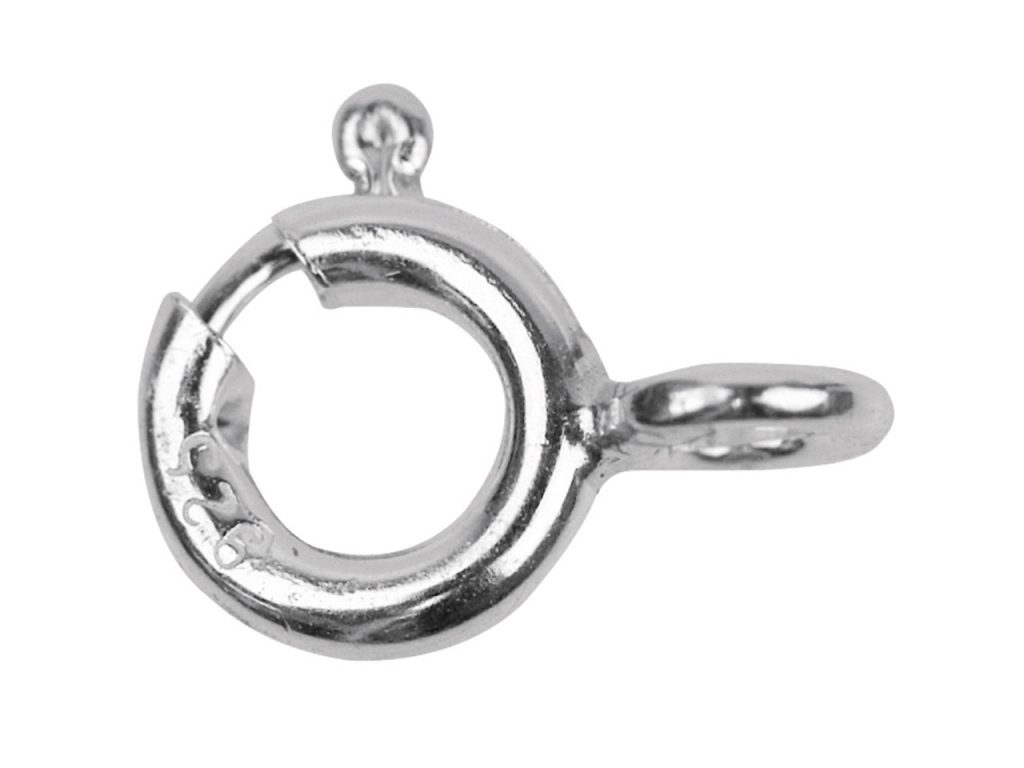 As with any sprung clasp, heat needs to be kept away from the mechanism as it will render it useless, and the smaller sizes can also be difficult to manage if you have any sort of dexterity problems. Sizes start at around 5mm but go up to a jumbo size 22mm, which is a much heavier and decorative style. When using a clasp of a larger size it is also no longer just functional, and instead becomes an additional feature of the design.
What is a lobster clasp?
Lobster clasps, or lobster catches, are the next step up from a bolt ring and are named due to their obvious resemblance to a lobster claw. They are stronger, heavier and more expensive than bolt rings, and therefore make a good choice for higher priced items.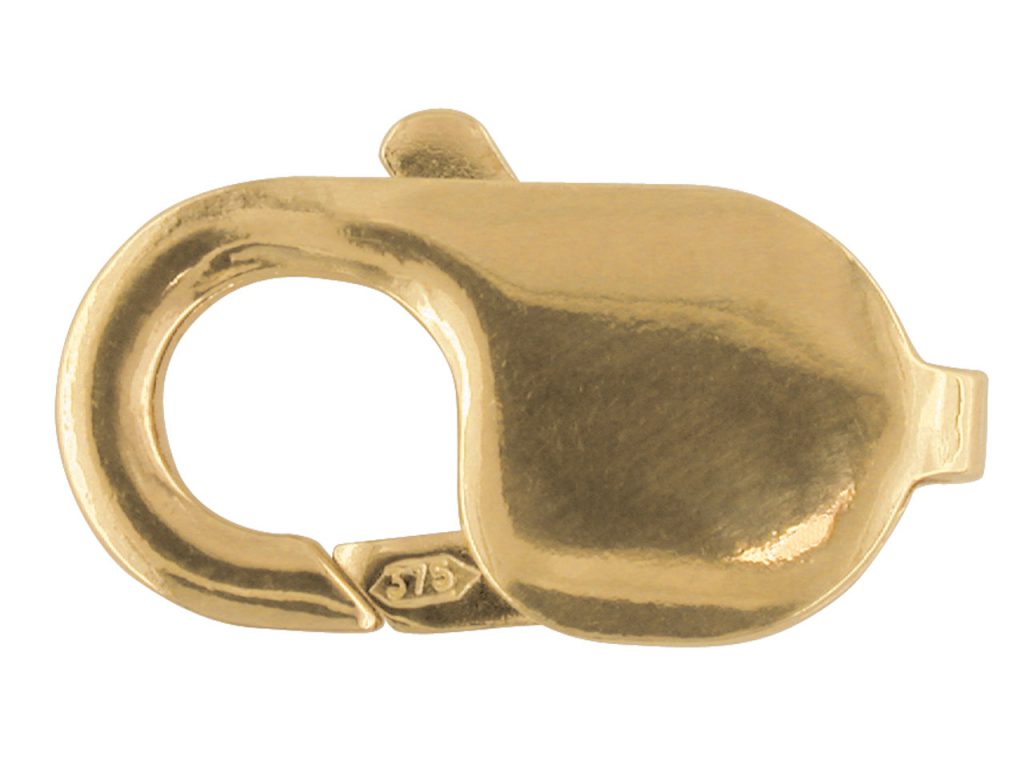 Lobster Clasps are suitable for longer length, heavier pendant and bracelet chains where the weight of the chain or pendant will offset that of the clasp, thus helping to keep it in position. Conversely they are not suited to light weight chains. You should also always consider the size of the ring to be secured within a lobster clasp, as the trigger opens inwards which can sometimes restrict its functionality. Sizes start at 7mm and go up to a substantial 18mm.
What is a trigger clasp?
Trigger clasps function in the same way as a lobster clasp, but tend to be a little more stylised and aesthetically pleasing thanks to the rounded features which are sometimes described as 'baroque'. As you would imagine they are often a little more expensive than a lobster clasp, but offer increased functionality thanks to a more generous opening which can accommodate a larger jump ring.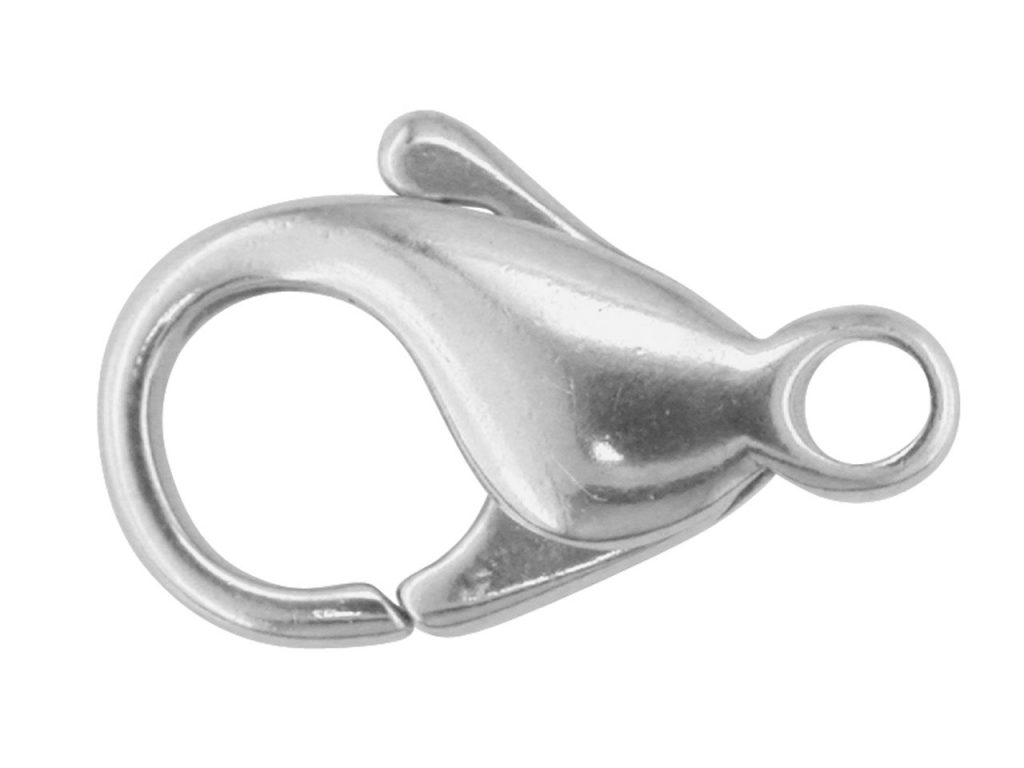 Again trigger clasps can be quite heavy, so are suitable for heavier weight chains and pendants to balance things out. If you have a really nice piece of jewellery at home, odds on it will have a trigger clasp on it which is worth keeping in mind. Sizes start at 7mm and go up to around 18mm.
What is a magnetic clasp?
Magnetic clasps for jewellery consist of a pair of magnets concealed in some sort of decorative outer casing, which simply lock together when one is placed alongside the other. They are often spherical or elliptical, and are extremely pleasing on the eye. Magnetic clasps are a great choice for anyone who is partially sighted or suffers from dexterity problems, but more often than not, they are to be found attached to beautiful strings of pearls or beads which require a clasp that will blend seamlessly into their design and rhythm.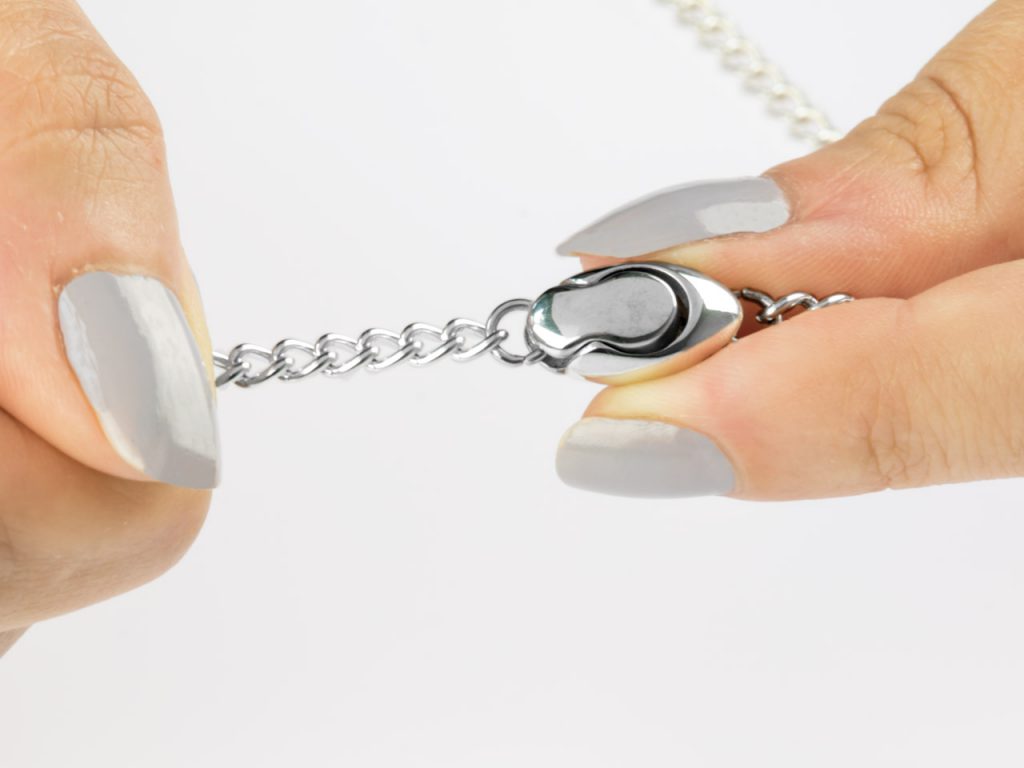 Magnetic clasps for jewellery are not cheap or lightweight due to their complexity, but they are often quite beautiful objects in their own right which makes them ideal for those really special pieces, or for something requiring that extra design element. I would take the time to choose one in person if possible, to avoid any costly mistakes regarding their size and weight.
There are plenty more clasps that you may wish to choose from of course – it all depends on what you are looking for to suit the style of your jewellery design. Now you know more about the more basic styles of clasp, why not read part 2 and part 3 of this guide to learn more about other types of clasps, or our Essential Guide to Jewellery Findings to discover the many other types of jewellery findings available?