Are you a metalsmith in the making? If you'll soon be working at a jeweller's bench to train as a professional jeweller, there's no doubt that a large part of your time will be spent creating different types of engagement ring styles. We've rounded up 11 different types of engagement ring styles to help you get a head start on your jewellery apprenticeship.
For a visual rundown of our favourite engagement ring settings, check out our top 5 types of engagement ring settings and the best gemstone cuts to accompany them, from the classics to the vintage-inspired, and the all-new alternatives.
What are the different types of engagement ring styles?
Classic types of engagement rings
The solitaire
The classic engagement ring. With a solitary stone set in a three, four, or six prong setting, this engagement ring style places focus on the chosen stone. As the star of the show, you'll want to provide your customer with a perfect, brilliant cut stone held in place using a prong setting to allow it to catch as much light as possible, or a beautiful rubover collet.
The three-stone
The three-stone engagement ring (also known as Trilogy) is an increasingly popular choice, with many opting for a larger central stone with two smaller stones set either side of it. The setting used will depend on whether the customer chooses a round cut, or something more unusual such as an emerald cut. Either way, you can be a little more technical with this engagement ring style. Plus, you may have to source more coloured stones to sit alongside the central diamond.
The halo
The halo engagement ring is a much more difficult piece to produce. This is simply due to the sheer number of gemstones used to produce the final result. The central stone is bordered by a halo of smaller stones, hence the name. The halo itself can take the most time to produce as each smaller stone that sits in the halo will require its own accurate, small setting.
The pavé
Pavé refers to the setting of tiny gemstones that are placed so tightly together it forms an illusion of there being no setting holding them in place. The pavé engagement ring style usually features this kind of stone setting along the band of the ring, with a larger stone placed centrally. A solitaire engagement ring with the pavé detail along the band is a popular choice for a classic look with an additional touch of luxury.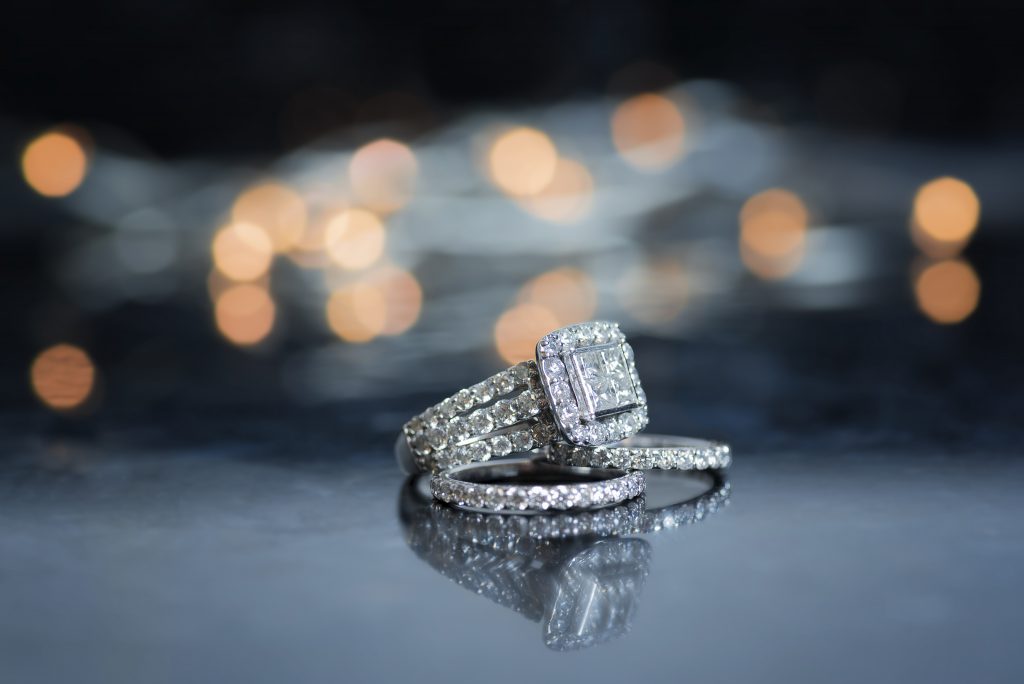 Luxurious types of engagement rings
The double halo
Double halo engagement rings tend to feature round, cushion or oval cut gemstones. Those stones with softer edges lend themselves well to having a double halo of tiny stones surrounding them in a fluid way. Due to the double halo generally creating a larger piece to work with, many double halo engagement rings also feature split bands. For an even more decadent look, a pavé band can be added. With the addition of more gemstones across the band, this allows the overall design to flow, and catch the light from all angles.
The bombe
The bombe engagement ring is a truly decadent engagement ring featuring a large dome with a stone at its centre, embellished by smaller gemstones surrounding it in swirling or geometric patterns. Harking back to Edwardian style, the bombe cocktail ring was later re-popularised in the 1950s and 1960s, and is now an appealing choice for a unique engagement ring. Curved with a large surface area covered in gemstones, the bombe engagement ring is a striking piece, especially when using contrasting coloured stones throughout.
The cluster
Much like the bombe style, a cluster engagement ring is a luxurious choice, simply due to the number of stones used in the piece. A cluster style can range in its overall pattern but the main difference is that where a solitaire ring features one stone, this can feature many smaller stones to form an intricately placed cluster. A stone of greater carat can be placed centrally, with smaller stones clustered around the central stone to provide the look of a larger solitaire stone.
Vintage inspired types of engagement rings
The art deco inspired
If your customers are opting for vintage-inspired engagement rings, the art deco look is always a popular choice. Harking back to the late twenties when clean lines and geometric shapes teamed with angular, faceted gems were fashionable, this type of engagement ring can be quite complex to make. Plus, sourcing large, angular stones as the centrepiece can be a little more difficult to get your hands on.
The Edwardian
Those looking for a vintage-inspired engagement ring with a softer edge may prefer an Edwardian style instead. Inspired by the garland style introduced between 1901 and 1910, Edwardian-inspired engagement rings tend to feature oval-shaped settings with floral clusters and delicate beading.
Alternative types of engagement ring bands
The shaped band
More and more jewellers are producing different types of engagement ring bands that do not fall in line with the usual ring band shape. Jewellers are now creating engagement ring bands with triangular shapes, where the stone is set inside the triangle, for example. Young designers are now moving away from traditionally shaped bands, and using geometric shapes to create something really unique.
The new age cluster
A new type of cluster engagement ring is increasingly being made by modern jewellers. The only difference is that the cluster of stones is not laid out in a symmetrical way. Instead the cluster may be offset to one side or the other, featuring several different coloured stones of different size.
Stock up on all the bullion and gemstones you need to create your own unique engagement rings.