When you first decide to try your hand at jewellery making, the sheer amount of materials, projects and tools can seem overwhelming. Where do you start? What supplies will you need?
To help narrow down your options a little we've put together our top 5 beginner jewellery making projects. With each project comes a full step by step guide for the project itself, what tools and materials you'll need along with visual guides. It's a simple way to take your first steps into jewellery making. Browse the different jewellery making tutorials for beginners below and get to work!
1. Sterling silver and Swarovski pearl bunny necklace
Amount of time to make: approx. 1-2 hours
A simple, statement necklace. The Swarovski pearl bunny necklace is one of our ideal jewellery projects for beginners because it requires some basic tools and supplies and a little patience to create something elegant and detailed.
Skills you'll learn:
How to manipulate silver wire to create a unique shape
Basic wire wrapping techniques
How to form loops in silver wire with bailing pliers
Check out the Sterling Silver and Swarovski Pearl Bunny Necklace beginner jewellery making project and create your very first necklace design.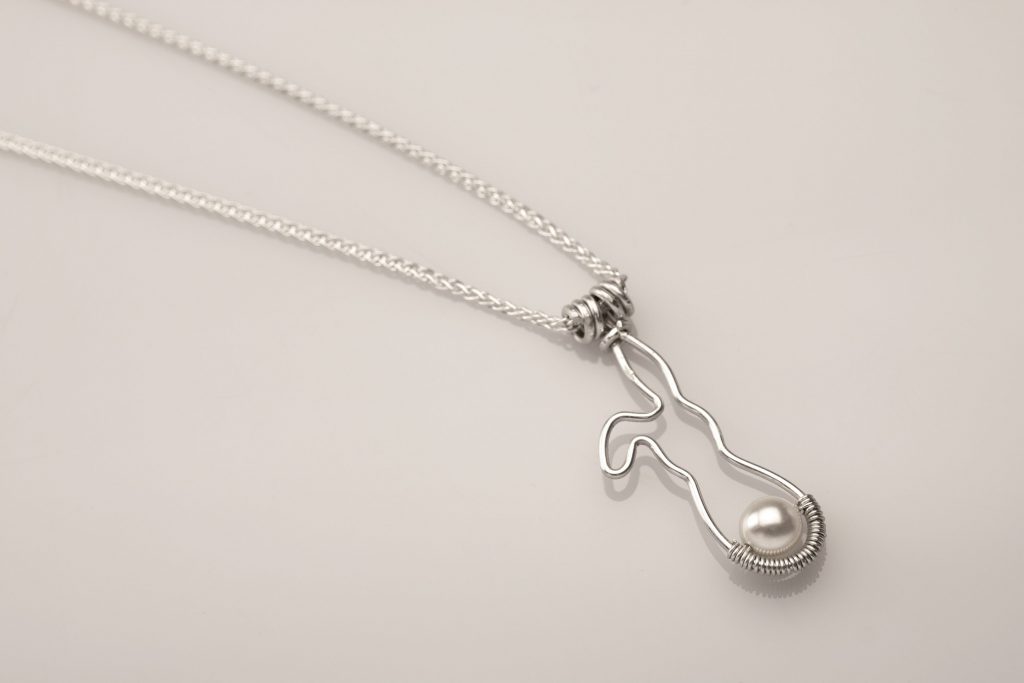 2. Cabochon ring with patterned band
This jewellery project for beginners requires a little more patience and even more technical skills. Ideal for budding silversmiths, this tutorial will leave you with a beautifully crafted stone set ring, will help you master the art of accurately cutting sheet metal, and will teach you how to polish your silver to a high shine.
This jewellery making project is also one that you can recreate again and again with variations on the finished result. Try a different stone. Or perhaps go for a larger cabochon stone the next time you try this one.
Amount of time to make: approx. 5-6 hours
Skills you'll learn:
How to cut sheet metal and wire accurately
How to file your metal to create a flush seam
How to solder a ring
How to make a bezel setting and use a bezel tool
How to polish silver effectively
Try out this beginner jewellery making project and create your very first Cabochon Ring With a Patterned Band.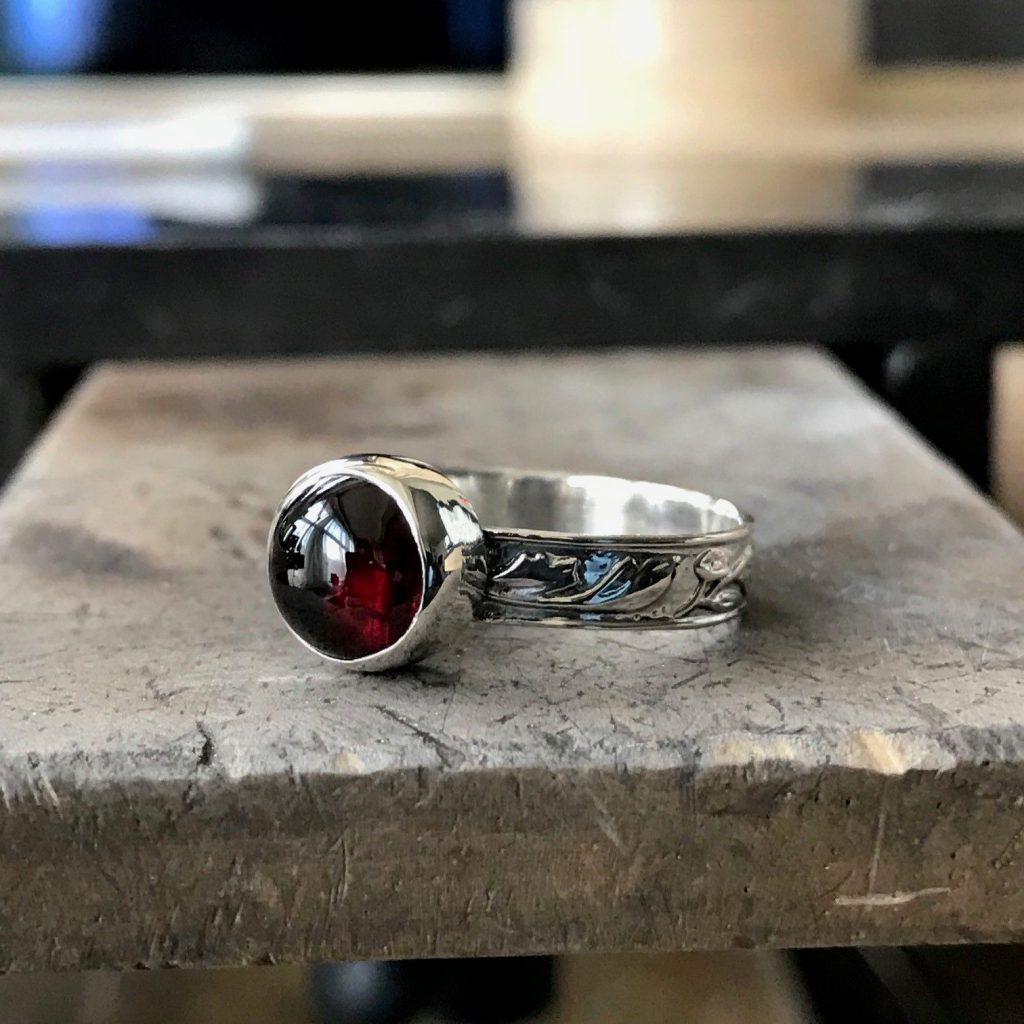 3. Silver snowy star earrings
Amount of time to make: approx. 2 hours
This jewellery making tutorial for beginners is simple but has a really big impact and could form the basis of your speciality – earrings! It requires some new metal stamping tools as well as some more advanced techniques using jewellery making pliers. But once you've made this project once, you'll be able to change and adapt the stamps you use to make your very first earring collection.
Skills you'll learn:
How to use a disc cutter to create different sheet metal shapes
How to metal stamp sheet metal and experiment with different textures
How to make earring findings
Check out our Silver Snowy Stars beginner jewellery making project and build on the techniques you learn to create a whole host of delicate drop earrings.
4. Colourful wire wrapped bracelet
Amount of time to make: approx. 3-4 hours
For budding beading experts, this project is ideal for those who love to work with colourful beads and would like to turn their hand at more complex wire wrapping techniques. This one can be quite fiddly so will take a little extra time to get your wire wraps just right. Don't be afraid to trial a few wire wraps before you begin the project.
Skills you'll learn:
Advanced wire wrapping techniques
Advanced use of findings and bead links
How useful head pins can be to stock up on!
If beading appeals to you and your budding jewellery making style, this Colourful Wire Wrapped Bracelet jewellery project for beginners will be ideal for you.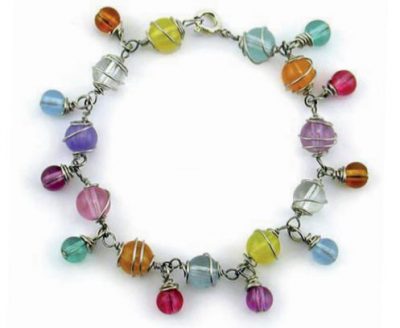 5. Silver box locket
Inherited a small silver box? Or picked up a trinket from an antique store? If you're keen to upcycle old trinkets and make them into something new, this jewellery making tutorial is ideal. Plus, it will take the cutting and soldering skills you learn in project two to a whole new level. You'll need to make use of a rotary drill so if you're still learning your craft, ask a local studio if you could hire their studio and more expensive tools before you invest in one yourself.
Amount of time to make: approx. 6-7 hours
Skills you'll learn:
How to make your own pendant bail
Advanced soldering techniques
How to create a simple closure mechanism
Take your silversmithing skills to a whole new level by converting a simple silver box into a locket with this more advanced  jewellery making tutorial.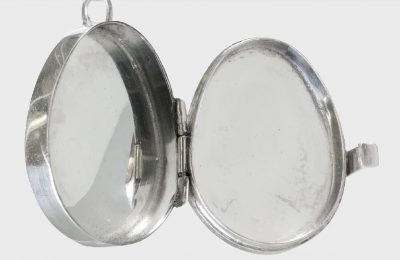 Our top 5 beginner jewellery making projects are an excellent route into jewellery making if you're just starting out. Each step by step tutorial gives you everything you need to make the piece of jewellery, including tools you'll need, step by step instructions and clear images to follow along the way.
Discover more ideas for jewellery projects for beginners in our handy projects booklet containing more tutorials and guidance today. And don't forget to check out our range of essential jewellery making tools for beginners to help get you started with your first few jewellery making tutorials.