Have you tried your hand at metal stamping? Personalised bangles are a great way to improve on your metal stamping techniques. With just a few tools and tricks you'll be able to produce a professional piece of personalised stamped jewellery that could be the start of a new way of producing and customising your jewellery pieces.
Read our step by step guide below, stock up on all the jewellery stamping supplies you'll need, and watch our video on how to make your own personalised silver bangle.
Personalised Silver Bangle Supplies List
Stock up on everything you need to make your personalised silver bangle with metal stamping supplies from Cooksongold.
Steel bench block – 997 V002
ImpressArt stamp straight tape – 999 IA67
ImpressArt bracelet blank – 999 IB01
ImpressArt letter stamps of your choice
Stamping hammer – 999 IA98
Stamping enamel ink – 999 I125
Black marker – 997 P002
ImpressArt bracelet bending bar – 999 I252
ImpressArt bracelet bending pliers – 999 I123
How to make personalised silver bangles
Prepping your bracelet blanks
Take your ImpressArt bracelet blanks. Place one bracelet blank down on a flat surface so that it's easy to write down your chosen words/letters on the blank.
Using a black marker carefully write your chosen message. This could be anything from a personalised message, to a customer's name, to a decorative pattern depending on the metal stamps that you're using.
Once you're happy with the way your writing/design looks in the black marker, take your ImpressArt bracelet blank and place it on your steel bench block.
Happy with the position your bracelet blank is in? Fix it at an angle that works for you using your ImpressArt stamp straight tape. This will stop the bracelet blank from shifting as you work.
Producing your metal stamped bracelet
Now your bracelet blank is fixed in place with your steel bench block for support, you can start stamping!
Take your stamping hammer and your first metal stamp of choice. Carefully line up the end of the stamp with your black marker template.
Once lined up, swiftly strike the top of the stamp with your hammer in one clean motion ensuring you use some force to reduce the need to strike your hammer twice. If you do need to strike the hammer twice in the same place it is important that you do not move the stamp. This could cause a double impression, ruining your design.
Continue using this metal stamping technique with the rest of your design, making sure you use a swift, clean, hammering motion each time.
Now that you've stamped each element of your design, you can apply some stamping enamel ink to each impression. Once you've applied the enamel ink across your design, you can wipe the excess away with a cloth. This will make your design stand out. Not happy with the effect first time round? Apply a little more ink if you would like your design to stand out more.
Looking for more metal stamping tips and tricks? Check out our top 5 metal stamping shortcuts using ImpressArt tools that will help you master the art of custom stamped jewellery.
Shaping your personalised silver bangle
Your metal stamp design is now complete! All that's left to do is shape and form your personalised silver bangle.
Take your bracelet blank and place one end into the curved section of the ImpressArt bracelet bending bar. Apply pressure and bend it around the bar.
Repeat this process on the other end of your ImpressArt bracelet blank.
Now you can refine the shape of your personalised bangle using your ImpressArt bracelet bending pliers. Simply take you pliers and apply pressure all the way along the bangle, repeating as necessary until you are left with your desired size and shape.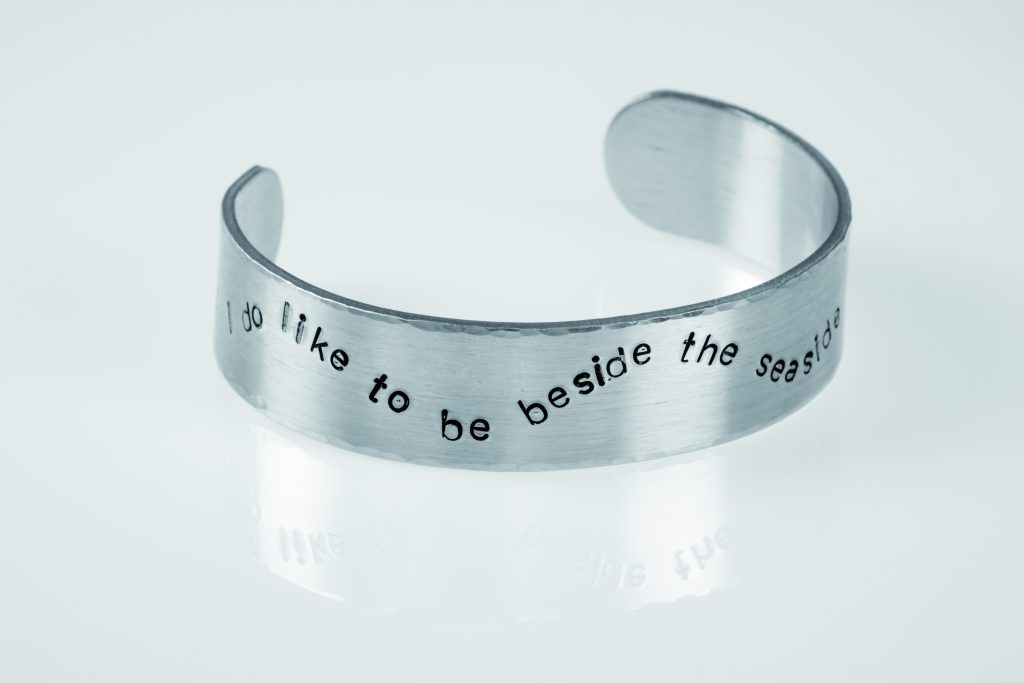 Re-stock on metal stamping tools and supplies
Now that you've mastered the art of making your own personalised silver bangles, you can adapt these technique to other pieces. Create personalised pendants, keyrings and even earrings with easy-to-use metal stamping supplies. Why not try this metal stamping project and create your own personalised bangle with a seaside design?