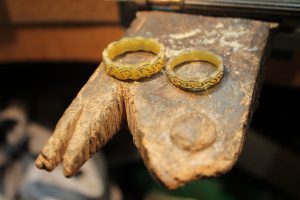 Dipping your toe into the world of casting? Otherwise known as "lost wax casting", this technique has been used by decades of civilizations all over the world. But the process has been simplified since then. So to try the modern jewellery casting process, you'll need to make sure you have all of the right tools and equipment. Not sure where to begin? We'll run you through the top seven essential metal casting tools for beginners to help get you started.
Metal casting tools to add to your kit
1. Casting Flasks
Casting flasks, also known as casting rings, are tools usually made from aluminium to hold wax models during the casting process. Used in conjunction with a rubber base, the flasks are then filled with investment powder before being left to dry. Once fully dry, it can be placed in a kiln for the wax burn out.
2. Small Crucible
A small is a metal casting tool and is simply a dish used for melting metal in. You'll add your casting grain or scrap metal pieces into the crucible with some flux and charcoal powder before starting the melt up. When the metal has liquified, it is then poured into an ingot maker.
3. Casting Moulds
Aluminium moulds are the most common type of mould used in the traditional casting method. Similar in size and shape to flasks, aluminium casting moulds fit together snugly, with a line on the outside edge of both the top and bottom pieces that has to be matched up before casting.
4. Cuttlefish
Interested in trying something a little different? Give cuttlefish casting a go! These act as an alternative type of mould for casting. Just head to your local pet shop and you should be able to find one.
Top tip! Make sure to choose a thicker cuttlefish as these are easier to cut down the middle.
5. Carving File
Carving files usually come in a set of tools specifically made for waxing and carving. Having a set of wax carving tools in your toolkit will allow you to shape the wax you use if you're planning on making your moulds from scratch.
6. Steel Tongs
Essential for moving the moulds during the jewellery casting process, steel tongs are a must-have item when it comes to casting. Ideal for safely transporting your work, this metal casting tool should be able to pick up any piece from the heat of a kiln.
7. Kiln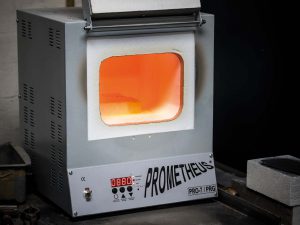 If you're planning on making jewellery casting a regular part of your projects, it's worth investing in a kiln. There are varying types of kilns available – whether you just want a mini kiln or something with a bit more room inside, it is essential for firing your work during the jewellery casting process.
Pick up all the jewellery casting equipment you need at Cooksongold
And that covers all of the metal casting tools you need if you're a beginner. Just make sure you pick up all the jewellery tools and jewellery casting equipment you need for the job from Cooksongold. Looking to try your hand at some other techniques? Head to the equipment and technique focus section of our blog for some inspiration.