Platinum is the rarest and most valuable of the three precious metals, (gold, silver and platinum). It's distinctive silver/grey colour and dense structure give it a certain gravitas which eludes most other metals, and is why it is an obvious choice for anyone wanting to achieve or obtain quality and luxury. If you add to this it's fabulous resistance to corrosion, it really is for many the perfect metal!
Contrary to popular belief, platinum has in fact been used for thousands of years, but only in its rough form. Because platinum requires extremely high working temperatures (1,773 degrees C or 3,223 degrees F), it wasn't until the early 1920s when the technology became available, that platinum jewellery started to become extremely popular. This working technology coincides with the Art Deco era, which is why early platinum jewellery tends to have a distinctly modern feel when compared to antique gold and silver which often pre-dates it by hundreds of years and consequently looks very different. To this end, many of us associate platinum with clean cut straight lines, framed with diamonds and offset with contrasting elements of precious stones and enamel.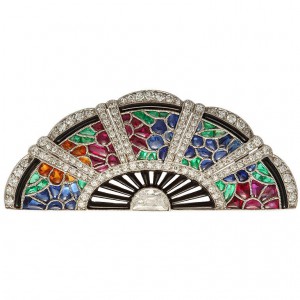 In many respects if you disregard the more obvious changing trends in design, platinum jewellery today often retains those clean cut, unfussy lines and coupled with its distinctive grey colour makes it a popular choice for men's jewellery. The dense structure also ensures a reassuring weight to pieces which is another attractive feature that appeals to the male customer base (platinum is slightly more dense than pure gold and twice as dense as silver).
Because of its purity (most commercial platinum is 85%, 90%, 95% or 99% pure), platinum is naturally hypo-allergenic making it a perfect choice for anyone with skin sensitivity issues and thereby the ideal choice for many designer-makers. It is strong yet malleable, so can be formed into a myriad of diverse shapes and structures whilst retaining strength from within them, so it is ideal for secure stone setting as it is safe. It is also beautifully clean to work with and maintain; no tarnish, no corrosion and no plating or re-plating required to achieve a beautiful finish. From a customer perspective, platinum requires no maintenance to prolong its good looks which is a great selling point!
So what can we expect to be popular in platinum this year? According to the Platinum Guild International who is the authority on the subject, statement necklaces and wrist-wear will be the order of the day for the ladies at all the red carpet events; whilst the men will be channelling James Bond with the help of cufflinks, wrist-wear and lapel details (again, men's jewellery is tipped to be one of the biggest growth areas for 2016).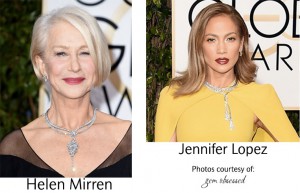 These pieces, which are undoubtedly worth thousands if not millions, will no doubt inspire ranges of more affordable jewellery, which will ultimately have some effect on what sells well this year – so look out for them when buying, or tailor your range accordingly when designing.
I think to be honest if money was no object, platinum would be the metal of choice for many people, famous or otherwise, as it really is a 'noble' metal in every sense of the word!
Why not give platinum a try in your next design? At Cooksongold we stock a wide collection of platinum products in our Bullion and Jewellery Findings categories so start things off by exploring these ranges now.