A good workbench can last a lifetime so there are many considerations to take into account when choosing such a vital piece of equipment. Unfortunately budget is undoubtedly at the top of most people's lists when it comes to what can be a considerable purchase. Fortunately Cooksongold cater for all budgets and our range starts at a reasonable £186 (Folding Jewellers Bench – 997 120F ) and goes right up to £1020 (Durston Watchmaker Bench, Superior –999 7173) should your finances stretch that far.
Size is another vital consideration for most as we all have wildly different spaces in which to work. My bench fits into a small space in the garage and my standard 85cm (width) x 90cm (height) x 63cm (depth) model fits into a corner perfectly. However if space is at an absolute premium, our Folding Jewellers Bench (997 120F) may be the answer to your prayers.  It can be put together in minutes and measures a compact 80cm x 61cm x 86cm when complete making it our smallest bench in the range. It's ideal for transporting to craft fairs for demonstrations, but also a perfect choice for those just wanting to work occasionally.
Height is a factor I have seen discussed frequently in numerous customer reviews and generally you would expect a jeweller's bench to measure somewhere in the region of 90cm in height. Our range encompasses benches from 86cm – 96.9cm so it is by no means a fixed measurement. I do feel however that ultimately your ideal working height will be determined by a) personal preference and b) your choice of chair, which after all is the flexible element of the whole set up. Ideally, an adjustable chair is preferable which will allow you to alter your position depending on the job you are doing e.g. lower for sawing and higher for stone setting. But if this isn't possible within your budget the same effect can be achieved with a series of cushions which can be added or removed as required (no I'm not joking!).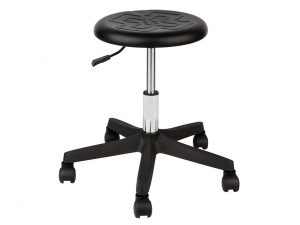 Durston Jewellers Stool – 999 7174
Storage may not initially be one of your main considerations when choosing a bench, particularly if you are new to jewellery. However, as you gain more experience you will soon realise that storage is extremely important if you wish to maintain a clear working area. Over time, the amount of tools you own will accumulate, which is why many of our professional benches contain handy storage drawers and cupboards to help combat the clutter. Our sturdy Durston Jewellers Bench (999 7169) contains 3 handy drawers to help with tool storage and at £486 represents a great mid range option in terms of features and quality. If you require more, the Durston Jewellers Oak Workbench Superior (999 7168) contains no less than 7 drawers and their Watchmakers equivalent (Durston Watchmaker Bench, Superior –999 7173) contains a further 2, totalling 9, plus an additional 2 cupboards!  But we also have modular storage options which can be added to a basic bench and positioned wherever convenient so both ends of the spectrum are covered.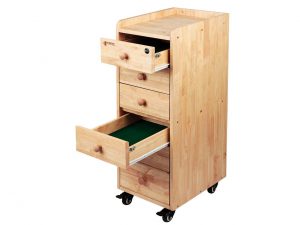 Durston Workbench Drawer Unit – 999 7218
Look out for part 2 when we will cover bench pegs, construction, comfort and scrap.