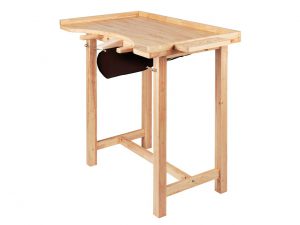 Durston Jewellers Student Workbench Pro – 999 7219
There are many factors to consider when purchasing a work bench. Previously in Part 1, we looked at budget, size, height and storage. In part 2 we will go on to focus on bench pegs, comfort features, construction and scrap which are all things to think about when contemplating a new bench.
A bench peg/pin is your main working area on a jeweller's bench. It provides a valuable means of support when filing and sawing and will often be customised to suit the owner's requirements by way of slots, holes or cut outs. It sits at the centre of the semi-circle at the front of the bench and is held in place via a readymade slot or alternatively a clamp. When choosing a bench, make sure you check if it comes with a bench peg and what means there are to secure it as you may need to order these items separately.
The Durston Jewellers Student Workbench Pro – 999 7219 (pictured above) is a great value option and includes a bench peg slot as well as the actual peg itself. However if your chosen model doesn't have a peg simply add one, such as the item below (999 082) to your order.
Any Scrap metal produced whilst working represents an extremely valuable commodity which needs to be collected and stored ready to be scrapped in exchange for cash when you have built up a reasonable amount. It's amazing just how much scrap is produced from everyday tasks such as sawing and filing which is why all benches need some in-built mechanism to collect it. Our Durston Jewellers Workbench (999 7169) includes a handy aluminium lined scrap tray for this purpose whereas The Durston Jewellers Student Workbench Pro – 999 7219 has a bench skin which can be attached to the underside of the work surface. Both do the same job equally well, but you must be sure to add an additional bench skin to your order should you choose a model that comes without any built in scrap provision.
Large Value Leatherette Bench Skin – 997 1011
Bench construction varies enormously and can be loosely split into two categories; hardwood and non-hardwood which can include materials such as Birchwood and MDF (medium density fibre board). It stands to reason that a solid hardwood bench will be more hard-wearing and able to withstand the rigors of everyday life in the workshop, for a more sustained period of time. Therefore if you are looking to invest in something for the next 20years or so, then go for a hardwood bench. Birchwood and MDF are both softer materials relatively speaking and will get dented and damaged more easily however, they are both sturdy and solid working surfaces which can be easily sanded back and refreshed should they become overly damaged. N.B. All wooden benches need protecting with suitable firebricks should you want to solder on them.
Comfort features are something of a luxury when it comes to benches and are only really available on some of the more elaborate models.  Our watch making benches, (Durston Watchmaker Bench – 999 7172 and Durston Watchmaker Bench, Superior – 999 7173) both have footrests and arm rests to facilitate the horologist who has to sit for extended periods of time. You can also expect to find arm supports on some of our jeweller's benches e.g. Durston Jewellers Workbench – 999 7169 and Durston Jewellers Oak Workbench, Superior – 999 7168 (which also has a fabulous footrest) which again help to combat fatigue if you are sat working for numerous hours at a time.
Considered purchases can be difficult and choosing a new bench is very much a matter of personal preference but I hope our list of things to look out for, along with our handy comparison chart will help to make the whole process just a little bit easier.
Remember: budget, size, height, storage, bench peg, scrap, comfort and construction