Wire wrapping is a great, creative technique when it comes to jewellery making. From wrapping beads, to forming unique jewellery shapes, there are plenty of ways to use this method to create unique pieces.
With only a few tools needed, it's easy to understand what the essential wire wrapping tools are, and how to use them before you get started.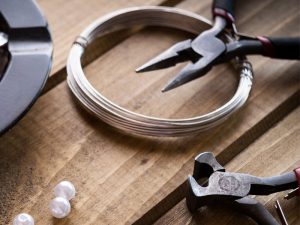 What Jewellery Wire Wrapping Tools do I need?
While jewellers might argue that all wire wrapping tools are indispensable, there are a certain few wire wrapping tools that are absolutely necessary to get you started.
1. Pliers
Pliers are one of the most important tools for wire wrapping with endless choices. Each plier produces different curves, shapes and effects, however, here are the recommended styles for beginners:
Round nose pliers: One of the most common types of jewellery pliers, round nose pliers smoothly bend wire to help make loops, jump rings and other jewellery findings, as well as making small diameter turns.
Flat nose pliers: Have flat facing jaws that are perfect for manipulating sheet metal and wire.
Half round pliers: Have one flat jaw and one half-round jaw – making them ideal for creating rings and shaping wire.
Chain nose pliers: with rounded outsides and flat facing jaws, tapering to a small point making them ideal for wrapping wire and closing jump rings.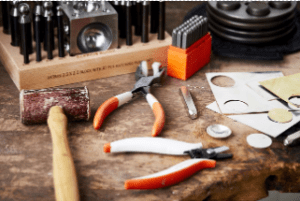 2. Cutters
When wire wrapping jewellery, you need to cut the wire flush, so you'll need a high quality pair of wire cutters. Wire cutters are handy for cutting down wire to the size you need
3. Hammers
Jewellery hammers allow you to shape, harden and flatten the wire – which makes them one of the most vital wire wrapping supplies (And you can never have too many!) We've outlined some of the most popular hammers for wire wrapping below:
Jewellers' hammer: A jewellers' hammer is ideal for work-hardening the wire to make it more durable.
Rawhide hammer: used to strengthen your base frame wire and help flatten wire and return it back into shape if you've made a mistake.
Repousse hammer: Ideal for adding texture to your metal and wire, as well as flattening it.
The two most popular tools for creating wire wrapped rings are triblets and mandrels, which can be used to form or re-shape existing rings into different sizes or to correct the shape of designs. What's more, a bracelet mandrel can help you produce your own bespoke bangles.
5. A rule
If you are working on a small, intricate design or need to get an exact measurement for your wire, then you'll need a ruler. This is a handy piece of equipment to have in your workshop, as you'll need one for a range of projects.
Files and sandpaper are vital to the wire wrapping process, because cut wire, leaves sharp edges – which aren't ideal when it comes to wearing jewellery. That's why you'll need a selection of files and sandpaper to help smoothen down the sharp corners to make your designs safe to wear.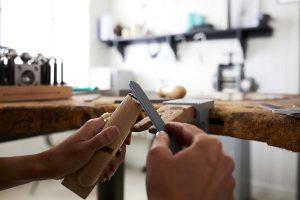 7. Wire
When choosing your wire wrapping supplies, it's important to consider which wire is the right choice for your project.
If it's your first time wire wrapping jewellery, you might want to start with craft, copper or silver-plated wire, as these metals are slightly cheaper and will give you more room to make mistakes and get used to the technique as they are less likely to break.
Once you've mastered the technique, you can move onto something more premium, like sterling silver or gold. There are also different sizes of wire that are suited to different designs:
Smaller wires are (around 0.5mm or less) are perfect for wrapping around beads or gemstones to add more detail.
Medium wires (1mm) can be used to make findings and create unique shapes used for pendants, earrings and more.
Medium-thick wires (around 2mm) are ideal for forming your own rings and bracelets.
Thicker wires (e.g. 3-4mm) are harder to work with, but are perfect for bulky, bold designs.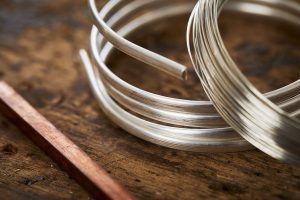 And there you have it – the top seven essential tools for wire wrapping. Find all the wire wrapping tools and wire you need for your next project at www.Cooksongold.com, to help bring your designs to life.