Do you know how to display jewellery in the right way? Do your jewellery display ideas encourage customers to take a second glance? Knowing how to display jewellery pieces is a crucial aspect of selling. Seeing jewellery displayed in a striking way can instantly appeal to passers-by peering into shop windows. Most high-street chains spend months on end planning their jewellery display windows, making sure they look perfect. Now, I'm not suggesting you should go to the lengths of Liberty or Selfridges for example, but what I am recommending is that you take the time to get it right to give your jewellery the best possible chance of selling.
First and foremost, before we talk about aesthetics and I share a number of jewellery display ideas, the emphasis needs to lie on the need for clear and neat pricing. You either need a prominent price list, or neatly written or typed jewellery labels for each and every piece. Make sure your jewellery labels are correctly priced as this makes customers more likely to buy, knowing from the start what they can and can't afford.
Use Jewellery Labels
Silver Dumbbell Jewellery Labels (963 058X) and Pricing Block Cube Kit of 260 Pieces (994 865)
These Silver Dumbbell Jewellery Labels are a universal favourite amongst designer/makers, providing a subtle and neat option which won't break any budgets. If you can spend a little more, the Pricing Block Cube Kit makes a great purchase and will give any display a professional finish. The kit featured will make approximately 60 prices and can be added to as needs arise with additional digits. The beauty of these pricing jewellery display blocks is once purchased, you can re-use them time and time again so they make a useful addition to your display kit.
Try Jewellery Display Blocks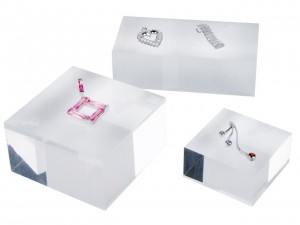 Solid Clear Acrylic Display Blocks in a range of sizes (963 117-119)
Now the pricing is dealt with, we can move on to the actual jewellery display itself. I'm a big fan of clear and frosted acrylic as it provides a neutral backdrop whilst allowing light through to maximise sparkle. You are not tied to any particular colour scheme when the bulk of your props are acrylic, so they are extremely versatile and consequently great value for money.
The Solid Clear Acrylic Jewellery Display Blocks pictured below make a brilliant foundation to any jewellery display, and are available in a range of sizes. They are not the cheapest method for displaying jewellery, but, as with everything, if you invest in quality, it will last for years. I have gradually built up a good range of these jewellery display blocks and have never regretted spending the money on them – they are worth every penny.
Jewellery Display Risers
Acrylic Cones (963 113-114) and Clear Acrylic Display Risers (963 115-116)
Height is essential in most jewellery displays and there are a number of different ways this can be achieved, including using jewellery display risers. Many jewellers choose to display rings in their jewellery display boxes. But if this is too regimented for you, acrylic cones provide a great alternative whilst providing that all important height. These are a great budget buy.
Acrylic risers are another inexpensive way of adding height for your jewellery display ideas. They are extremely lightweight and are a great way to draw your customer's eye to where you want it to be. An eye-catching piece on a raised plinth provides a great focal point and attention grabber.
Make sure you stand out for all the right reasons by ensuring your jewellery display is fully equipped and clearly labelled. Investing in jewellery display supplies such as jewellery display blocks and acrylic cones doesn't have to cost a fortune so there are really no excuses!
Looking for different ways to display jewellery pieces? For some exciting jewellery display ideas, explore Cooksongold's range of Jewellery Display Supplies.