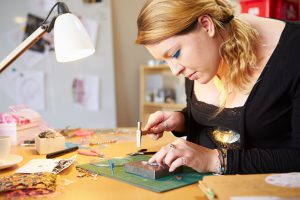 How To Price Handmade Jewellery Pieces Competitively
Pricing handmade jewellery often means walking a fine line, balancing the need to compete without devaluing your efforts and the time it takes to put together your designs. Profitability is the end goal, so making a realistic assessment of the cost of each and every piece, together with your overheads, is essential.
Getting the financial aspect of your jewellery business right will make you a professional in your own right – here's some advice on how to price handmade jewellery pieces competitively so that you can make the leap to a successful handmade jewellery business.
How much did it cost you to produce your handmade jewellery?
When it comes to pricing jewellery, one of the major factors to consider is direct and indirect costs that you incur as a result of buying materials and jewellery tools, renting work space, booking your place at a craft fair, and finally labour.
Cost of Materials
It's important to examine your costs closely as your pricing strategy should cover your costs and still leave you with a profit. Direct costs such as materials used to make the design, as well as the packaging you choose for the piece, should be factored into the price of your jewellery on an individual basis. For example, a larger statement necklace made using precious metal and gemstone will inevitably be priced higher than a smaller necklace made with wire and beads.
Overheads
Disregarding the cost of rental space or fees for craft fairs is often overlooked by jewellers who are just starting out. Don't forget to factor this into your pricing model – if you set your standards from the start you'll have a better chance of covering your expenses as your sales grow.
Other overheads to consider include the cost of promoting your jewellery, the cost of admin (in terms of both resources and your time) as well as any training courses you attend to further develop your own skills.
The Value of Labour
Factoring labour into your pricing model is vital, however it is also a question of how you value your time. Consider your production process, step by step, and ask yourself, how long does it take to prepare the piece to the point at which it is ready to be sold? Don't forget to factor in your design process too – this may take up time, especially if your particular design process involves several mock ups or samples.
The amount of time taken to create your handmade jewellery should then be broken down to a minimum hourly rate. If you're just starting out as a professional jewellery business and intend to work a couple of days each week, you'll need to establish how much you would like to earn, add in your overheads, and then divide the total by the time you intend to work during the next year. This will help you to more accurately ascertain your hourly rate, and how this should be factored into pricing your handmade jewellery pieces.
Who is your target buyer?
Asking this question is vital when it comes to establishing how to price handmade jewellery products. After all, the answer may change and develop over time as your jewellery making style is cultivated throughout your career. But having a clear idea in your mind from the very start can help to inform your jewellery product pricing. If you will be selling to independent boutiques and your product equates to a large percentage of their business, your price should reflect that. Equally, if you're at the beginning stages in your career and only just discovering your style, you may want to target small local craft fairs where lower price points should be expected. Your designs and how you value them will ultimately determine the buyer, so when it comes to pricing your handmade jewellery pieces, it helps to never stray too far away from your target demographic and the prices that you know they will be willing to pay for a unique handmade piece.
And what about your competition?
Any business owner will keep a close eye on their competition and this is no different for handmade jewellery businesses. Paying attention to how your competitors are pricing handmade jewellery will give you a clearer picture of how you can adapt your current pricing strategy to become more competitive in the handmade jewellery market. Having said that, you don't want to price yourself out of the market that you're in. However, be wary of merely matching your competitors' prices, especially if it appears that your competition has in fact set their prices too low. Don't reduce your prices to the point that it takes away from the work that you've put in and to the detriment of your business – in the long run, it pays to price your products according to their true value.
Pricing your jewellery products can be tricky. It can present you with difficult questions about your business and where you see it developing in the future. No one product pricing strategy fits all, but ultimately your customers will pay for unique and creative handmade jewellery pieces. As long as you don't undervalue your expertise and creativity, you should be able to settle on pricing your product at a level that suits your designs and the vision you have for your business.
Looking to refresh your current collections with new materials and techniques? Discover our new range of jewellery tools and supplies for 2017 and enhance your latest designs.