Are you a budding metalsmith? An engagement ring specialist in the making? If you're just starting out when it comes to sizing, creating and re-sizing rings, you'll need to learn how to use a ring triblet effectively. Use our guide below and discover what a triblet is used for, and how using a ring triblet correctly will help you get sizes right for your customers every time.
What is a ring Triblet used for?
A ring triblet is a long, tapered, cylindrical tool used to measure the size of a ring and accurately adjust the size of ring you're creating or re-sizing. Jewellers often work with steel ring triblets when sizing rings made from precious metals, whereas those that create wire-wrapped rings may find that a plastic or wooden ring triblet works just as well.

Your guide to using a ring triblet
What you'll need
Using a ring triblet to find size
Finding the size of an existing ring or determining your customer's ring size can all be done with a ring triblet. The method you carry out will depend on the type of ring triblet that you invest in. Ring sticks feature marked ring sizes along the length and are used to measure the size of an existing or resized ring. They are usually made from Aluminium and should only be used to check sizes. To resize a ring we recommend using a Triblet, these are made from hardened steel and used in conjunction with a rawhide mallet. Triblets are supplied plain or marked (with ring sizes). When using a marked triblet care should be taken, as the size marking's can scratch the surface of your metal. Ring triblets should be kept clean and polished.
If you choose to invest in a ring triblet with size marks already etched into it, you will be able to quickly determine the size of the ring you will need to create without constantly returning to your ring gauge set for reference. Keep in mind that it is worth picking up a ring gauge set, as this will be vital when getting an accurate ring size for customers.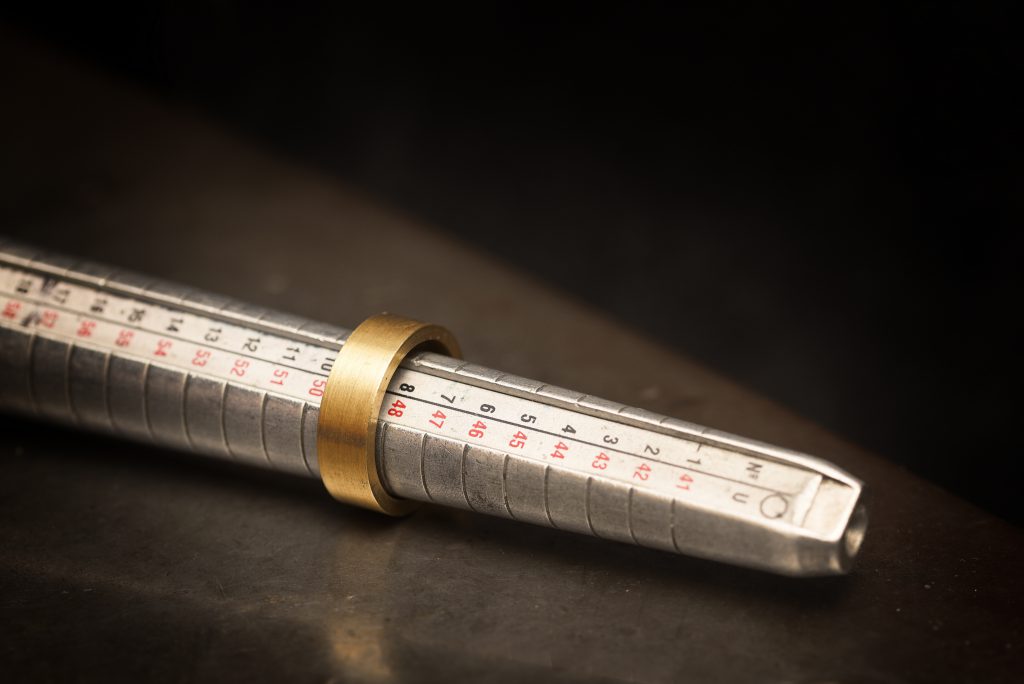 How to read a ring triblet
The most important thing to keep in mind when using a ring triblet to measure ring size is that it is based on the inside diameter of the ring. Many rings will feature a bevelled edge or may have changed shape due to general wear, so the best point to measure the size of a ring on a triblet is at the very centre of the ring. Keep in mind that if the ring has been knocked out of shape slightly due to wear, then it may need to be hammered back into a cylindrical shape to get a more accurate reading of its original size.
It's also worth noting that rings with larger bands tend to feel tighter than narrower ones, so a larger band may need sizing up slightly so that it feels more comfortable for the customer.
Using a ring triblet to adjust the size of a ring
Once you've mastered the art of getting ring sizing just right, you may have graduated to adjusting ring sizes for your customers. And this can also be done with the use of a ring triblet.
Ring stretching can also be done with a specific ring stretching tool. To learn more about using a ring stretching tool, check out our previous guide on how to resize a ring using different tools and methods.
The ring triblet is best used to make small adjustments to ring sizes. For example, if your customer would like the ring to go up by half a size this would be the quickest option. Only when significant size changes are required should you consider any cutting or soldering over the use of a ring triblet or ring stretcher.
All you have to do to make the slight size adjustment with a triblet is:
Secure your ring triblet to a vice/clamp system to keep it firmly in place.
Once secured, place the ring band onto the triblet as far as it will comfortably reach.
Then take your rawhide mallet and gently tap the very edge of the ring in a motion that moves down the triblet, towards the wider end.
Frequently rotate the ring as you tap at the edge to ensure that each section has been worked on equally.
Remove the ring band from the triblet. If it gets stuck, don't be afraid to tap it in the opposite direction to free it.
Now flip the ring over and place it back on the triblet. Continue the method of tapping the edge of the ring all the way around in a downward motion towards the wider end of the triblet.
Repeat this process, continuously checking, until you reach the desired size.
Now you've learnt how to use a ring triblet effectively, it's simple to apply to your everyday workshop activities.