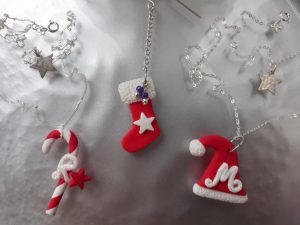 Clay in its various formats is a great medium to produce quick and varied designs. Fimo, PMC and modelling clay can all be utilised at this time of year to produce trinkets, charms and decorations that will give your Christmas that unique touch.
When working with clay, the techniques used are fairly universal and can be applied, (for the most part), across the broad spectrum of products available. Moulding, sculpting, stamping and texturing are just some of the methods that I have used to make the examples above. These are techniques that anyone can try, regardless of age or skill.
Fimo Professional True Red 85g Polymer Clay Block Fimo Colour Reference 200, (866 111) and Fimo Professional White 85g Polymer Clay Block Fimo Colour Reference 0, (866 100)
I decided to experiment with Fimo as the colour gives instant impact and using just two, namely red and white, says Christmas quite clearly without the added cost of buying other colours. A little goes a long way, as so many items can be produced from these little 85g blocks.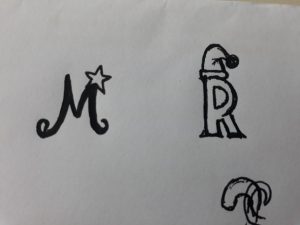 My ideas were quite loose but involved many of the usual motifs we associate with Christmas such as stars, Christmas Stockings, Santa Hats etc.  I also wanted to incorporate some personalisation details in the form of Initials and so used this as the basis for my designs.
Once you start to mould the clay, the ideas really begin to take flow. My stocking was made by rolling out the Fimo (on greaseproof paper) and then marking the outline out gently with a knife before cutting fully. I considered moulding it, but the shape was crisper when it was cut out. The textured white piece on the top of the stocking was made by repeatedly pushing in the pointed end of a burnishing tool and I must say, I was quite pleased with the results. My tiny stars were stamped out using small plastic cutters.
When making any sort of model like this don't forget to make a small hole, not too close to the edge, which you can use to suspend the piece once finished. (I used a small drill bit which I gently twisted through).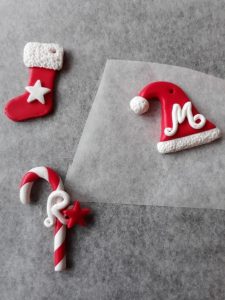 My hat was made by simply moulding the shape by hand and then applying the textured pieces as before to achieve a fluffy look. The letter 'M' was created from a very thin length of clay which was rolled until thin enough to then be manipulated into shape.
The twist of my candy cane was achieved by twisting together two equal, rolled out lengths of clay, which are then rolled smooth into one sausage once you have the desired effect.
Fimo Size/glue For Leaf Metal 35ml, (867 257)
Once baked, it's time to add the bells and whistles, and the sky is really the limit here. I painted on Fimo Size to some of the details and then added some subtle glitter to create sparkle and catch the light.
I added large jump rings to allow for the thickness of the clay and then set about deciding what fittings to attach. By simply threading through wire or cord, these types of models can be used for decorations to adorn your Christmas tree or table. If you use an oversize jump ring and add some beads, they would be equally suitable as glass charms.
In this instance however, these models were destined to become worn as festive jewellery so my hat and candy cane became pendants with the simple addition of a chain and some charms. My Christmas Stocking hung very nicely so I added a long chain and an ear wire to create a singular drop earring. Details were added using dropper wires and beads to add additional colour and interest.
Clay is such a gratifying material to work with as the results are quick and if you make a mistake you can simply roll it out and start again. My advice would be don't be too rigid with your designs; it's better to work within the parameters of the material itself and adapt accordingly, that way you will have more success. Also don't be afraid to mix other materials into your final design. Gather together your beads, sparkles and charms to add texture and colour and you may find the whole family wanting to have go. This is a great way to spend a Sunday afternoon and doesn't cost the earth so when you have had enough of Christmas shopping why not give it a try.
Written by Joanna Varney
Joanna has worked in and around the jewellery industry for well over 20 years. She has designed and created her own pieces as a designer maker, as well as working in jewellery retail on a much larger scale, producing designs and NPD for some of the UK's largest high street retailers