Soldering involves permanently joining two pieces of metal together using heat. When soldering pieces of jewellery, or anything at all, it's important to handle the components with care to avoid causing damage to yourself, and to your surroundings.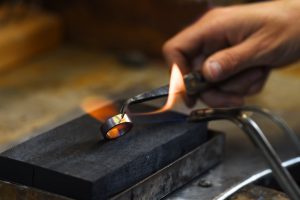 But what's the best way to handle materials when soldering?
Reverse action tweezers, otherwise known as soldering tweezers or self-locking tweezers, are designed to act as a "third hand" when soldering fiddly pieces. As one of the most popular soldering tools on the market, find out more about soldering tweezers and the best ways to use them below.
What are reverse action tweezers?
Tweezers are a handy tool used frequently by all jewellers to reduce contact with harsh chemicals, solutions and protect against potential damage to the skin. In particular, reverse action tweezers are ideal for holding small parts when soldering your jewellery designs. Built with a spring-action design that you squeeze to open and release to close, making it easier to hold pieces in place as you work. It makes holding objects while soldering completely effortless. All you need to do is clamp them into your desk and you're good to go.
When soldering materials, using a pair of self-locking tweezers can allow you to work accurately on intricate and delicate jewellery projects. Soldering reverse action tweezers are the same as the standard version, but with insulated grips that are specifically designed to protect your fingertips from the heat when soldering. What's more is that reverse action tweezers have slim tips with serrated jaws, giving you ultimate precision and control, which is ideal when dealing with more intricate jewellery designs. You can hold a range of items, from small jump rings to larger wedding rings. They can also be bought and reshaped if necessary – with a half inch right angle bend at the end, and then filed to create serrated edges.
Working on a design that needs both of your hands to bring it to life? If your piece is a little fiddly and requires more attention, you can attach your reverse tweezers to a third hand base. Designed to secure your tweezers as you solder, a third hand base is adaptable and can be manoeuvred at all angles to suit your needs.
Pick up your reverse action tweezers for soldering today – available with both straight and curved tips.
NOTE: These tweezers are not for use with the pickle bath, as the steel metal will contaminate the solution and cause your pieces to be copper plated. Instead, you should use plastic, brass or copper tweezers to avoid contamination.
Soldering tweezers: Straight tip vs curved tip
When 'at rest', self-locking tweezers are closed, and they open when pressure is applied, but which tip is best for your jewellery making needs? We've outlined the basics of both straight and curved tip soldering tweezers below.
Straight tip reverse action tweezers
Straight tip reverse action tweezers are ideal for holding small parts and jewellery components in place while you solder – and the fibre grips help to protect your fingertips from the heat as it travels through the metal. The fine tips are ideal for picking up, transferring and positioning small pieces of solder onto your work.
Curved tip reverse action tweezers
Curved tweezers are perfect for handling wider or longer items – such as coins, tubes and flat strips of metal. You may find curved tips useful for picking up and manoeuvring objects as they can be more secure. Curved tweezers may provide more flexibility and ease when working with difficult angles, though both bent and straight tips are secure and ideal for handling small objects. Ultimately, your choice between the two will likely come down to your preferences and how you like to work.
Soldering tools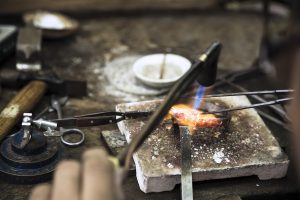 Looking for more information on soldering tools? Check out our blog on the Top 5 Jewellery Soldering Tools, and our Guide to Simple Soldering for more soldering tips and tricks. Got some soldering projects coming up or simply want to try your hand at a new technique? Stock up on all the essentials at Cooksongold – from solder and flux, to soldering blocks and torch burners.