Are you interested in learning how to use jump rings for jewellery making? We can help you along the way. Jump rings are a jewellery-making essential, allowing you to attach everything from chains to clasps and pendants to charms. Whether you want to make earrings, necklaces or bracelets, learning how to use jump rings will help you to create professionally finished pieces that are durable enough for everyday wear.
In this guide, we'll take you through everything from how to use jump rings for jewellery making projects to how to make jump rings from scratch. But first of all, what is a jump ring used for?
What is a jump ring?
If you're an experienced jeweller, you'll already be familiar with jump rings. However, if you're a beginner, you may not have used them yet. Rest assured though, once you do, they'll become a staple of your jeweller's tool kit. But what is a jump ring? And why do so many jewellers rely on them? Jump rings are an essential finding for jewellery making, allowing you to connect different components – such as clasps, pendants or earrings – to your jewellery pieces.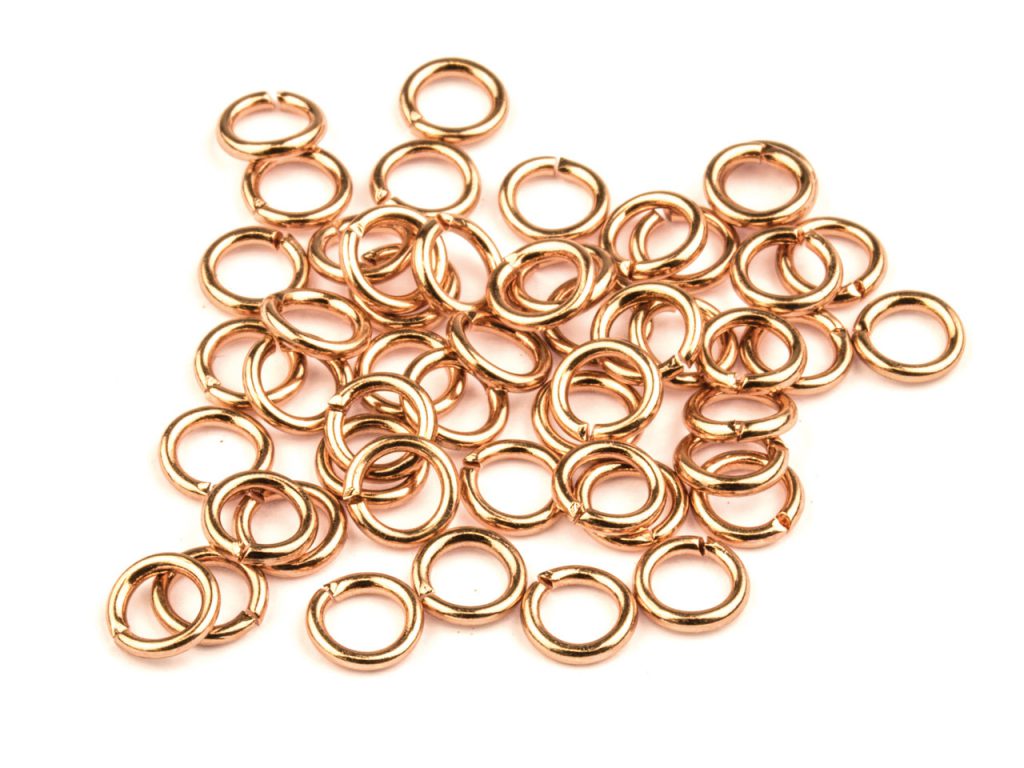 When learning how to use jump rings, it's important to understand the different varieties and what they're used for. There are two main types of jump ring:
Open jump rings: A small metal loop with a narrow cut that works as an opening. This allows the jump ring to be opened with pliers, so that other components can be attached. It can then be soldered closed. The steps on how to open a jump ring are below.
Closed jump rings: A small metal loop without an opening. These can be soldered directly onto jewellery pieces or threaded onto other components.
Jump rings come in a range of different sizes and alloys, allowing you to match them to each piece you create. While circular jump rings are the most common choice available, you can also use other shapes – such as oval – to add a more decorative touch to your design.
How to use jump rings
Before we learn how to use jump rings, it's important that you choose the right ones for your design. Beyond finish and shape, you'll also need to consider diameter, which determines the size of the jump ring, and weight, which is determined by thickness (diameter) of the wire used to create the jump ring.
Together, these two measurements determine how strong the jump ring is – an important factor to take into account when using jump rings if you want to make sure that your piece will be durable enough for everyday wear. As a rough guide, the heavier the piece you're creating, the stronger your jump rings will need to be.
How to open a jump ring
Did you know that there's a right and a wrong way to open jump rings? Opening them incorrectly can weaken them and cause them to break, leaving you with a fragile or even broken piece of jewellery. But learning how to open a jump ring correctly will make sure it remains intact, maintaining a long-lasting, quality piece of jewellery. Ultimately, using jump rings is easy – and we'll show you how to open a jump ring, the right way.
Here's how to open jump rings using the correct technique:
Take your jump ring and two pairs of flat nose pliers.
Use one pair of pliers to grip the jump ring on one side, and use the second pair to secure the ring on the other side.
Gently twist the two halves of the jump ring so that it opens (it's important not to simply pull it apart, as this will cause the jump ring to become misshapen and weak).
Twist the two halves of the jump ring until it's open just enough to allow you to attach your chosen components (again, it's important not to open it more than you need to, as you'll risk damaging it).
Attach the required component before sealing the finding shut. Find out how to close a jump ring properly below.
How to close a jump ring
Once you've attached your chosen chain, clasp or other components to your jump ring, the next step is to close the jump ring securely. If you want to know how to close a jump ring, follow these steps:
Grip your jump ring in two pairs of flat nose pliers, one either side of the loop.
Gently twist the two sides of the jump ring back together, until they are slightly beyond the closed position.
Twist back towards the closed position, until the two ends of the opening sit flush – this helps to give a neater and more secure finish, particularly when using gold or silver jump rings. It will also make it easier when soldering your jump rings closed.
The final step to securing your jump ring is to solder it closed. We've covered the steps for soldering jump rings in more detail below.
Note: Depending on the piece you're making, you may decide not to solder the jump ring closed. For example, if you are adding charms to a bracelet and want these to be easily removed later on, you will need the jump rings to be easily opened.
Soldering jump rings for jewellery making
One of the most important steps in learning how to use jump rings is learning how to solder them. Follow our step-by-step instructions for soldering jump rings below:
Make sure that your jump ring is securely closed, using the steps listed above.
Carefully apply solder paste to the joint.
Using a fine flame, heat the solder evenly on both sides of the joint until it flows into the seam.
Remove the piece from the heat and allow to cool before placing in a pickling solution to clean.
Top Tip: When soldering jump rings, use a little amount of solder – it should only take a small amount to solder the jump ring joint closed.
New to soldering jump rings, or any precious metal item? Read our step-by-step guide to soldering a silver ring – a great project for practising and perfecting your soldering technique before moving onto more intricate projects, such as soldering jump rings.
How to make jump rings
Now you know how to use jump rings, are you ready to start making your own? While high quality jump rings are easily available to buy, being able to make your own is a useful skill to have – particularly if you've run out of the right ones at the last minute, or if you're working on a piece in a more unusual metal or style.
Follow our step-by-step guide on how to make jump rings:
Take a mandrel in the correct diameter for the size of jump ring you want to create and your chosen wire.
Wrap your wire around the mandrel, keeping each loop close to the previous one. Each full loop will create one jump ring, so continue until you've created enough loops for the number of jump rings you need.
Carefully slide the wire from the mandrel and place it on a firm surface.
Using a jewellery saw, cut through the wire to create individual loops – these will become your jump rings.
Using a jeweller's file, file the ends of each loop so that they will fit neatly together and will be easier to solder.
You now have a finished jump ring, ready to use in your next piece!
Top Tip: Want to learn how to make jump rings faster? Working with extra thick wire? Use a mandrel attachment on your drill to wind the wire faster, ready for cutting and filing.
Finding the best jump rings for your jewellery making project
Using jump rings for your next project and wondering whether to make your own? Or is it easier to use pre-made ones? Many jewellers do a combination of both. Learning how to make jump rings is a valuable skill to have, especially when working with less commonly used metals. Meanwhile, pre-made jump rings mean you can save time on the jewellery making process – a lifesaver when you've got lots of orders to fulfil. What's more, using jump rings that are readily available to buy in a wide range of sizes, alloys and even decorative finishes, there's something out there to suit most designs.
Stock up on jump rings and a wide range of other jewellery findings for your next project with Cooksongold.