Traditionally used with dress shirts which have no buttons at the cuffs (French cuffs), cufflinks have been used through the ages to add a decorative element to a man's attire. Although most men won't use them every day, nearly all will certainly own a pair of cufflinks to use on special occasions, namely weddings. Consequently, the range available is huge and enormously varied in price and design.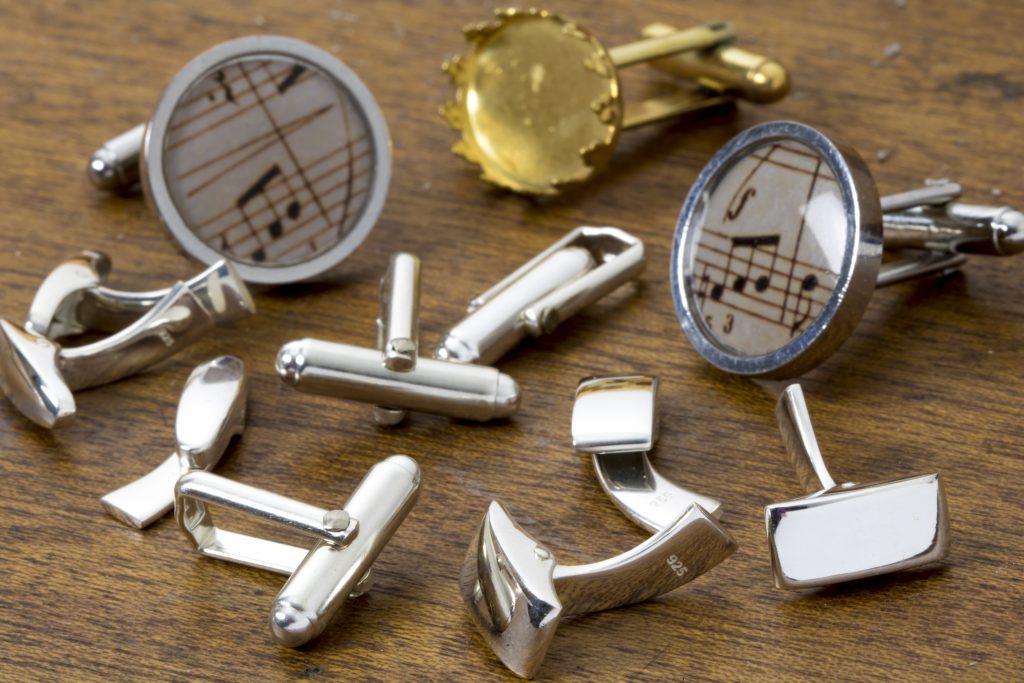 What Are Cufflinks?
As with most jewellery, cufflinks consist of a functional element and a purely decorative element, both of which are essential for a successful piece. A range of cufflink fittings are available. But easily the most popular and the most practical are those which have a swivelling arm which snaps into place, using a spring mechanism that stops at ninety degrees.
This effectively forms the 'stopper', which prevents the cufflink from sliding back through the button hole and in turn this secures the cuff. The arm, which is available in a round or square section, is held between a 'u' shaped fitting or an 's' shaped fitting which is the piece that is then connected to the decorative element. This can be done using solder or glue. Special care must be used when soldering near any sprung mechanism as too much heat will cause the spring to relax, effectively rendering the fitting useless. It is preferable to use medium or easy solder for this task.
What Cufflink Fittings Should I Use?
If you fancy trying an alternative cufflink fitting to the swivel arm, you could opt for a simple cufflink chain. A little more traditional in style, these heavy chains (usually 5 links) provide the connecting element between the decorative plate and the 'stopper'. The advantage of using these cufflink chains is that you are free to add whatever style of 'stopper' you choose. It could be a bullet shape or a large sphere for your cufflink chain, as long as it is of sufficient weight and size not to be pulled easily through the buttonhole. This way the functionality becomes integral to the design which is always good!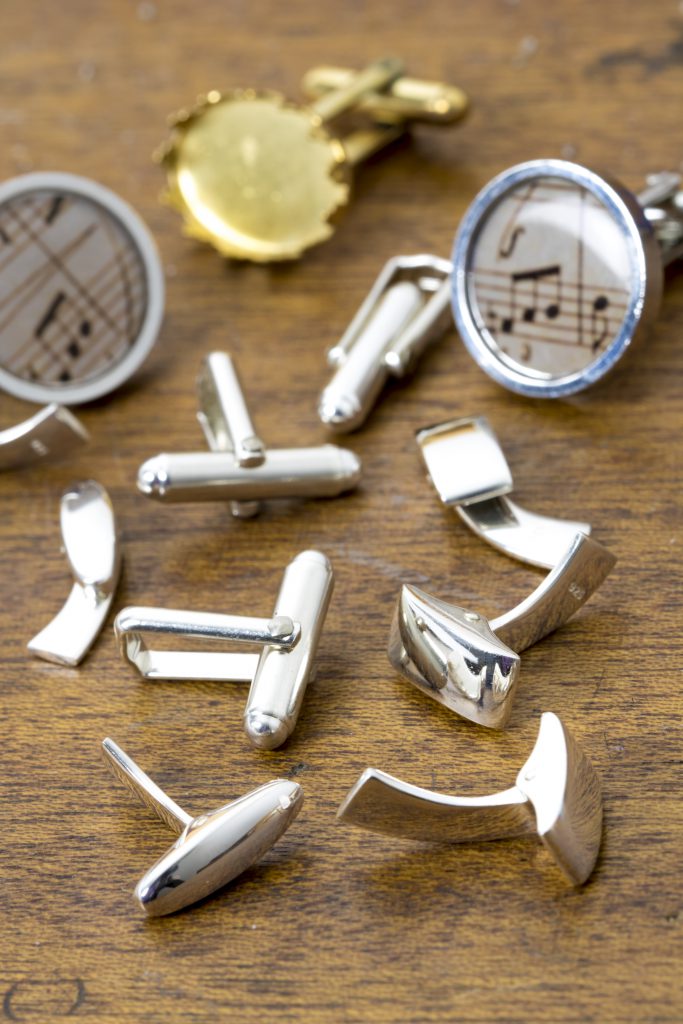 The last main cufflink fitting readily available is the Bar Bell design. As the name suggests, this consists of a curved bar with usually balls on both ends or one end, much like the Banana Bars used in body piercing. The scope for adding a design element to these is somewhat limited but interest can be added by using different surface finishes or by the addition of stones. A word of caution though for when you make your own cufflinks; these fittings won't necessarily suit all shirt types as the ball 'stopper' may not be large enough to be truly secure. It's probably best to do a little market research before using them for any commission work.
Once you have decided on the cufflink fitting, you can start work on the fun part, the decorative element. The basis of most is a shaped plate or blank which are available in a range of shapes and gauges. This is attached to the 'u' or 's' arm, chain or bar bell and completes the cufflink. This blank should sit flush against the shirt cuff with the design facing outwards and is the part that most customers are interested in.
Add A Personal Touch
Traditionally, designs were very understated and used initials or simple enamelling, but increasingly designs now reflect the individuality of the wearer and can be as quirky and witty as the imagination allows! So, get creative and take advantage of this lucrative gents' market by developing a cufflink range. The results will prove very rewarding.
Interested in how to make your own cufflinks? Browse our range of findings where you will find all our types of cufflink findings, ranging from our cufflink fittings and cufflink blanks to cufflink chains. Order yours and start to make cufflinks today.