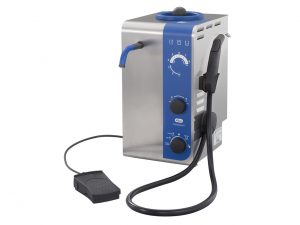 As a professional jeweller, you may get requests from customers about the best way to clean their jewellery. Over time, all precious metal pieces will require cleaning to bring them back to their original shine – it doesn't matter how often the piece is wiped over with a polishing cloth, or soaked in soapy water and rinsed, there's no better way of cleaning jewellery than with a professional jewellery steam cleaner.
Why steam cleaning jewellery is the best option
Steam cleaning jewellery is one of the safest options for bringing jewellery pieces back to their former glory. With a steam jet there is no need to use any harsh chemicals or solutions that could potentially harm the jewellery. Quite simply, a professional steam cleaner for jewellery is a quick and safe way of ensuring that the piece you're cleaning is brought back to a high shine without damaging the metal you're cleaning.
Although steam is a safe and natural option, it's always best to do your research before you use a steam jewellery cleaner on certain gemstones. Diamonds, rubies and sapphires will be able to withstand the heat and pressure created by a steam cleaner as they have a higher rating on the Mohs scale of hardness. However, you may need to take a little more care with semi-precious stones such as opals and turquoise, as these are softer and more easily damaged when pressure is applied.
How to clean jewellery with a professional steam cleaner
[iframe width="560″ height="315″ src="https://www.youtube.com/embed/dtL4KKV62Bk" ]
First fill the funnel in the tank with water.
You can then add the concentrated nozzle if you would like to work on a concentrated area.
With an advanced steam cleaner, such as the Elmasteam 8, you can then twist the rotary knob to select your cleaning or drying option (wet or dry). This also controls the mixing ratio of the steam function, which can be adjusted depending on how much pressure and water you would like to use.
Now you can select the programme; steam outlet, service for descaling, or settings.
Once your preferred setting has been selected you can then use the handpiece to control the steam for cleaning purposes. The nozzle will only start releasing steam/air when you press the button(s) on top of the handpiece.
It really is that simple! Just always make sure you read the safety guidelines and installation instructions before you start.
Elma steam cleaners
At Cooksongold, we stock high quality Elma steam cleaners due to their effective output. Take the latest compact Elmasteam 8 basic with 8 bar steam pressure – it's the perfect investment for jewellers who are seeing more and more requests for professional jewellery cleaning from customers, as it provides you with everything you need to effectively clean a varied range of pieces.
For a reliable, entry level steam cleaner, the Elmasteam 4.5 has all the basic features you need to get started with steam cleaning jewellery professionally.
Features of the Elmasteam 8 basic jewellery steam cleaner
Varying pressure modes – help you to select the right pressure for the piece you're working on
Adjustable eco-mode – this Elma steam cleaner will automatically close down to a 3 bar operating pressure so that you save energy without trying
Digital manometer – provides the desired and actual steam pressure values for added precision when cleaning
Take a closer look at our latest range of professional Elma steam cleaners and learn how to clean jewellery professionally with one of these compact and efficient machines.