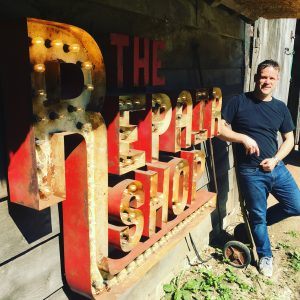 A man with decades of experience and an endless stream of talent, Richard Talman has used his skill to create some incredible pieces for hundreds of people. His talent has led to the creation of pieces that are truly timeless and utterly jaw dropping but it doesn't end there as his most recent stint on the BBC hit show The Repair Shop shows, his skills lies not only in creating from scratch but in restoring pieces and returning the joy and memories that a piece of jewellery can bring
Richard kindly took the time out to speak to us to have a chat about his jewellery making journey, his favourite moments, his skills and more…
What is your first jewellery memory?
I have a lifelong passion for geology, rocks, minerals etc obviously gemstones come at the other sector of gemology but all gemstones ultimately come from geology. I was told by my parents that I developed this interest when I was around age 5 and I used to collect gemstones with my pocket money. I've got a huge collection of it in my workshop here. That was my passion, collecting gemstones and minerals and rocks etc.
My father was a coppersmith, a coppersmith has no connection to the jewellery trade whatsoever but that being said; we bonded as father and son when I was very young through metal work. He had me gas soldering in our garage from a very early age, probably 8 or 9 so very quickly I developed a love and passion for metal work alongside the gemstones. My first experience manufacturing was very early around the age of about 10 which included very basic bits of bending metal and I think by the age of 14 I was making things myself
Describe your style or skill in 3 words
I would say Traditional – this is absolutely my style.
Perfectionist – I am far too much of a perfectionist for my own good but everything has to be perfect or it's just not acceptable
Preserver – preserving is probably one of my biggest mantras right now more so since doing the repair shop. I don't like waste, I don't necessarily mean filings that fall on the floor but more so when someone has an item of jewellery that means a lot to them and someone, somewhere has told them that it's not worth repairing. I like preserving jewellery and the memories that they hold.
Tell us about your favourite moment when making jewellery
My favourite moment is handing over a finished piece to a client and seeing their reaction, I get a great deal of buzz from that. It's great to have a portfolio of famous people that I've created jewellery for but that doesn't mean that an ordinary person is any less deserving. The moment of presenting an item you have made to someone, knowing you have fulfilled their vision that's a moment I get to repeat on a daily basis and I'm very very lucky
What attracted you to jewellery making?
My love and my passion for gemstones. Although I no longer actively collect rock and minerals, the love and the passion is still there. I have my collection on display and every time I walk past it, fond memories rekindle. I could easily tell you where they came from so yeah the passion is definitely still there.
What is your favourite material or method and why?
My favourite material is Platinum by a long shot. It solders beautifully and that's probably my main reason for liking it. After that it would be 18ct yellow gold; definitely my two favourite metals to work with.
My favourite method is definitely finer jewellery making, we don't use any pre made items whatsoever. Collets and certain parts can be purchased readymade and although there is nothing wrong in using these, they don't get used in my workshop. Everything has been made by hand using traditional techniques, doming techniques, cutting techniques, soldering and filing and so on.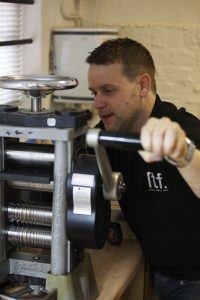 Can you name a few top products in your workshop that you can't live without?
I couldn't live without any of them, if I lose any of them then I'll be kicking and screaming but my most loved tool is my Glardon saw frame. That is the tool I can't live without. After that it would have to be my rolling mill, the Durston rolling mill in particular.
What advice would you give to someone considering jewellery making and perhaps thinking about using pre made settings and castings?
There's no issue if you want to buy castings and settings but I do feel like they have a huge amount of limitations in the trade if that's all they use. My advice would be to still learn how to make it from scratch so you can always fall back on it. You can always start assembling with pre made items which can help you start your jewellery making journey, help you gain confidence and earn money to pay for your overheads whilst you learn how to do it traditionally.
You offer a completely bespoke service – can we understand the steps you go through to create the perfect piece for a customer?
First and foremost we have an hour's appointment with the customer. It's a total one to one private meeting where we throw ideas off each other. Some customer's come in fully loaded with ideas, screenshots, something they found on pinterest while others may just come in with inherited jewellery. We would then discuss what they would want to achieve, what they like, what they don't like which is all important. Usually by the end of that meeting we have a clear picture of what it is they want, they then get quoted and if they're happy with the quote their job goes into production
You were once named one of the top 10 Goldsmith's in the world – what advice would you give to a jewellery student who dreams to be at that level?
Start young. If you're thinking about it, get on with it and never ever stop practicing because all of the time you're practicing, you're better than the person who isn't
You're passion for gemstones is clear and you have continuously declared your love for diamonds. With that in mind we wanted to ask, what your thoughts were on the increasing use of synthetic stones.
As long as people know what they are getting and they understand what they are getting then I don't see any harm whatsoever in using synthetic stones. If someone comes in with a huge budget then naturally they're going to want the best but if someone with a tighter budget and wants to recreate that look then that is their prerogative.
Jewellery has always been considered a display of wealth but in my opinion jewellery only ever has one purpose – to make the wearer feel good. If someone wants to create or purchase a piece of jewellery that makes them feel good and their budget stretches only to synthetic stones then they should be granted that opportunity without fear of judgment from others
I have no issue producing jewellery using lab grown or synthetic stones as long as it is producing the result the wearer wants
If you could change one thing about the jewellery industry, what would it be?
I wouldn't say necessarily remove this but in my opinion I would love to see something like CAD be used to replace efficiency but not actual bench skills. I can understand that sometimes it's not easy to hand make something and present it to the customer and CAD can help but a diamond mounter or goldsmith should always look to be able to make everything from scratch and then in a time of demand call upon the CAD process.
You can watch Richard on The Repair Shop and keep up with his latest designs over on his Instagram @rtfj