Rachel Bailey aka Pixie Made won our Design of the Month Competition back in August 2020. We liked the way she used nature and her use of gemstones in her creations. We wanted to know more about her, what inspires her, what drove her to jewellery making and more.
Tell us a bit about yourself – your background, education and training in jewellery making
I went to Portsmouth Art college in the late 1980's. That is where I first had a try at making Jewellery. I loved it so much I stayed on to do a National Diploma. In the early 1990's I started at West Surrey college of Art to study for a Degree in 3D design, specialising in metals. After graduation I set up my own business in 1993. I slowly built up a customer base, making mostly bespoke pieces, firstly in silver, then moving into Gold and Platinum. I made pieces including wedding and engagement rings, anniversary gifts and remodeling.
After the birth of my Daughter in 2010 I changed direction in my work, I really wanted to develop my own designs, and I now feel that I have at last found my own 'voice' in what I make.
When did you discover your love of jewellery?
I discovered my love of jewellery as a teenager. I used to seek out junk shops and Antique shops looking for jewellery. I also collected stones and shells from out local beach. I was 17 when I first made a simple hammered band ring. I hammered it too much, so it ended up far too thin! But I loved it!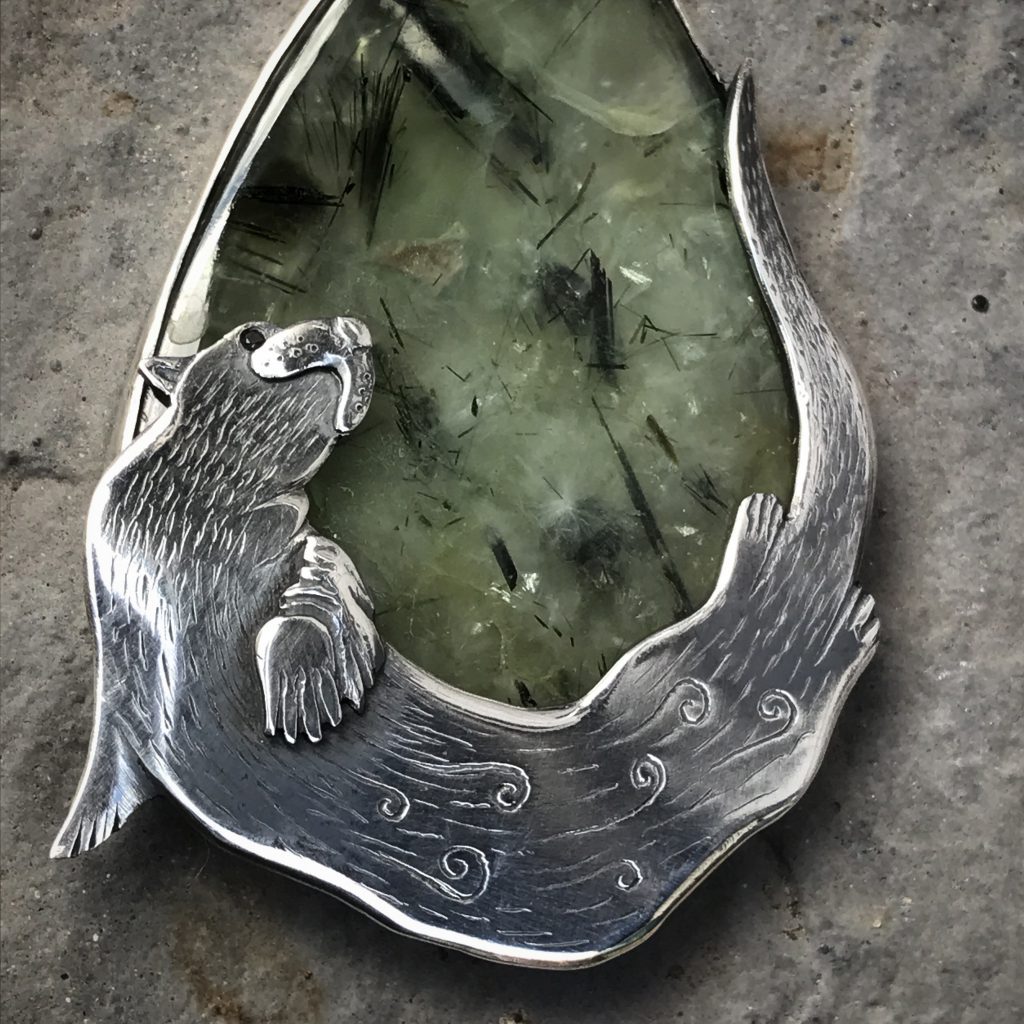 Tell us a bit more about your work. Are there any particular materials or techniques that you favour?
I work in silver, I do use a little yellow gold, when a piece needs it. Gemstones are an integral part of my designs, they provide a backdrop, or landscape, a moon or a starry sky.
I use simple techniques, sawing, soldering, stone setting and engraving. My work is all individually handmade.
How would you best describe your design style?
That's a hard one! It's unusual I suppose, little pictures you can wear. It has taken many years to find my 'style'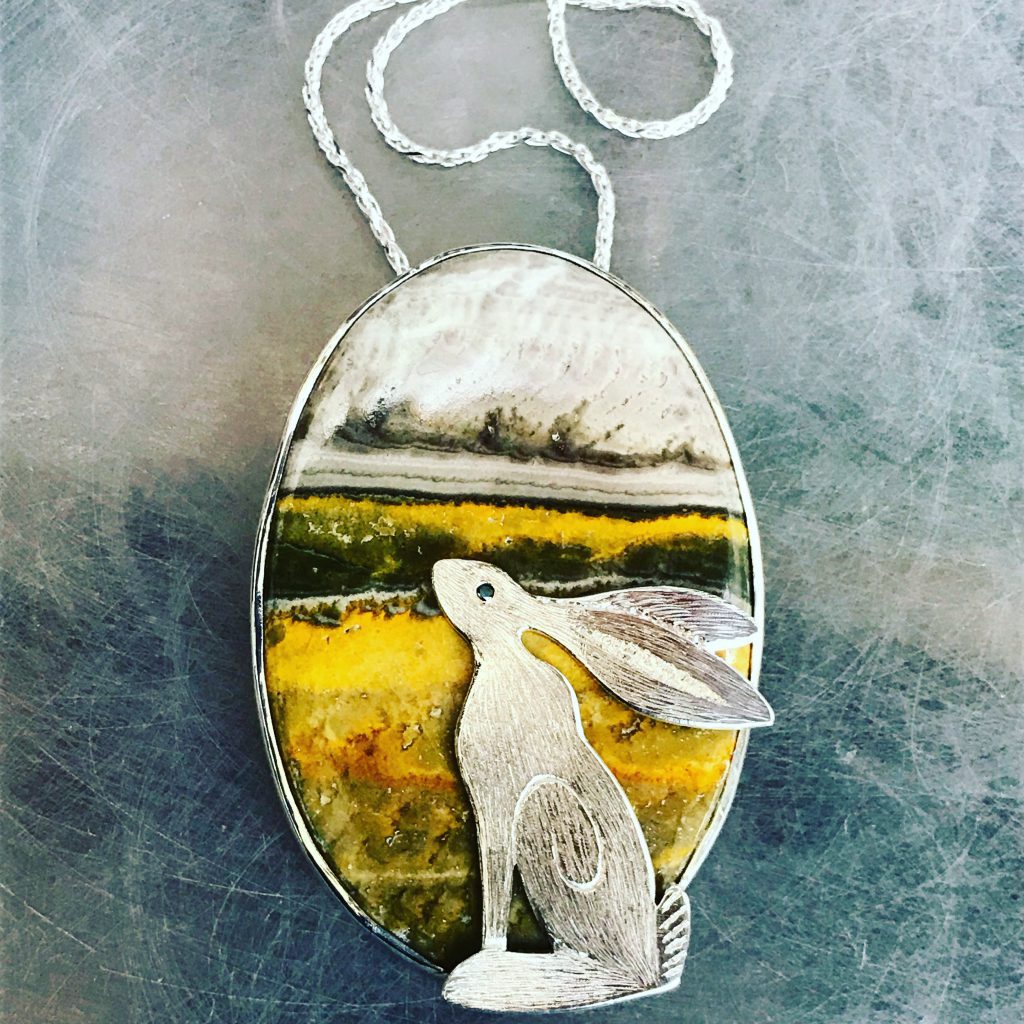 As a jewellery maker, where do you get your inspiration from for your pieces?
My inspiration is from nature, our native wildlife. I love animals and birds. The gemstones I use inspire what animal or bird will inhabit them.
A big influence also is the wonderful art of Jackie Morris, and Kit Williams' book Masquerade.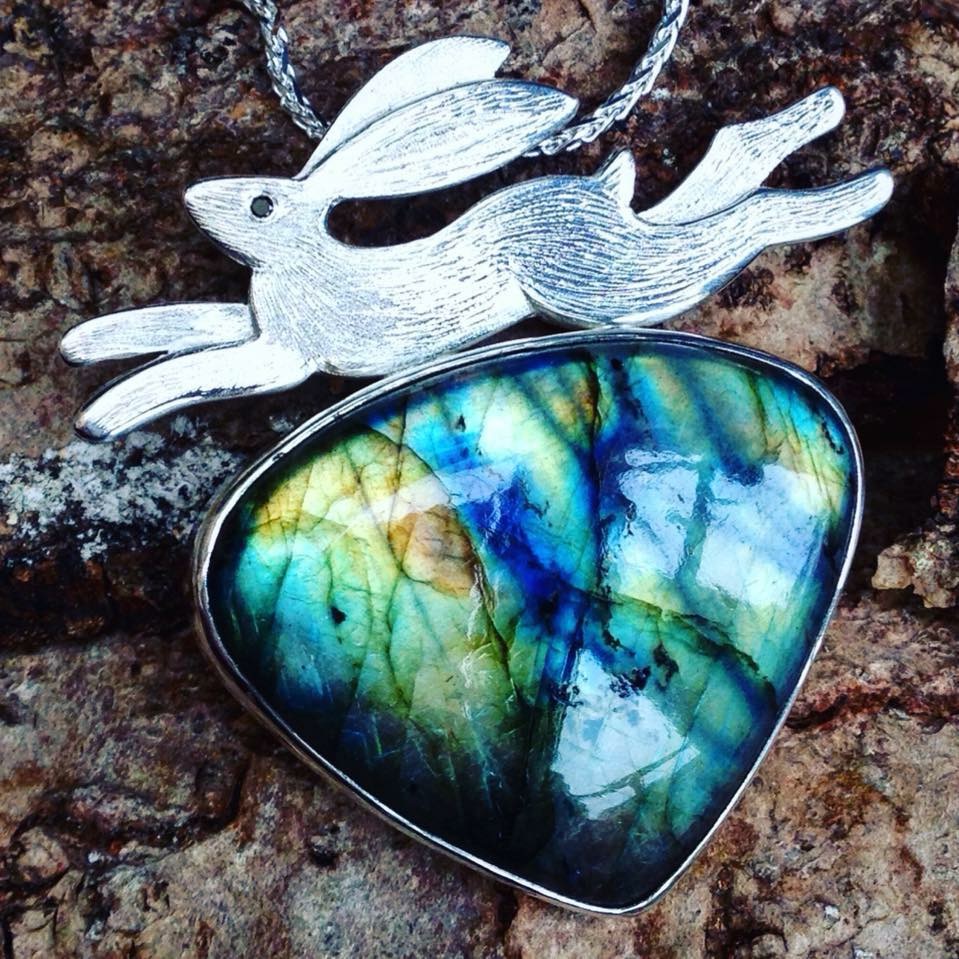 Do you have a piece that you are particularly proud of?
Many years ago I was proud of making platinum and diamond rings, these days it is much different! I love making large statement pieces, I have made a series of large leaping hares inspired by Kit Williams's Golden hare. I can let my imagination go, and use silver, gold and diamonds as well as Labradorite or moonstones.
I also love it when I find the most perfect stone! One that is the best background for an animal to inhabit.
What is the one item in your workshop that you couldn't live without?
I couldn't live without my Green lion saw frame, and a plentiful supply of blades!
I used a very basic saw for over twenty years, so two years ago I thought I deserved an upgrade! I do spend a lot of time sawing. I also could not be without my torch for soldering.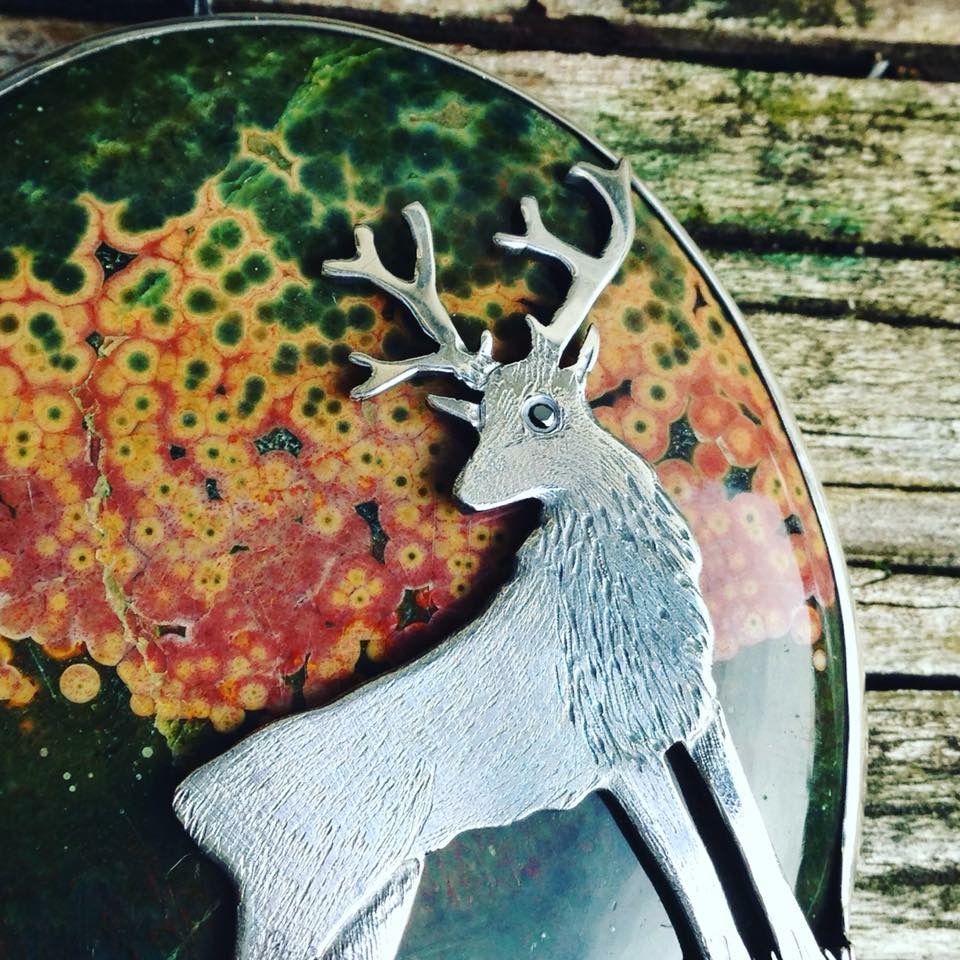 What upcoming trends do you see being popular soon?
I really don't follow trends, so I'm not really sure.
What is the most valuable lesson you have learnt from your time in jewellery making?
I suppose for me it's don't hurry! It has taken me many years to build up my business, doing bespoke work, which is very challenging at times. The hardest lesson I have learnt in that time was saying no. I still have trouble with that, as I hate to turn work away, but sometimes it is just not the right work me. It is lovely to now be able to make what I love, my own ideas and imaginings!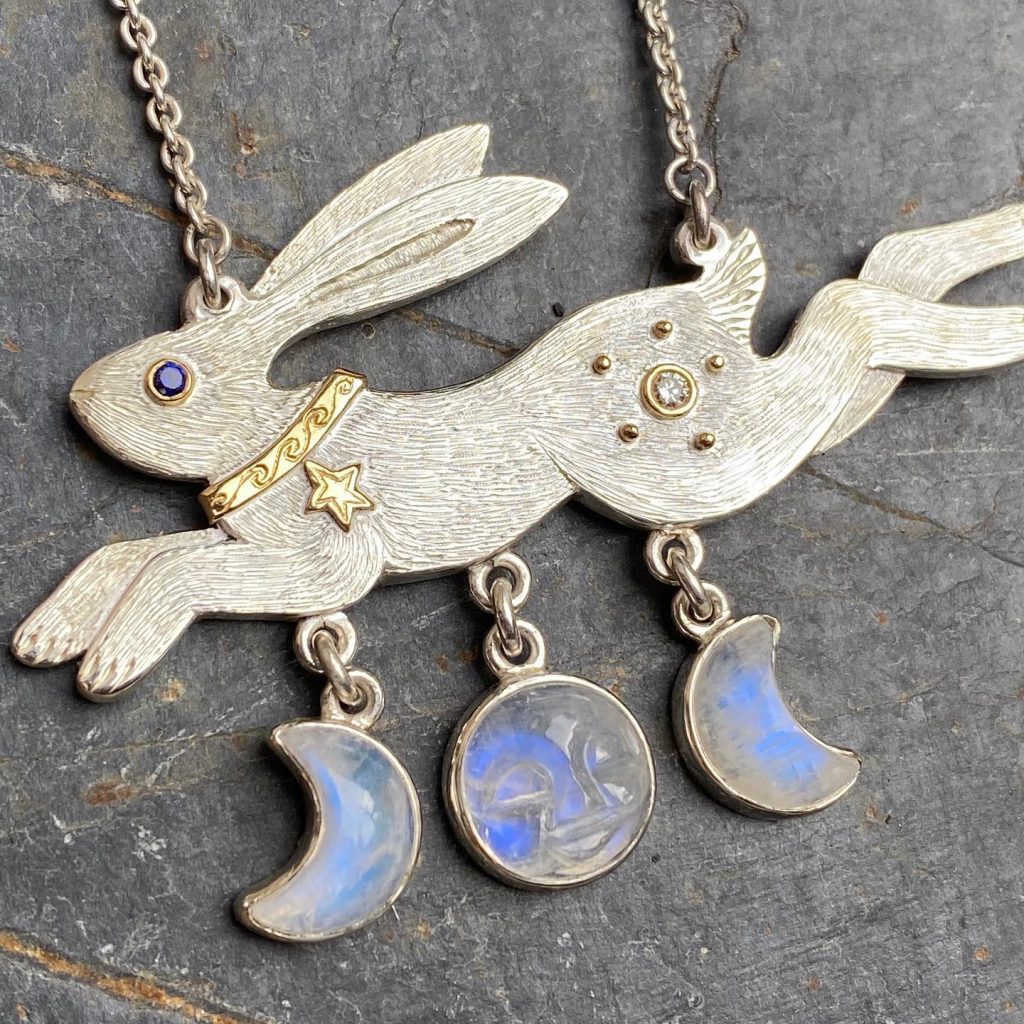 Do you have any particular advice that you would give to up and coming jewellery designers, or someone interested in getting into jewellery making?
Enjoy it! Take time to develop your skills.
Social media is great! I didn't have that when I started out, it is a great place to build a customer base.
Finally, time for a bit of fun in our quick-fire round!
Tell us your favourite…
Colour? – Purple
Biscuit? – My daughter's homemade cookies
Coffee or tea? – Tea without milk or peppermint or camomile
Place? – The countryside or forest
Animal? – Hare or blackbird
Gemstone? – Labradorite, moonstone, ocean jasper, aquamarine… I'd better stop there!
Food? – Vegetarian
Film? – Little Miss Sunshine
City? – Bath or Wells
Book? – The Lost Spells by Robert McFarlane and Jackie Morris
Song? – Roscoe by Midlake
Describe yourself in a hashtag? – #pixie
What is the one thing that people don't know about you? – I'm not really a pixie!
Style Icon? – Gudrun Sjoden
Many thanks to Rachel for talking to us and for being part of our Cooksongold Meets series
Find out more about Rachel's designs via her Pixie Made Facebook page, Instagram or website.