Natasha Lyon aka Lyon and Feather, specialises in timeless yet personal electroformed jewellery. We spoke to Natasha to find out more about her jewellery making journey, why she favours this type of jewellery maker and more.
Scroll on below to learn just that, as well as whether she prefers tea or coffee.
Tell us a bit about yourself – your background, education and training in jewellery making
I actually was a fashion stylist since I was 16 and went to Kingston University to study fashion design so nothing jewellery related yet! I was coming towards the end of my 20s and my friends were starting to settle down, buy houses and have babies and I was constantly on tour with music acts or traveling to different parts of the country for TV commercials, and I realised I didn't want to travel so much anymore but still do something creative.
I enrolled in a short silversmithing course as I thought this would become a hobby and through a series of synchronicities including a running accident which meant I was on crutches for month meaning I couldn't style and PR friends asking to borrow jewellery for photoshoots, I realised I could actually make a living from the jewellery if I gave it my full focus. I worked with gold and silver for a few years before being intrigued with the electroforming world, so took another course and now electroformed jewellery is my main focus, and I love it.
When did you discover your love of jewellery?
My mother is from Singapore so growing up I was always surrounded by exotically beautiful pieces of jewellery, and was always bought a piece of jewellery for a big birthday or given heirlooms from family members, so I think it was in my subconscious from an early age. I remember being fascinated by my mother's necklaces and the jade bangle her and my grandmother used to wear and I'd always want to buy something back whenever I visited Singapore. I worked in a pawnbrokers a few years ago and I adored seeing the different trends of jewellery being brought in to pawn or sell anything from Victorian pendants with locks of hair, to huge gold belcher chains young men wanted to hang their diamond custom made Disney pendants on!
Tell us a bit more about your work. Are there any particular materials or techniques that you favour?
Primarily my work is electroforming, which is a alchemical technique where the copper or silver organically grows on anything you paint with a conductive paint. If I'm honest I don't really understand it still, but I love the process! I work with a lot of raw crystals and I let the stones design the pieces as each stone is obviously so unique.
How would you best describe your design style?
I'd describe my design style as minimalistic, timeless and very unique. I think due to my heritage I was surrounded by "simple" pieces of jewellery, which was worn for years and that has definitely inspired me. As a fashion stylist, my styling was very timeless, and not following trends too much, so I think my jewellery goes down a similar route too. I can't see my pieces falling out of trend, as they don't really follow one!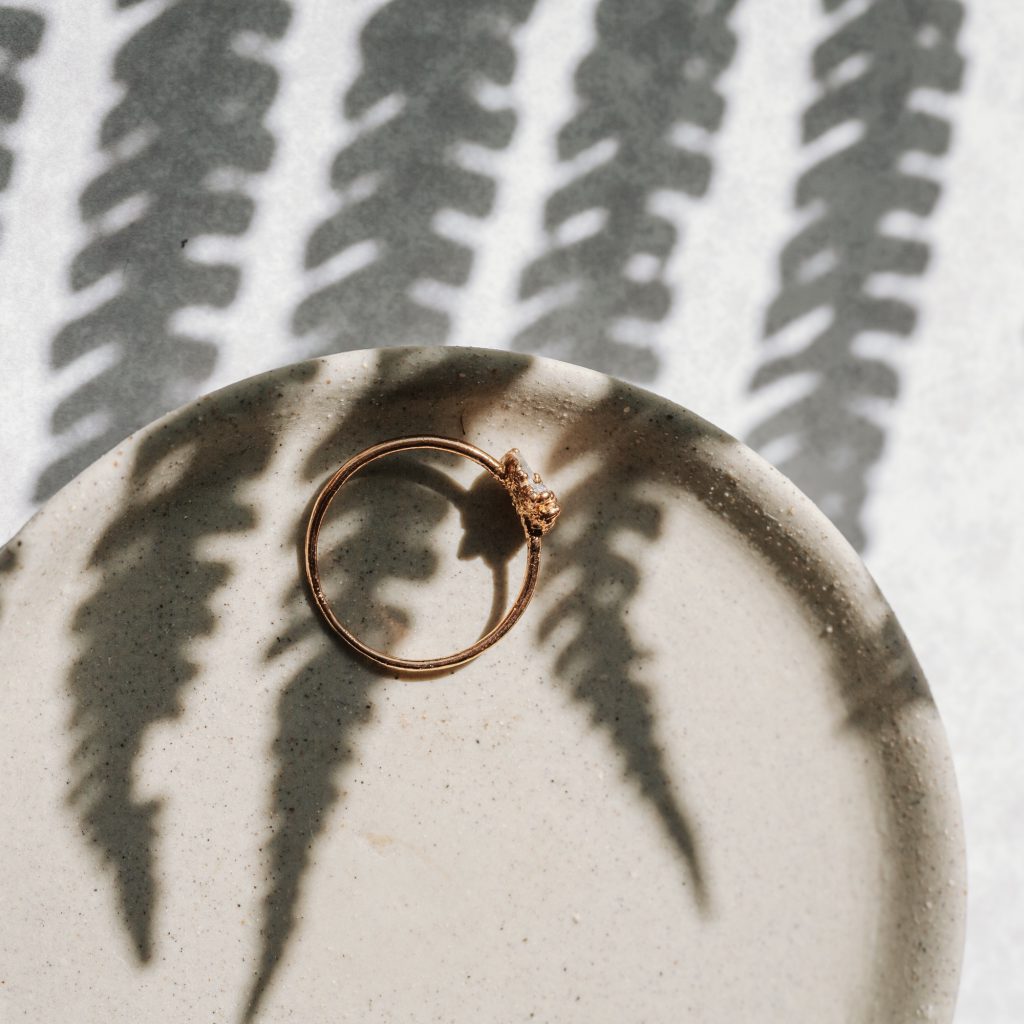 As a jewellery maker, where do you get your inspiration from for your pieces?
I think a lot of my inspiration comes a lot from the stones I work with, they seem obvious to me which pieces would work better as a necklace or ring for example when I look at them, I might not always be right though!
Do you have a piece that you are particularly proud of?
I made a quartz druzy copper ring earlier this year which I adored and wanted to keep for myself! Due to the electroforming process, the metal sets the stone wherever the paint has run, so it's always a surprise when I take pieces out of the tanks, but this piece was the first time the copper had almost become one with the stone and it was fascinating to look at! I could have sold that ring 50 times over!
What is the one item in your workshop that you couldn't live without?
I feel like I should say my electroforming tanks because I literally couldn't do what I do without them, but I am going to say my speaker. I can't work in silence! I've always got some kind of music or podcast playing whilst I work, it creates quite a meditative space for me.
What upcoming trends do you see being popular soon?
Personalisation has obviously been such a big moment recently and I do see kits becoming popular, whether that is completely making the item yourself, or you making an element and then sending it back to a designer for them to finish it.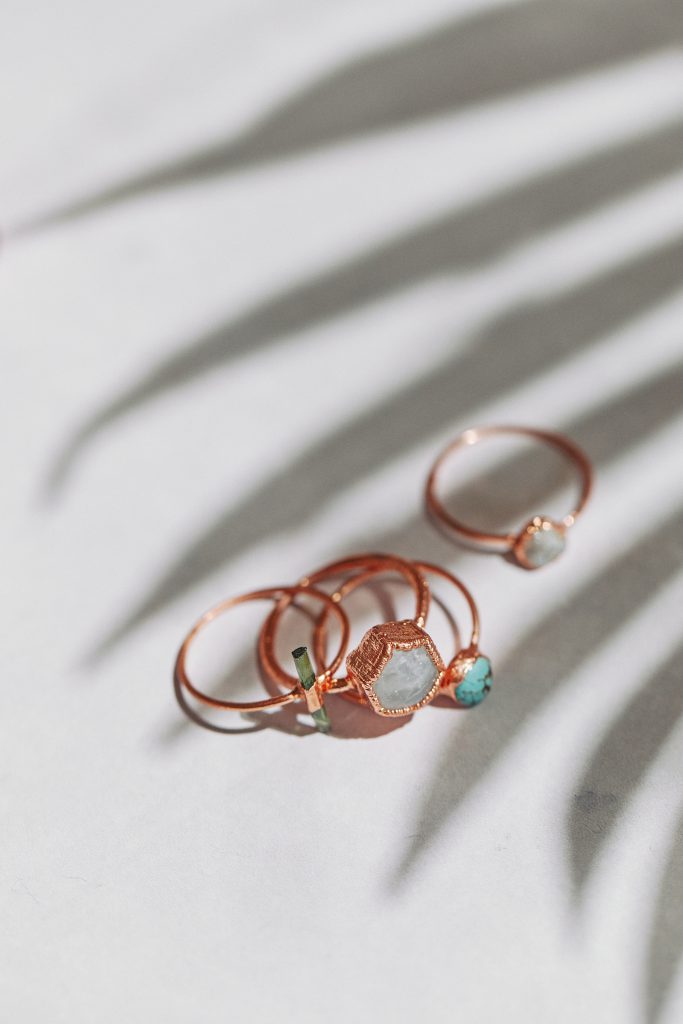 What is the most valuable lesson you have learnt from your time in jewellery making?
I have learnt that actually people do want to help you! In the fashion world there is a lot of cattiness and I assumed it would be the same in the jewellery world too, but I have in fact only ever had such wonderful experiences from other jewellers. I'm lucky enough to have a studio in a building with 80 other makers and I have three jewellers on my floor who always pop in to say hello or more than happy to answer a quick question I might have.
Do you have any particular advice that you would give to up and coming jewellery designers, or someone interested in getting into jewellery making?
Have a go! It might turn into a small business which is so special, but equally it might just be a hobby which relaxes you at the end of a very busy week. But, do find your own style. There are so many people who I know who have been copied (myself included), so find your own style and follow that design path to where it might lead you.
Finally, time for a bit of fun in our quick-fire round!
Tell us your favourite…
Colour? – Black
Biscuit? – Chocolate covered hobnob
Coffee or tea? – Coffee in the summer, tea in the winter!
Place? – Chiang Mai
Animal? – Dog
Book? – The Secret
Gemstone? – Salt and pepper diamond
Food? – Chocolate
Film? – Love Actually
City? – Singapore
Song? – Your Eyes – Black Coffee
Describe yourself in a hashtag? – #alwaysthinkingaboutfood
What's one thing people don't know about you? – I'm psychic
Style Icon? – Daphne Guinness
Many thanks to Natasha for talking to us
Find out more about Natasha's designs via her Lyon and Feather site, Facebook, Etsy or Instagram page.