Starting out in the jewellery making industry can be challenging, but if you're equipped with the right tools to create original, statement pieces, it becomes a whole lot easier.
That's why we've put together a simple guide to choosing the best drill bits for metal jewellery. There are different touches you can give your jewellery using metal drill bits, depending on the style and finish you're hoping to create. Read on to discover more.
Different drill bit sizes
The best drill bits for metal jewellery can vary depending on size. Whether you're creating larger holes in a cuff, or perhaps a daintier rivet hole in a bracelet, choosing the correct drill bit sizes goes a long way to achieving the desired result.
We stock metal drill bits in a variety of sizes. Our Busch Shank Drill 0.5mm enables you to drill smaller holes, for more delicate requirements, or even surface patterns.
For larger, thicker gauge jewellery pieces, a bigger drill bit size may be necessary. If you're making a set of chunky metal bangles and you want holes for beadwork, a Busch Shank Drill 1.5mm may be more appropriate.
Different drill bit types for metal
Another way to choose the best drill bits for metal jewellery creation is to consider the different types.
Not only do drill bits come in different sizes with varying millimetre thicknesses, they can also have several other differentiating properties. We've listed some of these below:
Composition – the harder the material you work with, the harder your drill bit should be. Some of our drill bits are constructed from high speed steel rather than regular steel, which makes them last longer and able to withstand high temperatures.
Twisted Drill – twisted drill bits are typically the same thickness from shank through to drill tip, offering a sturdy drilling experience and the chance to drill further than a shanked drill.
Pearl drills – if you're creating a piece of metal jewellery that features pearls, you may consider using a pearl drill. These are specially designed to stop the nacre from chipping when you drill pearls, enabling you to create your desired piece without destroying your materials.
Diamond Twist Drill – If you're working with gemstones or even glass a diamond twist drill is ideal. Coated in diamond, these drills are ideal for drilling small holes in gemstones for jewellery applications and perfect for drilling holes in glass.
HSS drill bits for metal
One type of drill bit we mentioned above are drills with a twisted shape. Typically, these are HSS (high-speed steel) twisted drills and they're designed to broaden your cutting landscape.
The high speed and harder composition means these drill bits can withstand high temperatures during jewellery making and are ideal for using with materials other than metal. Hardwood, glass, shell and stone are some of the materials you may want to experiment with.
Diamond drill bits
Our diamond drill bits are designed to drill materials like stone, as the cutting end is typically coated in tiny diamond pieces.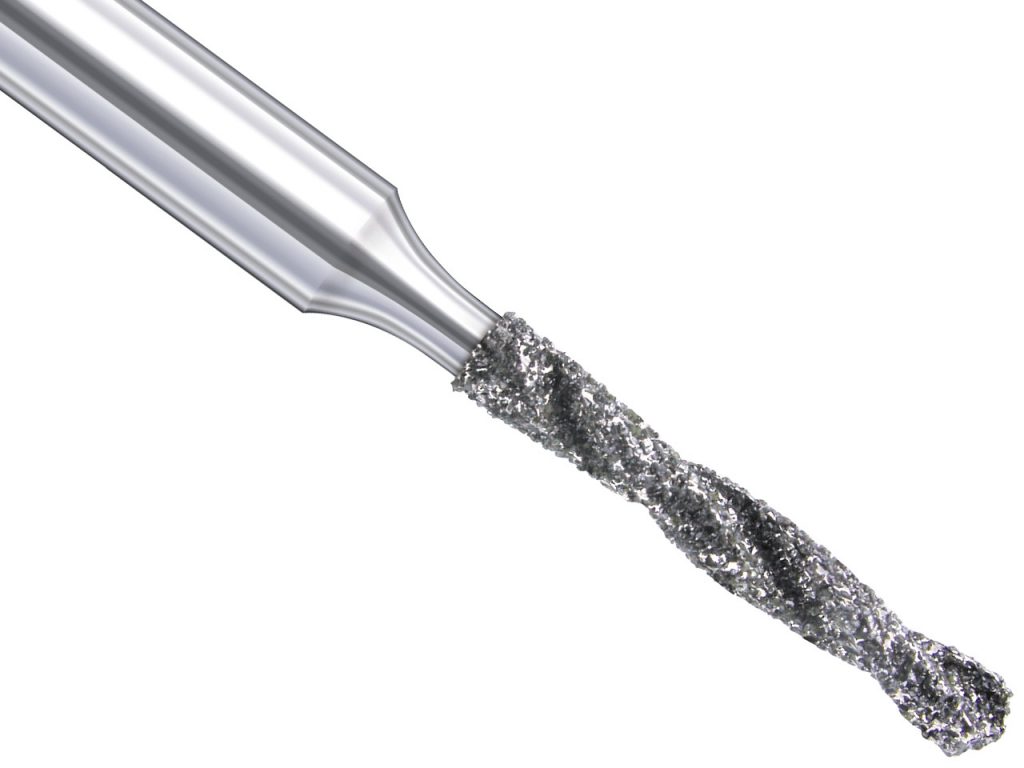 This allows for a more aggressive cut, but in most stone drilling scenarios you'd need lubrication. Diamond drill bits aren't designed for cutting further than the cutting end, but they're able to cut through harder materials.
Tools to use drill bits with
You can use your metal drill bits with many of our drills, including the Foredom Pendant Motor Sr Jewellers Kit Quick Release System. Unlock power and performance while you work with this kit, allowing you to master control with an easy handpiece and foot pedal. Whether you're drilling larger holes with thicker drill bits or you're attempting an intricate design, the Foredom Pendant Motor SR Jewellers Kit can help you develop your technique.
Take a look at our other pendant drills and choose from handpieces, multi-systems and other accessories to accompany your drill bit kits, ensuring the drill bits fit the collet.
A lubricant will need to be used – Burr Life (998 021) to help it drill and also prolongs the life of the drill bit.
Why would you need metal drill bits?
If you're stuck for ideas on what to use your drill bits for, we've come up with a couple of examples for you to get started with.
1. Sawing a pattern
You may want to create an intricate pattern on a pendant, ring or other piece of statement jewellery. The easiest and most accurate way to do this is to use a saw blade and saw frame, allowing you to cut and shape your jewellery and achieve the look you want.
You'll need to drill a hole through your metal to get started. The hole must be large enough to fit the saw through, so depending on the size you're using, you may want to consider different drill bit sizes.
2. Adding jump rings and chains to pendants
Finished creating a statement pendant? You may need to attach a jump ring to loop a chain through, or you may choose to loop the chain through the pendant without a jump ring. Whatever the case, you'll need to use a drill bit to create the hole for this.
Find the best drill bits for metal jewellery creations today
Now you've got some examples to work with, and more information on drill bits and their uses, why not check out our selection of drill bits and get started today? It doesn't matter if your first go doesn't work – it's all about experimenting and developing your personal technique. Read our Beginner's Guides to find out more about different jewellery tools, materials and inspiration.