As the name implies, a ring stretcher is a jewellery tool specifically used to enlarge the circumference of a plain ring band by simply stretching it. They come in many different forms and prices vary enormously; however for the purposes of this article, we are focusing on the Rathburn ring stretcher which is ideal for both beginner jewellery makers and expert jewellers to use to increase the size of a ring.
How Does the Rathburn Ring Stretcher Work?
The Rathburn ring stretcher comes in two parts, an outer section which consists of a series of flexible segments and an inner shaft which fits down the centre. As the inner shaft is pushed down with the help of a hammer, it forces the outer segments to splay out which is what stretches the ring.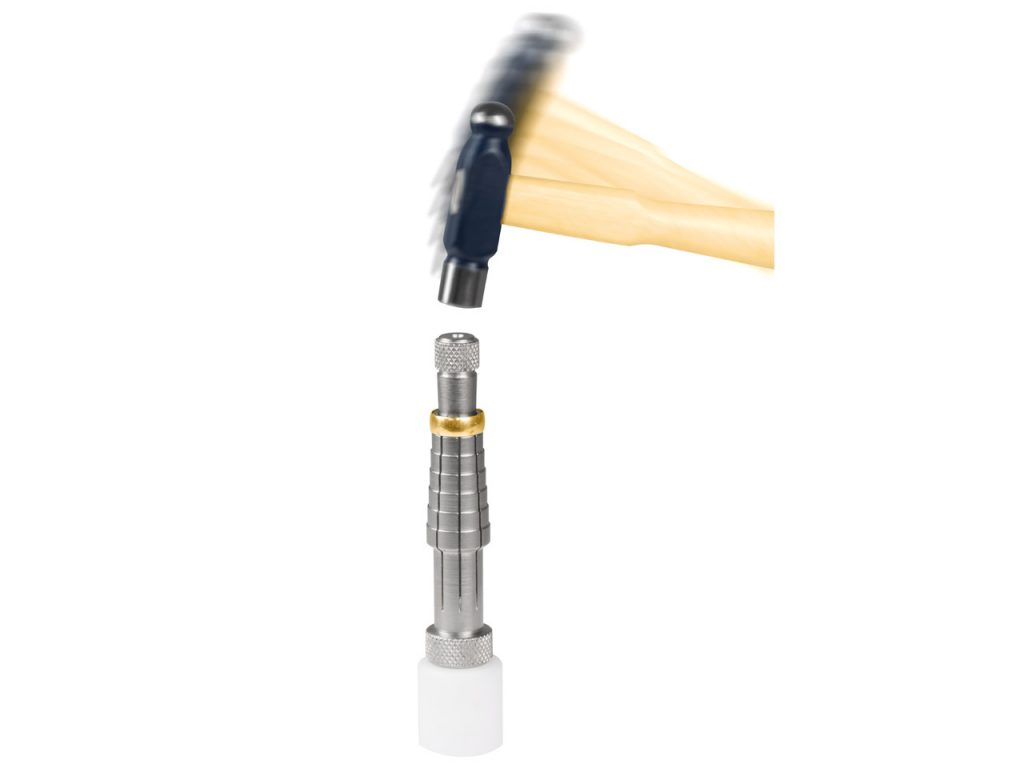 It is a simple but effective action, which is easily completed in only seconds. However, it is worth noting that as this is a small and portable jewellery tool, it will need to be secured in a vice before any hammering is attempted.
How Do I Use the Rathburn Ring Stretcher?
Before doing anything, you will need to check the size of the ring in question as the Rathburn ring stretcher is only suitable for use with ring sizes P, R, U, W, Z, Z+3 and Z+5.
Once the ring size is confirmed, to use this ring stretcher you simply have to:
Place the ring onto the tool, making sure it sits flat.
Hit the central shaft of the ring stretcher with a hammer using only a single blow in the initial instance.
Take the ring off the tool, re-check the size and then repeat the process if necessary.
Don't be tempted to keep hammering without checking the size of the ring, as you may be surprised at how easily and quickly a ring can be stretched.
You can also see for yourself how simple this ring stretcher tool is to use in our handy demonstration video below.
More Ring Resizing Tips
There are some key points to bear in mind when enlarging the size of a ring:
Measure the ring carefully before attempting to stretch it, and be very clear about the size you want to achieve.
This ring stretcher tool and many similar versions are not suitable for rings with stones. You risk serious damage to both the stone and the ring if you ignore this warning, so make sure you use ring stretchers with plain ring bands only!
Do not try to stretch the ring too far. This is not an exact science, but the general rule of thumb is no more than two sizes, and only if the ring is thick enough to withstand such a stretch. For example, if you have a very thin gauge of metal on the ring you want to stretch, it will only move a small amount before it snaps – so exercise caution at all times and work gradually and steadily.
Always anneal a ring before trying to stretch it, to make it more pliable and less liable to snap.
Want to learn more about how to make rings bigger? Take a look at our guide on how to resize a ring, which covers everything you need to know about increasing and reducing the size of a ring.
The Rathburn ring stretcher is a great value option for those needing a portable solution for stretching rings at craft fairs, or maybe even in a shared or limited workspace area where bench mounted versions are not feasible. So, if this sounds like the ring stretcher tool for you, add one to your workspace today.