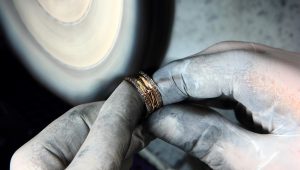 Stepping into the world of advanced jewellery-making requires a lot of patience and a deeper understanding of the intricacies that come along with perfecting your designs, especially when it comes to different types of polishing compounds and the jewellery polishing process.
Polishing compounds. Jeweller's rouge. Buffing wheels and mops – there's so much to discover as part of the jewellery polishing process. That's why we've put together this hub of information, to help you get to know the ins and outs of buffing, polishing and finishing your jewellery to a high standard.
Using Polishing Compounds
This hub is your go-to guide to polishing compounds, helping you to perfect the polishing process. Discover our comprehensive guides below on the different types and uses of buffing wheels and polishing mops, and tips on how to use polishing compounds and buffing wheels, along with our easy-to-use buffing compound colour chart. With some expert advice, you'll soon be well on your way to perfecting your latest precious metal designs with a professional and polished finish to be proud of.
Choosing the right polishing compound for your work
When it comes to choosing a polishing compound, it's best to think of it in the same way as sandpaper, moving from the coarsest to the finest as you work through the buffing and polishing process. But with the sheer amount of polishing compounds available, it can be difficult to know where to start.
To help you get to grips with using polishing compounds, we've put together this handy polishing compound chart. This chart will help you assess which polishing compound you need when you're working with different types of metal, taking you right from the start of the buffing process, right through to finishing up with a final polish.
Your Polishing Compound Chart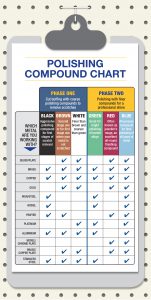 Download the handy Polishing Compound Chart
Jewellery Polishing Guides & Tips
Now you know how to choose the right polishing compound, here are some more advanced guides on how to use polishing compounds and mops effectively, helping you perfect your production.
Different Types of Buffing Wheels & Polishing Mops
How To Use Polishing Compounds
Polishing Compounds and Equipment
Looking to stock up on polishing compounds and buffing mops? Find everything you need for your own jewellery-polishing process in our current polishing compounds selection. And don't forget to visit The Bench for more useful jewellery making techniques, and jewellery business advice.