Jewellery maker Dunja Puača designs a variety of antique-looking pieces, that envisage elegance yet show her inspiration of the sea. View some of her work, read about where she gets her inspiration from and more in this Designer of the Month interview.
Let us know a bit about yourself, detailing your background, study and training in the jewellery making industry.
Dunja is my name and the name of my brand. I come from Split, Croatia and although it sounds like a cliché, but since I was aware of myself I've been creating. As I grew up, so did the media of my artistic expression. I went through various materials to finally find metals and silver. In moments when I do not create, I think about creating. It is simply a part of me.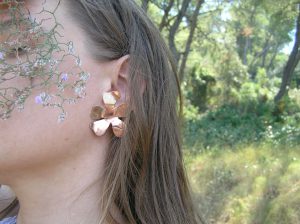 After finishing the course for Designer of Contemporary Jewellery, a few years ago, I quickly found silversmithing and jewellery to be my true passion. I decided then to start my journey in creating and to make my own jewellery brand.
Tell us about your work – are there any particular materials or techniques that you favour?
I work mainly with brass and silver and sometimes copper using basic jewellery techniques. My favourite techniques are piercing, chasing and repoussé. But recently I discovered hand engraving, did a course in Florence and totally fell in love. It is like an obsession now, I can't stop thinking about new engraved designs.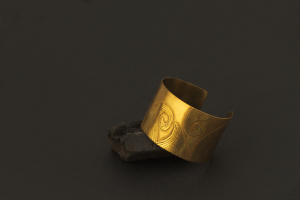 I like to incorporate precious and semi-precious stones from time to time in some of my designs. It always fascinates me every time that a piece of metal can be produced in a way that will be significant to someone. It is very interesting to me that something nice can be created from nothing. The metal is very stiff and I like how this stiffness can change and shape with my work, as from rigid matter I can get any form I imagine.
How would you best describe your design style?
I think my design style is still developing. But at the moment it is mostly simple with some elements of traditional. I create objects, which with their organic forms and clean lines, remind me a little of the Egyptian, Greek and Roman traditions in shaping, but also on local ethnic design. My urban jewellery conveys the spirit of the traditional and combines it with contemporary aesthetics.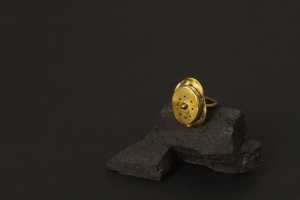 My main thought when designing is to create something simple but dreamy and elegant. But I'm trying not really to think about this, because I do not want to be put in certain categories, I just create as it comes to me.
As a jewellery maker, where do you like to get your inspiration from for your pieces?
My eternal inspiration is the sea that provides me with countless forms. I grew up by the sea and I think that the influence of this is in shapes of my jewellery and is mostly seen in my beginnings.
I often find inspiration in nature, primitive ethnic form and indigenous crafts, historic and archaeological objects of art. People often say that my jewellery resembles a stylised antique. I do not know is it true but I really admire antique jewellery and cultures.
Do you have a piece that you have made which you favour or are particularly proud of?
Yes! Not only one, but if I have to choose it would be the first brooch that I made and hand engraved heart silver pendant. Rose brooch was quite a challenge because I made the clasp pin mechanism as well. At the time when I was making it it was very difficult as I was only just a beginner. With this brooch I won 3rd place at International Art & Design competition 2018 in Italy, Florence.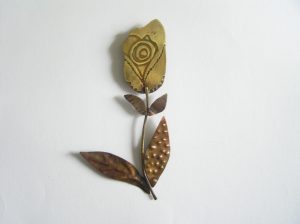 I am also very proud of the silver pendant and it means a lot to me, because it is one of the first pieces that I made using technique of hand engraving. I learnt so much and this pendant was accumulation of my knowledge and skill. It's delicate and precise and it taught me a lot about myself too. I think this piece will be a transition in my designing.
What is the one item in your jewellery making workshop that you could not live without?
I couldn't live without my jeweller's saw. It is a basic piece of my workshop with which I create all the magic. Also there is a certain burnisher from Cooksongold which is the perfect tool and a real time saver and helper when I mess up something. Every jeweller should have one!
What upcoming trends do you see being popular soon?
I am not follower on trends, and certainly not with my jewellery. But I think people are again discovering and turning to old techniques more and more. So I would say that it is more rediscovering than a trend, especially wax casting technique. That is my next wish list activity when it comes to jewellery making.
What is the most valuable lesson you have learnt from your time in the jewellery making industry?
You have to know when to stop. When work doesn't go as you imagined it is important to know when to take a break. Otherwise, you might regret it. Take a break, take a walk, listen to some music and think about your project and then come back to the bench. There aren't any shortcuts for doing something in this kind of work, because in the end it happens to be a longer way.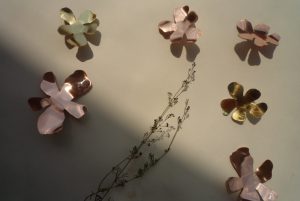 Also you have to let yourself explore and play. One idea can lead to another, which leads to another, which leads to pure magic at the end. Don't be afraid of mistakes that is the time when you will learn the most! Being a jeweller is demanding but rewarding and so sweet and special, you get to create little treasures that celebrate people's happy moments – like old friendship, love, birthdays and much more. You are using your hands and heart to birth something into the world. Because of that I am grateful for these hands and this heart.
Do you have any particular advice that you would give to up and coming jewellery designers, or someone interested in getting into jewellery making?
Just follow your heart and your intuition. Be persistent, learn constantly and your hard work will pay off. Hard work and determination are how things get done, there is no magical recipe. Work, work, work is the key, but also you have to have some luck. Experience is everything in this kind of work and if you want to progress you have to work constantly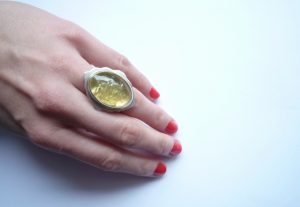 Do everything with minimal complaining and lot of gratitude, that is the key. Learn the basics, develop yourself and amaze yourself by what you do with your skill. My experience on creating is: sit down and do it.
Finally, time for a bit of fun in our quick-fire round!
Tell us your favourite…
Colour – Mostly black. Sometimes purple or green.
Biscuit – Chocolate ones
Drink – Wine
Place – The beach
Animal – Elephant
Gemstone – Sapphire
Food – Figs
Sport – Jewellery making
Film – I Daniel Blake
City – Florence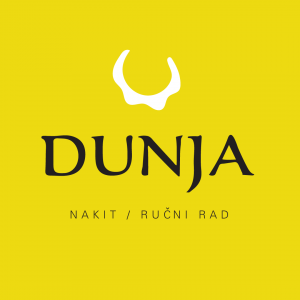 Many thanks to Dunja for being our Designer of the Month of July and for sharing this information
Want to discover the work of other jewellery makers? Take a look at our interviews with even more Designers of the Month to learn more about their designs, inspiration and more.