Jewellery maker Debbie Briggs or Debonair Creations designs easy on the eye pieces that are simple but accentuate the gemstones she is working with. View some of her work, read about where she gets her inspiration from and more in this Designer of the Month interview.
Let us know a bit about yourself, detailing your background, study and training in the jewellery making industry.
I started making Jewellery after my father passed away in 2010. I bought a bracelet – but it was too small, so I decided to make my own. I was also diagnosed with Anxiety and Panic Disorder in 2010 – and I found that making jewellery-making helped to occupy my mind and reduce my anxiety symptoms. In 2013, I registered as a business, called Debonair Creations, because I had made so much jewellery – and people began asking if I would sell my work.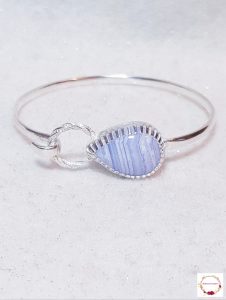 I started off making basic stretchy bracelets and necklaces – until I discovered gemstones and progressively learned new skills. I was then able to make a wider range of jewellery and create more complex designs. I have been on a few workshops to help further my skills – and they range from sawing metal, working with precious metal clay and also seed beading. More recently, in the summer of 2018, I learnt how to solder precious metal. This is now my new addiction – I love it so much.
Tell us about your work – are there any particular materials or techniques that you favour?
After trying lots of different mediums, I have fallen in love with soldering and creating my own style of jewellery. My mind is always coming up with different ideas and techniques to try.
How would you best describe your design style?
Easy on the eye, but unique. I don't like things are too 'in-your-face'. I like to keep things simple that will attract people.
Where do you like to get your inspiration from for your pieces?
My inspiration comes from a combination of my mood and the gemstones, minerals or fossils (materials) that I am working with. I love looking for unique or rare materials. I know that each gemstone, mineral or fossil has its own unique history and story behind it – and many have unusual patterns, inclusions or even bits of previous life trapped within them (such as insects trapped within Baltic Amber or Ammonites on matrix).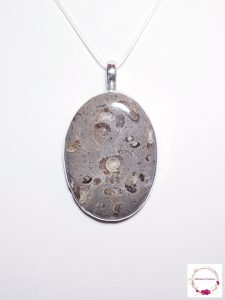 Rather than simply setting a stone to show its colour and clarity, I like to wrap unusual cabochons with unusual characteristics – and then draw attention to those particular characteristics in each stone. No two gemstones, fossils or minerals in the world are alike due to how they are formed by nature – and I like to show that in each of my designs.
Do you have a piece that you have made which you favour or are particularly proud of?
I created a Copper and Labradorite Bangle which was soldered by myself. I entered it into a competition in late 2018 – and I won an award with it. It also featured in an American magazine called 'Rock and Gem'. I am really proud of it – and I will miss it when it finds a new home.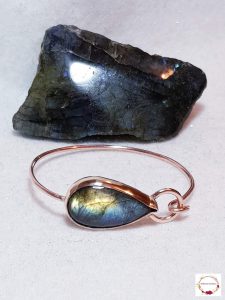 What is the one item in your jewellery making workshop that you could not live without?
This is a tough question. I think it would have to be wire. I suffer with chronic pain – so I don't always feel up to soldering. When I am using wire, it always gives me inspiration and it's something I can make a piece of jewellery with whilst I rest.
What upcoming trends do you see being popular soon?
I am not follower on trends, and certainly not with my jewellery. But I think people are again discovering and turning to old techniques more and more. So I would say that it is more rediscovering than a trend, especially wax casting technique. That is my next wish list activity when it comes to jewellery making.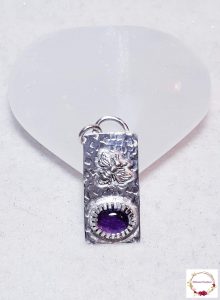 What is the most valuable lesson you have learnt from your time in the jewellery making industry?
The Brutalist style. It is a soldering technique I believe. I've seen it around – but it wasn't until recently that I looked it up properly. It is so inspiring. I need to look into it in more depth and perhaps introduce it in to some of my future creations.
Do you have any particular advice that you would give to up and coming jewellery designers, or someone interested in getting into jewellery making?
Don't be scared. In jewellery making, a lot of mistakes turn into happy accidents. Just give it a go – and if you don't like it, just undo it and start again. Start off simple and work your way up to bigger things. Also, one thing to remember is, if you don't like something you've made, someone else will.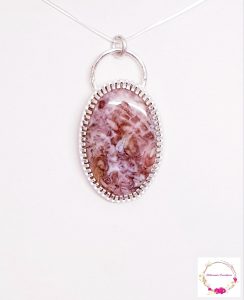 Finally, time for a bit of fun in our quick-fire round!
Tell us your favourite…
Colour – Pink
Biscuit – Malted Milk
Drink – Has to be a cup of tea
Place – Somewhere with a beach
Animal – I'm a massive guinea pig fan – but I also love dogs
Gemstone – Currently Turquoise – but it's always changing
Food – Mum's roast dinners
Sport – I don't do sport
Film – The Full Monty
City – Coventry (of course)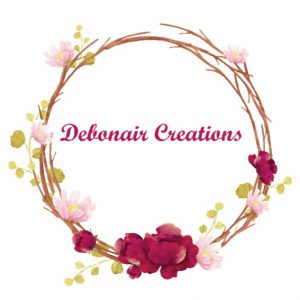 Many thanks to Debbie for being our Designer of the Month of August and for sharing this information
Want to discover the work of other jewellery makers? Take a look at our interviews with even more Designers of the Month to learn more about their designs, inspiration and more.