Here at Cooksongold, we are constantly adding new items to the range and this month we have a lot of great new chain styles making their debut. Part of our growing range of finished chains, we have an abundance of new and exciting styles for you to work with and here, we give you a rundown of some of the highlights to watch out for: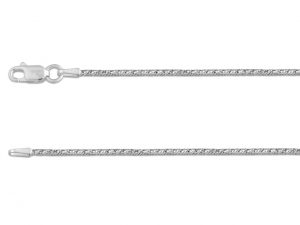 First up is a new take on the ever popular snake chain, which has the lovely clean line you would expect, with a few bells and whistles thrown in for extra sparkle. The diamond cutting creates a spiral pattern along the length which has a lovely fluidity and makes the jointing less noticeable, which is very pretty. It also benefits from a flash of silver plating to make it whiter than white.  Weighing 6.14g and measuring 1.5mm wide, it is substantial enough to be worn alone but would take a medium to large pendant equally well. We have 16", 18" and 20" in both 1.5mm and 1.8mm sizes and all have a sturdy lobster claw clasp and soldered jump rings for complete security.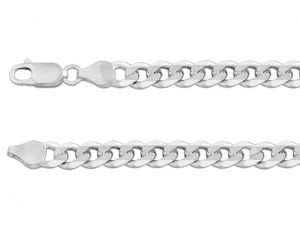 Next we have an incredible addition to our range of finished chain; our new and glorious 6.6mm diamond cut curb. This is a beautiful chain that absolutely screams quality and the smooth movement between each link is incredibly tactile. The diamond cut finish slightly flattens each link creating a reflective surface which is going to get you noticed wherever you go. Weighing in at an impressive 35g this is a chain which essentially is a standalone piece but should you choose to add a pendant, make sure the bail is large enough to go over the 6mm chain ends.  We have a slightly smaller version also available that measures 5.5mm across each link and both sizes are available in both 18" and 20". You will not be disappointed with this one.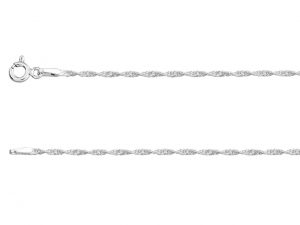 Now we move onto some of our new, classic lightweight pendant chains and we have to say our 1.5mm twisted curb has a lot to offer for such a low price point (£2.52 inc. VAT).  It is strong, as you would expect with a curb but has a little more finesse thanks to the twist, which also creates a delicate sparkle. Good quality chain ends are topped off with a bolt ring which is substantial enough to provide good security for whatever treasured trinket you decide to hang on it. Our 1.5mm version ranges from 16" – 22" but we also offer a thinner option at 1.2mm which we have in 16" and 18".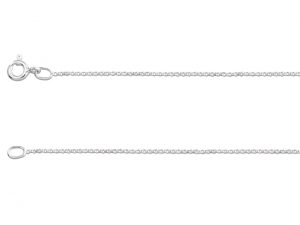 Finally, why not take a look at our new mini belcher range which is incredibly cute as well as being a great quality pendant chain. Also known as rolo chain because of the round, flat links, belcher chains can look a little 'functional' in larger gauges, but you have no such problem with the smaller sizes.  In fact the links are so tiny in our mini version that it is not immediately apparent the type of chain it is at all! Weighing only 1.3g this chain feels remarkably strong and will show off any light to medium weight pendant beautifully.
The tiny links create a lovely, clean line which won't interfere with any designs regardless of their style, so both contemporary and traditional pieces will be accommodated equally well. We have an impressive range of sizes in this style ranging from 16" right up to 30" so this will make a great, standard stock item which will tick many boxes.
This is just a taste of some of the new styles we have on offer. If you want to check out the full range, head to our Finished Chain department where you will find a whole host of new designs to peruse at your leisure.