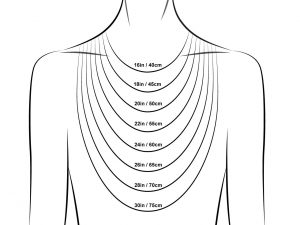 When choosing a chain, particularly on someone else's behalf, getting the length right can be tricky. Not only do you have to consider the size of the neck it's going around but also, the size of the pendant it's intended for. As well as its strength, style, alloy and the position it will hang on the body. So, what do you do if you are unsure, or worse still, have already purchased the wrong length. Your first option is to buy an Extendable Chain.
This type of chain allows you to wear it at two different positions thanks to a jump ring set two inches into the overall length. An example of this can be seen in one of our newest chains, shown in the image below. This is a 1mm, diamond cut curb chain which can be worn at 18"(45cm) or 20" (50cm), depending on where you position the bolt ring. When it is not being used, the extra 2" simply hangs down vertically at the back of the neck. Thus creating quite an attractive feature, which can also be customised with a small charm or tag.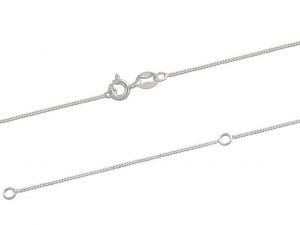 Sterling Silver 1.0mm Diamond Cut Extendable Curb Chain 18-20"/45-50cm Unhallmarked
A curb is a great universal choice for a chain offering a neat, clean line along with strength and simplicity, so even the smallest of pendant bails will slide along it with ease. This one has the added bonus of being diamond cut which adds a little extra sparkle, elevating it into something a bit more special. We also stock extendable chains at 16"-18" and 20"-22" so all the popular lengths are covered.
What do you do if you want to extend an existing chain you already own?
If you have a chain that you love that could do with being a little longer, the answer is to buy an Extension/Extender. This is a short length of chain, often between 4cm and 8cm, which can be attached to any existing chain via a jump ring, to increase the overall measurement giving you more options.
Sterling Silver 3.0mm Extender Trace Chain 5.0cm/2.0″
This silver version pictured above has a small, plain tag at one end and a jump ring at the other. This can be opened up and re-soldered to safely secure it to the main body of the chain. (Ideally all links should be soldered on a chain to make it as strong as possible). The clasp can then be fastened at any point along the length of the extender the secure your chain.
Do make sure you check that the clasp can be secured into the main body of the extender. If you have small links and a larger clasp, you may need to add another jump ring along the length to resolve this problem.
We also stock a wide range of base metal extender chains which come in a variety of finishes including silver plated, gold plated, rose gold plated and surgical steel. They come with a variety of shaped droppers, which add an extra decorative element. As well as feature a large, loose linked curb chain that will easily house any clasp, so no need for additional jump rings.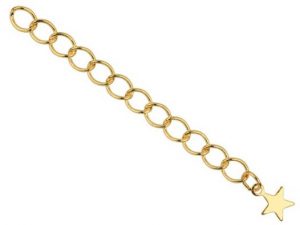 Gold Plated 4.5mm Fancy Extension Chain 3.3″/8.5cm With Star Dropper Pack of 5 Unhallmarked
As these extender chains are plated, care needs to be taken if they exposed to any sort of soldering torch. You can either attach them with a jump ring, close it tight and leave it unsoldered. Or attach with a solid metal jump and solder closed. For example, if you were using a silver-plated extender chain, attach it with a solid silver jump ring. This can then be soldered without damaging the surface. Make sure you protect the plated surfaces with a heat resistant paste before applying any heat.
See our full collection of extender chains or feel free to give us a call to find out more on 0345 100 1122
Written by Joanna Varney
Joanna has worked in and around the jewellery industry for well over 20 years. She has designed and created her own pieces as a designer maker, as well as working in jewellery retail on a much larger scale, producing designs and NPD for some of the UK's largest high street retailers