If you have pierced ears you will undoubtedly have a favorite type of earring fitting. Some of us prefer the security of posts and butterflies whilst others are happy in hooks and the choice can be quite mind boggling at times!
So with that in mind, we have put together a bite sized guide to earring fittings outlining the pros and cons of each style.
The first decision you have to make is; pierced or non-pierced? And below are the options you have once that initial choice is made:
| | |
| --- | --- |
| Pierced | Non – Pierced |
| Post and scrolls | Clips |
| Hooks and wires | Screw fittings |
| Thread through fittings | |
What are the different types pierced earring fittings?
Ear Posts
Ear posts can be used for simple studs but also drop earrings as well. They can be supplied plain, to be directly soldered onto your design or more complete as a ball stud or stone setting with a loop underneath to accommodate a drop earring. The standard gauge of a stud earring post is 0.8mm but lengths can vary from 12mm – 9mm.

Most come with a rounded end and an indent a couple of mm up from it, to help the appropriate scroll locate and secure the earring. Long earrings using a stud fitting will move, but only a little. If you want movement you need to choose a stud fitting with a loop attachment underneath which will allow your design to swing.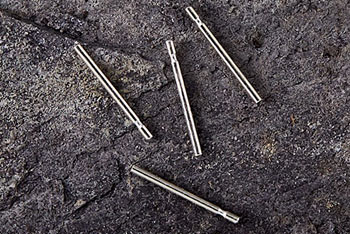 Ear Scrolls
Ear scrolls come in many different sizes and have two sprung curls which grip the earring post once it's pushed through a central hole, thus securing the earring into the ear. The bigger the scroll, the more support it will give the earring, so for heavier and larger designs consider using a larger scroll.
Alternatives to scrolls include Guardian comfort ear fittings, wide plastic backs with a metal centre, (perfect for heavier designs) and the wonderfully named, silicone slider mushrooms.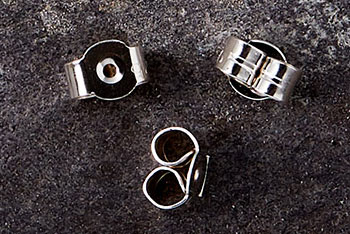 Earring Hooks and Wires
Earring Hooks and Wires – vary enormously and can be split into two groups; safety and non – safety. The beauty of hooks is that they allow free movement of the earring which means lots of swing and sparkle which is great for dramatic looks and evening wear. Safety hooks have a locating feature which means that once the wire is through the ear, it is then secured in some way to form a closed loop. In the event of the earring being caught and pulled on something, these fittings should ensure that your jewellery stays in place.
Non – safety hooks are left open and simply push through the ear and hang down. If they are pulled, the earring will come out but many people still prefer them as there is no fiddling around to get them secured.
Thread through fittings – are really an extension of the standard hook fitting and can come in wire or chain form. They have been particularly popular with designers in the last couple of years, using oversized thread through wires as an extension of the design itself to dramatic effect.
Our chain, thread through fittings can be adjusted to sit at any length and are best suited to light designs which will benefit from lots of movement. They are a great example of form and function combined into one attractive finding.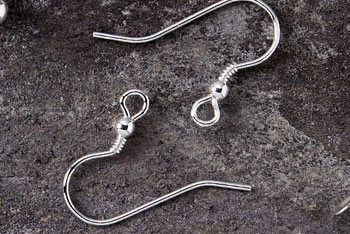 What are the different types of non pierced earring fittings?
Clip Earring Fittings
Clip earring fittings consist of a two part, hinged mechanism which can be bought complete, or in separate pieces depending on how you like to work. The base plate of the fitting is soldered onto your earring and then the paddle that attaches to the ear is squeezed into place as the picture below shows. The tension which creates the 'snap' is created from the central bar of the paddle which needs to be adjusted as necessary with pliers until the perfect resistance is achieved. (This can take a bit of practise). These ear fittings do come in different sizes but can be quite bulky and tend to be more suitable for stud designs, so bear this in mind when considering them as an option.
There are many variations on the standard clip fitting including Omega clips, S Clips, (which can facilitate drop earrings) and Ear clips with a cup and peg (perfect for pearls etc) so most styles are catered for these days. Just take care when soldering around any hinged/sprung mechanisms as it can render them useless if they are allowed to overheat.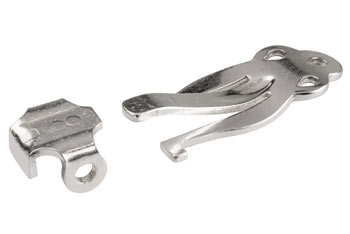 Ear Screw Fittings
Ear Screw fittings are the other main method of creating an earring for a non-pierced ear and are perfect for dropper styles and chandeliers. (As the name implies, the earring is held in place by a simple 'screw' action which can be adjusted for comfort).The mechanism is much gentler than a standard clip fitting so if you are looking for something with less of a 'pinch', screw fittings will be perfect. The design itself is very simple and requires no assembly. You simply need to attach your chosen design either by suspending from the loop underneath or securing with the cup and peg at the front.
That completes our basic guide to earring fittings which should help to clarify the differences between styles for anyone who is uncertain.

Don't forget to shop from our extensive range of findings for jewellery making.