Have some old jewellery that needs a bit of TLC? By using an ultrasonic jewellery cleaner, your designs will be sparkling in minutes – perfect for giving a bit of shine to some old favourites. But how does an ultrasonic jewellery cleaner work? And are ultrasonic cleaners worth it? Find out everything you need to know about how ultrasonic cleaning works and how to use ultrasonic cleaners for jewellery from our step-by-step video tutorial.
What is an ultrasonic cleaner?
Before we get stuck into how to use one, what is ultrasonic cleaning? An ultrasonic cleaner is a device that is used to clean items, such as jewellery. Using ultrasound waves and chemicals, this jewellery cleaning machine can remove foreign particles such as dirt, oil and tarnish, as well as polishing compounds such as Tripoli and rouge from delicate jewellery pieces. High-frequency waves, usually from 20-400 kHz, are sent to pull the unwanted particles off your jewellery, leaving everything from bracelets to gold pendants spick and span and rid of all contaminants.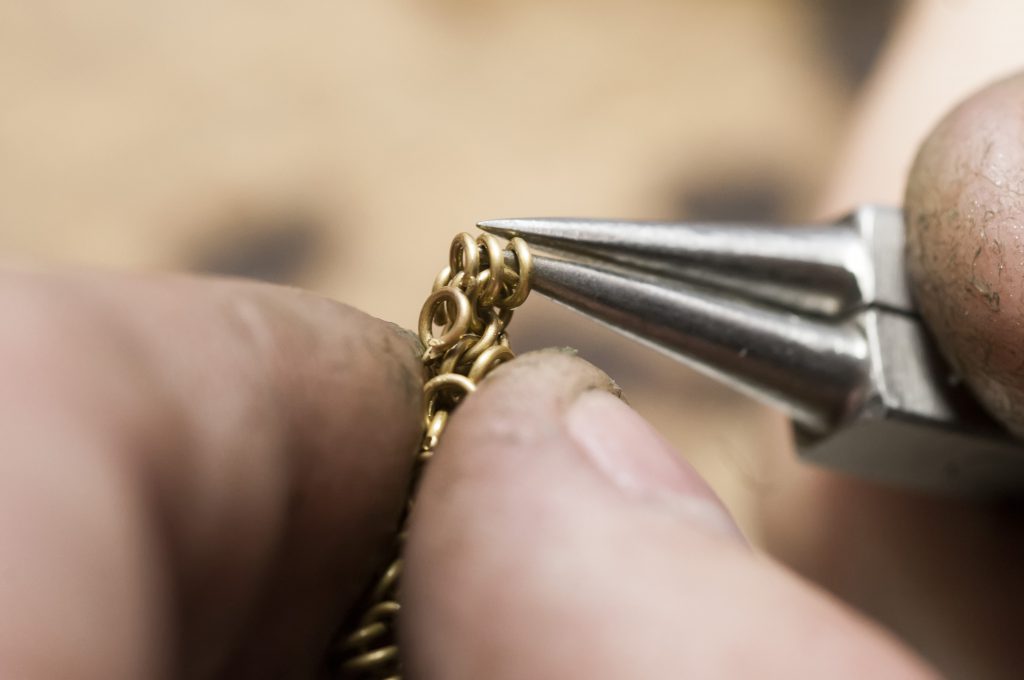 Many people use this jewellery cleaning machine as the ultrasound properties create bubbles that are induced by high-frequency pressure waves. These bubbles cling to particles and then agitate the liquid, producing high forces which then remove any unwanted substrates from the jewellery. The ultrasonic cleaner focuses on the parts of your jewellery that are otherwise unreachable when it comes to cleaning manually.
Using an ultrasonic cleaner for jewellery cleaning
Perhaps you want to try using an ultrasonic cleaner for yourself? With our simple step-by-step guide and how-to video, learn the basics of how to use an ultrasonic cleaner to create sparkling jewellery rid of all dirt and unwanted particles.
What you'll need for using an ultrasonic cleaner
Water
Jewellery to be cleaned
Measuring jug
How to use ultrasonic cleaner
Step 1. Put on your protective gloves to safeguard your hands from chemicals. Mix water and the ultrasonic cleaning solution into your Elma ultrasonic jewellery cleaner.
Step 2. Using your Elma electronics manual, set your desired time and temperature for jewellery cleaning. The amount of time you leave it in depends on how dirty the item is – this can vary between 1 – 20 minutes.
Step 3. As per your instruction manual, de-gas your ultrasonic cleaning machine to clear the air bubbles before you begin cleaning your jewellery.
Step 4. Place your dirty jewellery pieces in the ultrasonic jewellery cleaner metal basket, ensuring it is spaced out so all charms and findings are on display. Be careful to ensure that your jewellery does not touch the base of your ultrasonic jewellery cleaner.
Step 5. Let the jewellery soak in the ultrasonic jewellery cleaner until the timer goes off. Then, rinse your metal basket with the jewellery inside in cold water, still wearing your protective gloves.
Step 6. Remove your jewellery from the basket, step back and admire the difference in cleanliness before and after your jewellery cleaning.
What not to put in ultrasonic jewellery cleaners
Not all jewellery should be cleaned using an ultrasonic cleaner. Wondering what not to put in ultrasonic jewellery cleaners to avoid damage? Ultrasound may tarnish and break softer gemstones, such as opals, emeralds and turquoise. Also, gemstones whose colour has been enhanced through heat treatment should not be used in an ultrasonic cleaner, as the ultrasound waves can dim the brightness of their colours.
Are ultrasonic cleaners worth it?
Now you understand how to use an ultrasonic cleaner, why not shop for your own? But are ultrasonic cleaners worth it? If you're planning on making or owning a large amount of jewellery (that can withstand the pressures of an ultrasonic jewellery cleaning machine) then purchasing a jewellery cleaner is definitely worth it. They are incredibly efficient when it comes to removing dirt and are also much more time efficient – ideal if you're thinking of opening up your own business.
Now you understand how to use an ultrasonic cleaner, why not shop for your own? Browse our wide selection of jewellery cleaning products online today. Alternatively, learn how to get the most out of your jewellery making through our equipment and technique focus hub.