By Jo Varney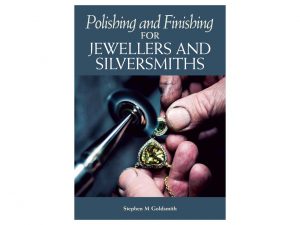 Polishing and Finishing for Jewellers and Silversmiths – 999 A190
This is a quiet and unassuming paperback book which could go unnoticed quite easily if you weren't looking out for it. It isn't flashy or attention grabbing and contains no unnecessary, lengthy descriptions where they are not needed. Instead, this little book is chock full of fabulous jewellery making tips and techniques right from the get-go and is, in short, an absolute gem.
Stephen M Goldsmith is renowned as a master polisher and was employed by Crown jewelers Asprey & Garrards until his appointment at designer jeweler Theo Fennell. His experience spans some 45 years and he has worked on some of the world's most prestigious pieces of silver including The Grand Punch Bowl (dating from 1829) which he actually restored under armed guard! So, as one of the best in the jewellery business, there is much to glean from Mr Goldsmith and he doesn't disappoint.
Spread over 96 pages and split into six chapters, this is a relatively small book that is easy to read and absorb. It is delivered in a very practical, unfussy style which I adore as you can instantly tell this man knows what he is talking about and he doesn't feel the need to mince his words.
 "A barrel will remove minor burrs, burnish and harden the metal, and deliver an amazing shine – all while you're off doing something more creative with your time. Although it is an expensive investment, it does not produce nasty dust for you to breathe in and it will never, ever snatch off one of your fingers"
Obviously the main focus of the book is jewellery polishing and finishing methods which are described in brilliant and specific detail using projects to refer to individual metals and also the methods in which pieces are produced.  For example, the polishing of The Silver Alms Dish is split into three stages – Black Bristle Brush, Calico Mop and then Clean each described in masses of detail. However Goldsmith also describes how the dish is made in the first place which determines how it should be polished and also how to dry the silver after cleaning which is more complex than you might imagine. Your attention is also drawn to the longevity and upkeep of the finish you decide to place on a piece making it an integral part of the whole jewellery design process as it should be.
Great advice is also given on equipment and workshop set up which is invaluable to anyone considering investing in new jewellery tools or premises, all delivered in the same no-nonsense style that is so refreshing.
"Make sure the bench is flat with no areas to lose a stone. This costs time and money, so plan your area, filling any gaps with silicone filler".
Every page is packed with great advice which I honestly think anyone involved in the production of silverware and jewellery would be interested to read. Goldsmith really helps to de-mystify polishing and finishing with this brilliant book but more so, he helps readers to understand and appreciate what a vital part of the whole design process that finishing really is. After all, the finish can make or break a project and for that reason it needs far more consideration and thought than you might first imagine. This is a truly worthwhile read which really delivers so much more than you expect it to.